The hidden history of educational gaming on the Mac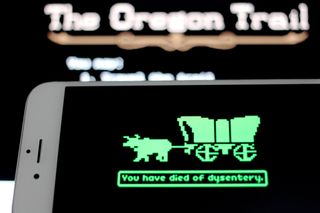 My earliest memories of technology came from my first year of grade school: It was 1992, and our teacher had installed some variant of an Apple II in the classroom. The students were only able to use it a few times, but each time I got to put a disk in the machine, I was able to escape to another world.
A world in which I was traveling west in a wagon, attempting to avoid dying of dysentery.
Oregon Trail. Number Munchers. DinoPark Tycoon. Odell Down Under. MayaQuest. While Oregon Trail is no doubt the most well-known title of the bunch, there's a lot more where it came from, thanks to one very special group: The Minnesota Educational Computing Consortium.
History of MECC
The Minnesota Educational Computing Consortium was founded in 1973 to coordinate and provide computer support and services to school across the state.
IBM, Honeywell, and other companies had facilities in the state, helping to push technology further and faster in remote locales outside of Silicon Valley. This led to a group of schools in the Minneapolis-Saint Paul area and University of Minnesota College of Education partnering to provide access to HP hardware and software. Eventually, MECC would have an UNIVAC 1110 mainframe installed at its office. This spurred teachers and professors to write software that could be used in their classrooms.
After the Apple II was blessed as the official computer for schools state-wide, MECC began to start supporting these machines, too, creating programs and educational games — including, yes, The Oregon Trail. It was distributed on diskettes across the state, and after a few years, other states clamored for access to the consortium's growing library of software. By the 1990s, MECC was creating applications and games for classrooms across the country.
As the Apple II lost ground to the Macintosh, MECC began developing for the company's newest computer. In 1990, Number Munchers and Word Munchers were ported to both the Mac OS and MS-DOS systems.
This series starred green "Munchers" who the user would move around a board eating the answers to whatever question the game asked. "Troggles" — like that blue one above — had to be avoided, or your Muncher would become lunch.
I have fond memories of playing these games (and many others) on a parade of otherwise-forgettable beige Macs throughout elementary school.
Burning bright, burning out
In 1991, Minnesota could no longer offer MECC funding as part of its state education program; the consortium was thusly spun off as a private company, sold to a venture capital fund for $5.25 million. In 1994, MECC had an IPO and went public, and just a year after that, it was purchased by SoftKey for $370 million and the company's name changed to The Learning Company.
At the time, the company had $30 million in revenue annually; an estimated one-third came from the Oregon Trail series.
Throughout the mid-1990s, MECC continued to update its old titles while releasing new ones. But by that time, MECC was facing increased competition and its habit of recycling old game content over and over was becoming a problem. By the late 1990s, layoffs were affecting entire offices, and titles that had been announced were being cancelled. In 1997 and 1998, The Learning Company made several acquisitions. The next year, MECC's old Minnesota offices were closed and all titles besides The Oregon Trail were discontinued.
MECC today
The MECC as we knew it is long-gone, but its golden egg is still available. Now developed by Gameloft, a modern version of The Oregon Trail can be downloaded on the iOS App Store.
All of the other games I remember so fondly are gone, though you can still find a few in Archive.org's library of MECC titles, which can be played via its online virtualization suite.
(Super Munchers is my current favorite.)
But, as is the way of digital creations, some of my old favorite titles seem to be lost to time: Swimming the ocean in Odell Down Under or hatching eggs in DinoPark Tycoon can now only happen in my memories.
Master your iPhone in minutes
iMore offers spot-on advice and guidance from our team of experts, with decades of Apple device experience to lean on. Learn more with iMore!
Stephen Hackett is the co-founder of the Relay FM podcast network. He's written about Apple for seven years at 512 Pixels, and has more vintage Macs than family members living in his Memphis, TN home.