Hills and Rivers Remain -- Square Enix Real-Time Strategy Game for iPhone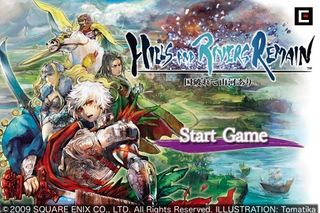 With Hills and Rivers Remain [$6.99 itunes link (opens in new tab)] Square Enix has created another intelligent, intense, beautiful real-time strategy game for the iPhone and iPod touch. If you loved Final Fantasy Tactics and Galcon then you will love Hills and Rivers. It brings epic music, great graphics, and challenging gameplay to your multi-touching fingertips.
Join us after the break for more screenshots and descriptions.
In the game you control an army and try to take over neighbouring lands by moving soldiers from one base to another. You also can find power-ups that can allow your troops increased speed, offence and defense.
(opens in new tab)
Your troops travel along a grid with various bases which may be either ally, neutral or foe. When your army reaches a neutral or opposing base you each fight, with the winning army taking over the location. You tap on the base to which you would like to move armies and then use a slider to choose how many men you would like to move. You can only choose to move your army to a neighbouring base and need a linking road.
(opens in new tab)
This game is played in real time and requires you to think fast. Various bases will give your army different possibilities, including cannons, stables and mines.
(opens in new tab)
The storyline is typical for a Square Enix RPG and may at times seem overdone but it is entertaining and not overly verbose.
(opens in new tab)
Hills and Rivers Remain will no doubt be enjoyed by those who like turn-based strategies and has enough versatility to be both challenging and entertaining.
There is also lite version [itunes link (opens in new tab)] if you want to try before you buy.
Either way, let us know what you think!
Get the best of iMore in your inbox, every day!
Senior Editor at iMore and a practicing therapist specializing in stress and anxiety. She speaks everywhere from conferences to corporations, co-host of Vector and Isometric podcasts, follow her on Twitter @Georgia_Dow and check out her series at anxiety-videos.com.
I really wish square would stop putting this crap on the app store. Give us final fantasy 7 for the iphone already. Or the anthology. Something other than these stupid strategy games that nobody cares about.

Im sure SE is just testing with the iPhone platform, right now there is zero reason to support it with full scale franchise games. Its different for them to just release them on the Playstation Store (which plays all PSX games) for 10 bucks.
If they were to bring that game to the iPhone or other phone platform, there would need to be an audience first off, time to convert everything so it runs nice and optimized for iphone, and sell it at a decent price (most likely 14.99 or 19.99).
Now if the iPhone actually had good enough presence in Japan, id bet my money you'd be hearing about a mobile version of Dragon Quest or Final Fantasy

oh and there is a PSX emulator on the iPhone if your really that hard up...recommend for 3GS onry!

Yeah cept I enjoy sound in my games.

Right. Let's hope people buy this so they Do support the platform rather than some hack job emu.

Map games just don't do it for me anymore.
DOS called, and they want their game paradigm back!

You're all stupid. Support these and better games will follow. It's pretty simple really. I pretty sure you all have blackberries and just hate the iPhone.