How to access Notification Center on the Mac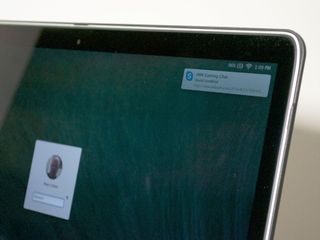 Notifications on your Mac help to keep you informed about what's going on in the various applications you have installed, on web sites and more, without interrupting whatever you're doing at the time. Here's how to access them.
Notifications on the Mac comprise banners and alerts, both of which appear on the screen, and badges — red marks on applications indicating an action is required. Badges help show you how many incoming e-mail messages you have, for example. Banners pop up when an application passes a message — a web site you have granted permission to has a new headline, for example, or someone has sent you an iMessage. Alerts look like banners, but demand your attention before they'll go away.
But regardless of where they take place, notifications on your Mac are managed from the Notification Center. You can open Notification Center to review notifications that have already passed by. You can also use it to post new iMessages, or post to Twitter, LinkedIn and Facebook if you've configured them in the Internet Accounts system preference.
How to access the Mac's Notification Center
Click on the Notification Center icon in the upper right hand corner of your Mac's menu bar. Alternately, you can use a two-finger swipe from right to left, starting at the right edge of your Mac's trackpad.
Upcoming calendar items are a fixed part of the Notification Center list. But other apps that can post notifications will have their notifications listed beneath. You can dismiss them by clicking the close icon — the circle with the x in it.
To close Notification Center, either click the close button on the lower right hand corner, or swipe from right to left (ending at the right edge of the Mac's trackpad).
That's all there is. If you need help, let me know.
Hey Peter nice article, do you know how to keep the notification on screen longer? I'm low vision and when a notification pops up I only have time to see the badge of where the notification not the notification it self.

rclyde: There are a couple of ways to do it. One is to change the banner to an alert, which you can do for the various apps installed on your Mac by visiting the Notifications system preference. Alerts are modal and require your acknowledgement before they'll go away. The other method is a bit of Unix command line trickery to change the behavior of banners themselves. It'll require you to open the Terminal app inside the Utilities folder. You can copy and paste the following onto the command line: defaults write com.apple.notificationcenterui bannerTime # Replace the # sign above with the number of seconds you'd like the banner to stay visible on your Mac. Quit the Terminal app, then log off your Mac and log back on (or restart it) to make the change.

Thanks, Peter. I bought my Mac last month and being a first time Mac user I accidentally clicked on those three parallel lines on top right corner and when I tried accessing Notification Centre again, I was lost as I couldn't recall which gesture/action of mine popped that out.. lol :D

Hey there.. I am having problem in adding/removing the widgets in my notification center.. When I click edit it is not showing any items or widgets that have been installed on my mac like MONIT or ITUNES or Google drive. Any idea of accessing them.??
Thank you for signing up to iMore. You will receive a verification email shortly.
There was a problem. Please refresh the page and try again.