How to answer a call with Apple Watch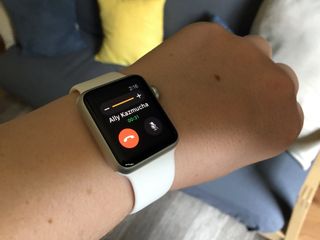 Don't want to dig through a purse or pocket to grab your ringing (or vibrating) iPhone? The Apple Watch lets you do it in a single tap. Just raise your wrist! You can see who's calling and decide whether you want to answer it.
If you decide you don't want to answer the call, you can quickly mute it by placing your hand over your watch. If you do want to answer it, here's how:
How to answer a call from your Apple Watch
Raise your wrist or tap the screen (if you don't have the raise to activate option turned on) in order to view the incoming call.
Tap on the green answer button.
When you're done with your call, tap on the red disconnect button to hang up.
Get the best of iMore in your inbox, every day!
iMore senior editor from 2011 to 2015.
This may be the most stupid, throwaway article I've ever seen.
"How do you answer a call on Apple Watch?"
"When it rings, you press the green button."

Jfb Sent from the iMore App

الحب غرام وليس حرام Sent from the iMore App

Hey, chill out....not everybody is cognizant of every feature of the Apple Watch. I applaud all of Allyson's articles relating to this new product.

These more simple articles would definitely be aided by a quick troubleshooting list at the end. I just set up my Watch today and was unable to use it as a phone. After digging around on Apple's Discussion Groups I discovered that a hard reset of the Watch, then of the iPhone, fixed the problem.

Stinkysocky, things might seem easy to you but that doesn't mean it's easy for everyone. If you can't provide any positive information, then you shouldn't. Sent from the iMore App

Next exciting article: How to raise your wrist while wearing the Apple Watch.