How to cache maps for offline use in Google Maps 2.0 for iOS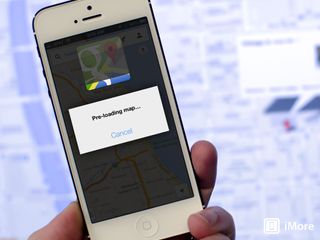 If you use Google Maps for directions on your iPhone or iPad, you've undoubtedly ran into a spotty service area and had issues retrieving directions. Caching maps for offline use before hand can prevent something like this from happening.
While Google doesn't make caching maps for offline use a very obvious option, it is there and we can show you how to use it.
Launch the Google Maps app from the Home screen of your iPhone or iPad.
Find the area of the map that you'd like to cache for offline use either by pinching to zoom in and out or entering an address and making sure the screen is zoomed out enough to capture the area you'd like to save.
Now in the Search bar type in Ok Maps and hit Search.
You'll see a screen with the Google icon showing that it's processing the area for offline caching. If you receive an error message that the area couldn't be cached because it's too large, try zooming in to a smaller area.
You'll now see a message at the bottom screen confirming that the area you've selected has been cached for offline use.
That's all there is to it. This is a great trick for iPad users who only have WiFi but still want to use Google Maps for directions while traveling. Give it a try and let us know how it worked for you!
As a reader pointed out in the comments, you can also clear cached data any time. The setting is buried but it's there. Just navigate to the following:
Settings > About, Terms & Privacy > Terms & Privacy > Clear application data
iMore senior editor from 2011 to 2015.
"While Google doesn't make caching maps for offline use a very obvious option..." Wow thanks for the tip you are right that is not very obvious, how did you find this out?

Google posted it on their Google Maps blog yesterday after the app was released.

Good to know, Allyson did not provide any attribution so i was wondering how she figured it out.

Just as important to know would be how to clear the cache, surprised that wasn't researched as part of this blog posting: Settings/About, terms & privacy/Terms & privacy/Clear application data Not sure why it's buried so far into Settings, but that's how to clear cached map data.

Very good point. Added, thanks! :)

How long does it cache the map for, or how do you clear the cache? (Does it just cache that one until you cache another one?)

When I search it offline it says no network connection. After caching of course

The part of the map it caches is so small that you might as well take a screenshot?

You can't search offline. It doesn't work like that. Each map that you save is added to a list. There is a small icon of a man next to the search field. Click on that icon and a list of your saved maps will come up. Your saved map area includes streets and maps data. Zoom in to see a detailed view of your offline map. Certain features, like satellite, terrain, indoor maps, and 3D buildings will not be available offline. Features that require a network connection, like directions and Navigation aren't available offline, either. Since you cannot search an offline map, it's easier to save several smaller maps covering the same area.
For example, if you're traveling to a big city, you can save a map for each neighborhood you're visiting. Name the map after the neighborhood, so that you can easily find it later. The live Google Maps data are constantly updated. Your saved maps need to be updated at least once in every 30 days. If you don't update them, they'll expire and be removed from your saved maps list.

Question: Can I cache multiple sections of a map? Or every time I "Ok Maps" it overwrites the last cache? I want to add sections of NYC & LI together but too big for one grab. So I want to grab different sections and hopefully Google will add them together. Too much to hope for huh? lol

The part of the map it caches is so small that you might as well take a screenshot?

I must be missing something? I am on the iPad (newest version) and when the route is visible and I type in Ok maps, the screen then jumps to Oklahoma with a pin to a bookstore. What on earth am I doing wrong? Since my iPad is wifi only, I would love this feature. Usually I just turn on my hotspot on my phone but I love the idea of not having to use data for short but often complex directions!

Ok, my face is red! Patty needs to make sure she is using the Google maps app! Works great!

Thanks for the tip Allyson

Cannot be used in Turkey :(

I would like it if Google Maps made it possible for you to cache the "entire" United States so you can navigate offline without the need for a cell phone connection, specifically for the ipad.

Hi Allyson. An Indiegogo campaign directly asks Yahoo! Marissa Mayer to allow in flight use of their maps into a specialised app. Take a look here (http://igg.me/at/myplaneview/x/2055173) and if enough buzz is reached maybe they will get it done.

I need this to for Australia an nz. OK maps doesn't download enough. not even close. imagine zooming in only to find out the info you needed wasn't there. I need the security of knowing I can have the while country in going to on my phone when I travel.

Ok simple question - once you cache the map (which I did successfully it looked the same as the screenshots) then where do you retrieve the cached map??? CANT FIND IT ANYWHERE!

hi allyson,
as per your instruction i tried on my ipad mini the same, after disconnection of wifi, its not showing the offline map, its simply showing no network.can i have a solution for this.

Free offline maps with search, covering the entire world, and fits easily on most IOS devices.
http://kmaps.co

Hello, Ios Devolpers , Plz help me
I m using Offline MAP Throw MBXMAPKIT
but it Create some Problem whenTime Simulator reset content and Setting then
map not Be load becoz all cached is cleared!!
But DB file is already saved in Mainbundle of APP. Anybody Tell me is it possible that
after reset simulator atleast first time Internet connectivity should be switch on For Load Map?? PLZ reply me
!!!! Gourav.s@emobx.com
Thank you for signing up to iMore. You will receive a verification email shortly.
There was a problem. Please refresh the page and try again.