How can I stream Amazon Prime Music in my home?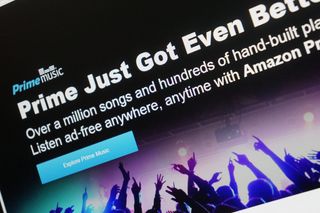 What is Amazon Prime music?
Amazon Prime music is Amazon's foray into the music streaming jungle and a way for you to enjoy your music on and offline. It's got thousands of playlists, much like Apple Music and Spotify and you can skip as many times as you like or repeat as many times as you like. If you're already an Amazon Prime member, then you have no reason not to use Amazon Prime music, since it's already included with your membership. There's no additional cost to stream and, best of all, there's no additional cost to download music.
Once you have Amazon Prime music, though, you probably want to stream it through your entire house. That's where Sonos, Bose, and other connected speaker systems come in!
Where can I listen to my Amazon Prime music?
The Amazon Prime music app is available for iOS, Android, PC, and Mac (sorry, Windows Phone users).
If the device you're using can connect to Bluetooth or Wi-Fi, then you can listen to your Amazon Prime Music on any wireless speaker system that supports either connection. For example, Sonos speakers connect via Wi-Fi and the Bose Soundtouch can use Bluetooth.
What speakers can I use to play Amazon Prime Music?
The short answer is: any speakers. The long answer is a bit more complex, but still the same.
If you have a bluetooth-enabled speaker of any kind, then you can play your Amazon Prime Music from any device with the ability to connect to Bluetooth.
If your current set of speakers do not have Bluetooth capability, you can upgrade them with a Bluetooth upgrade kit.
There are also Wi-Fi-enabled speakers, like those by Sonos, which initially run off your home Wi-Fi network. So, any device with Wi-Fi capability can play music through a Wi-Fi enabled speaker (for some speakers, like Sonos, you will need a specific app, which won't necessarily work with every Wi-Fi-enabled device).
Can I have one of these speakers in every room?
Not all Bluetooth or Wi-Fi-enabled speakers can be run off a wireless system. For that sort of integrated streaming, you'll need something like the following:
Sonos speakers are wireless smart speakers that initially run on your home Wi-Fi network, but then create their own network, so as not to hog bandwidth.
The SonosNet (the mesh network that Sonos speakers create) allows for up to 32 components to be connected, so that you can stream music to literally every room in your house.
The Bose SoundTouch is another Wi-Fi enabled speaker, which runs off your home Wi-Fi and play the same song in every room of your home or play different songs in different zones. All you have to do is buy the speakers.
Through their app, you can access music streaming services, just like Sonos; however, the Soundtouch system also has Bluetooth, so if your device can't download the Bose app, but still has Bluetooth, you're golden.
Amazon Prime Music in your home
Depending on how you like your music, there are myriad options for streaming Amazon Prime Music throughout your home.
If you're just a small-speaker-in-one-room kind of person, then maybe all you need is a small Bluetooth speaker, like the Monster Superstar, for example.
If you like full, immersive sound, no matter where you are in your home, then you might want to check out Sonos. You could start small with a Play:1.
Any way you go, you'll want to pair the right set of speakers with your Amazon Prime Music. You'll probably want something wireless or at least with wireless capabilities, since you'll probably end up streaming from your phone.
Always remember to try before you buy! If you're shelling out hundreds of dollars for a set a speakers, you're going to want them to sound right to you.
Master your iPhone in minutes
iMore offers spot-on advice and guidance from our team of experts, with decades of Apple device experience to lean on. Learn more with iMore!
Mick is a staff writer who's as frugal as they come, so he always does extensive research (much to the exhaustion of his wife) before making a purchase. If it's not worth the price, Mick ain't buying.