How to change your Mac's Call Relay ringtone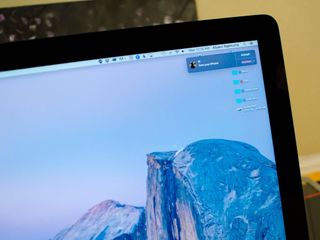 One of OS X Yosemite's new Continuity features is the ability to accept (and make) phone calls when your iPhone is nearby. Call Relay is an incredibly useful feature, but when all of your devices ring with the same ringtone, it can get distracting. Here's how to give your Mac a distinct ringtone.
When it's activated, Call Relay makes your Mac an extension of your iPhone. You can take and make calls using the FaceTime application on your Mac, saving you from having to dive for your phone every time it rings.
By default, the Mac uses the "Opening" ringtone whenever you get an incoming call. But you can change that, just like you can change the ringtone on your phone.
To change the Mac's ringtone
Click the Finder icon in the Dock.
Open the Applications folder.
Double-click on the FaceTime application.
Click on the FaceTime menu.
Select Preferences... (or alternately type command ,).
Click on the Ringtone menu.
Select a ringtone you'd prefer to use. Each one you select will play so you can hear it.
Close Preferences when you're done.
That's about all there is to it. You can choose from over four dozen different distinct ringtones.
Have any trouble? Let me know.
As always, a very helpful article! Thanks Peter! I just have one question; is there a way to disable the sound notifications for FaceTime but still get the pop-up, and still get sounds from other notifications? Thanks!

Thanks! To the best of my knowledge, there isn't an easy way to do this at present. Intuitively, you'd think that turning off the "Play sound for notifications" option in Notifications (for FaceTime) would take care of it, but it's for actual FaceTime-to-FaceTime calls only, it appears. And there's no "null" setting for ringtone, either.

Peter: To solve this, record 10 seconds of silence. Save it as a ringtone.

Adding a custom ringtone to the Mac is not a trivial endeavor.

I'm curious about custom ringtones not in the original list. I need my Gilligan's Island ringtone in unison! Haha Sent from the iMore App

What about custom ringtones?

OK, I have the Mac FaceTime set to ring upon incoming calls to my iPhone, but the Mac doesn't stop ringing when I answer on the iPhone. Can that be prevented without disabling the cellular feature in FaceTime?

I wanted to silence my Mac's FaceTime ring, so I recorded a second of silence, named it "Old Car Horn," dumped it in the ringtone folder deep in "System," and changed FaceTime's ringtone to Old Car Horn! Silly, hacky, and successful. Here are the details of how I did it: https://www.evernote.com/shard/s13/sh/6c112002-6ff7-4356-a9ce-22ab15ba72...

This is completely off the subject but what is the app you are using to replace the folders on your desktop to look like the ones you have in the screenshot above? They look pretty neat.

my comment isn't even about the ringtone, its about the whole hand-off feature. i can't make calls from my mac connected to the phone, keeps telling me i need to use the same FaceTime accounts on both my phone and my mac- though its the same FaceTime accounts that are logged on both devices. but if i get a phone call on my iPhone, while I'm on the computer, it shows on my mac and i can take the call from there. haven't even tried other features of handoff yet. is it specific to some regions as i am in Nigeria.
Thank you for signing up to iMore. You will receive a verification email shortly.
There was a problem. Please refresh the page and try again.