How to create and share animated GIFs right from your iPhone!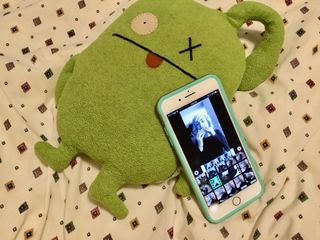 Animated GIFs are an entertaining way to share short clips via text and social networks, but how exactly do you make them?
If you've ever wondered whether or not you can create your own GIFs right from your iPhone, wonder no more — the answer is YES!
Here's how to create and share animated GIFs right from your iPhone!
How to make your own animated GIFs on your iPhone
In order to make animated GIFs on your iPhone, you'll need to enlist the help of some third party apps.
For this example, I'm going to use one of my favorites called GIPHY CAM. It's free and ad-supported and totally rules for getting creative with your GIF making! Plus it's run by the same people who made GIPHY, so they know a thing or two about GIFs.
GIPHY CAM - Free - Download Now
Launch GIPHY CAM on your iPhone.
Upload a video from your Camera roll by tapping the Camera roll icon to the left of the red recording button. You can also capture a video and turn it into a GIF in any given moment.
Once you captured or uploaded your perfect video, tap the white arrow icon.
Add and edit in any filters or effects you would like to see.
Tap Next in the big blue bubble when you're happy with your GIF.
Tap Save GIF if you're happy with how your GIF looks.
You can choose to loop, reverse, edit, and do whatever you want with your funky new GIF
That's it! Your animated GIF is automatically sent how you've chosen. Obviously there are also other GIF creator apps available for iPhone. If you don't like GIPHY CAM, here are some more suggestions:
What do you think?
If you create animated GIFs on your iPhone, which apps have you used and what ones are your favorites? Let me know in the comments!
Updated May 2018: This article still has the best of the best ways to get your GIF game on, but I did remove GifBoom from the suggested list because it is no longer available and added GIF X instead.
Get the best of iMore in in your inbox, every day!
Cella writes for iMore on social and photography. She's a true crime enthusiast, bestselling horror author, lipstick collector, buzzkill, and Sicilian. Follow her on Twitter and Instagram: @hellorousseau
Thank you for signing up to iMore. You will receive a verification email shortly.
There was a problem. Please refresh the page and try again.