How to create, edit, and delete contact groups in iCloud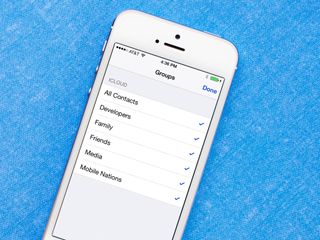 iCloud does a great job of storing and syncing contacts between iPhone, iPad, and Mac. It can also be used to create contact groups to help you better, faster connect with the people that matter to you most. Unfortunately, contact group creation currently can't be done on the iPhone or iPad. They have to be created on the Mac, or via iCloud.com online.
How to create contact groups using iCloud.com
Launch a web browser on your PC or Mac and go to iCloud.com.
Log in to your account and click on Contacts.
In the bottom left click on the plus sign.
In the popup menu, click on Create Group.
Name the group anything you'd like and hit Enter on your keyboard to create it.
Now simply go through your contacts and choose the ones you'd like to add to that group. Hold down the command key — control key for Windows users — on your keyboard in order to select multiple people at once.
Now simply drag them to the group you've created.
How to delete contact groups from iCloud.com
Launch a web browser on your PC or Mac and go to iCloud.com.
Log in to your account and click on Contacts.
Highlight the group you'd like to delete by clicking on it once.
Now hit the Delete key your keyboard.
A popup should appear asking if you're sure you'd like to delete that group. Click on Delete to confirm.
That's it! Remember, deleting a group does not delete the contacts in that group from your actual address book. It only deletes the group itself. You can still find all the individuals that were contained in that group in the main section of your Contacts.
Any groups you add in iCloud online will then sync to all Macs, iPhones, and iPads you have hooked to your iCloud account. Contact groups are a great way to get organized and get a better handle on contacts, especially people with large address books. Hopefully the ability to create and edit them will eventually make its way into iOS 8!
Give contact groups a try and then tell me in the comments how they're working out for you!
iMore senior editor from 2011 to 2015.
Now if only you could draft a sms and/or email and simply input the group name to have the message go out to everyone in said group. Seems like a rather simple implementation that would make life easier.

As a person who just had an iPhone, is there any benefit to me using this? I thought that I would be able to create iMessage or texting groups but is that not the case? Is it only for email?

I use it to sort contacts when looking for them, I have a large address book. Unfortunately iOS does very little with contact groups at this time. I'm hoping that changes fairly soon.

I use simple apps like Groups or Smart Merge on the iPhone.Don't find any special advantage in using iCloud for something as basic.

2014....iOS 7.......and you can't do this directly from your iPhone

I feel your pain, you have no idea.

Is there a way to specify which email address you use for a contact within a group? I have contacts with 3, sometimes 4 email addresses and I would prefer to compass an email to a specific group and use a specific email address. Is that possible? Thanks for the great article. iCloud.com has come a long way.

Not all my contacts show up for some reason, but after finding out I cant do a group sms, this feature is kind of......useless.
Thank you for signing up to iMore. You will receive a verification email shortly.
There was a problem. Please refresh the page and try again.