How to customize your Fitbit on Mac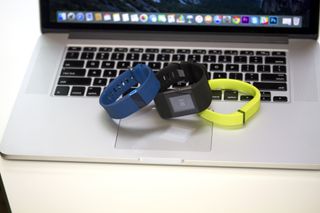 (Image credit: iMore)
For various reasons, you might not always have a smartphone handy to customize your Fitbit. Not to worry, if you have a Fitbit and you're using a Mac operating system, you can customize your Fitbit on one of your Mac devices. By installing the free Fitbit Connect app (for Mac), you can control all your settings via your Fitbit Dashboard from your laptop or Mac. Here's how to customize your Fitbit on Mac.
How to customize your Fitbit on Mac
To customize your Fitbit, you must download the Fitbit app on your device. Go to Fitbit's website and download Fitbit Connect for Mac.
Install Fitbit Connect Software on your Mac.
Set up or sync your Fitbit with the Fitbit app on your laptop or device by clicking the Set Up a New Fitbit Device or Sync Now option displayed on your screen. Make sure your Fitbit wearable is powered on and in range. If you're having trouble syncing your device, click the Check for device update/Troubleshooting link.
Once you've set up or synced your Fitbit with your Mac, open the Fitbit app to get to your Fitbit Dashboard.
From your Fitbit Dashboard, click the gear icon in the upper right hand corner of the screen.
After you click the gear icon, you'll see a drop down menu. Click settings.
Once you click Settings, it will open a new window where you can edit your profile and customize your settings.
Go to the settings menu on the left side of the page that displays: Personal Info, Notifications, Privacy, Data Export, Manage Data, Manage Account Access, Applications, and Help.
Click any category and fully customize all of your settings from there.
It's super easy to customize your Fitbit on your Mac. You just have to download the Fitbit app to your Mac, open the app, make sure your Fitbit wearable is synced, access your Fitbit dashboard, click the gear icon, select settings from the drop-down menu, and customize your settings from your profile/settings page.
Our top equipment picks
To customize a Fitbit on a Mac, you absolutely need two things: a Fitbit and a Mac. Any device running a Mac operating system will work. We love the 13-inch MacBook Pro with M1 because it's fast, efficient, offers unmatched battery life, has a scissor-switch keyboard, and touchscreen with touch ID. You can check out our Fitbit favorites on our Best Fitbit list as well. Bottom line: you can customize your Fitbit on any Mac device with the simple steps mentioned above.
Mac laptop
13-inch MacBook Pro with M1
The Pro

This laptop by Apple features exceptional performance, long battery life, a scissor-switch keyboard, and a touch bar with touch ID.
Fitbit
Best Fitbit

This Fitbit features EDA scans, ECG monitoring, 24/7 heart rate, six-day battery life, Sp02 monitoring, and advanced sleep and activity tracking.
Get more iMore in your inbox!
Our news, reviews, opinions, and easy to follow guides can turn any iPhone owner into an Apple aficionado
Nicolette is a freelance writer for iMore. She's been hooked on Apple products since she got the very first iPhone in 2007 and made the switch from PC to Mac in 2008 after inadvertently dousing her laptop with a hefty dose of water. A dedicated creative, Nicolette has had the pleasure of working with some of the top websites, studios, and brands in the industry throughout her career, and enjoys writing about all things: Apple, health, fitness, audio, and home. With over a decade of high-level experience as a health and fitness professional, Nicolette specializes in tech pertaining to the field. If she's not working, you can find her sipping a glass of wine, enjoying a concert, or hanging with her family.