How to delete apps from your Mac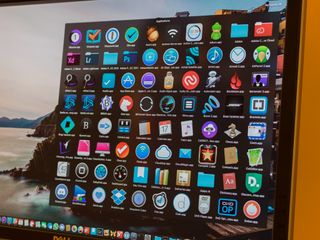 Over time, our Macs can become full of apps that we no longer use, have stopped working, or that we never really needed in the first place. Getting rid of these apps is a simple matter, but there are different ways to go about it.
Here is how you delete apps from your Mac.
How to delete apps downloaded from the Mac App Store
Deleting an app you downloaded from the Mac App Store is a lot like deleting an app from your iPhone.
Open Launchpad on your Mac. This can be done by clicking the Launchpad icon on your Dock, tapping F4 in the function row, or performing a four-finger pinch on your Mac's trackpad.
Find the app downloaded from the Mac App Store that you want to remove.
Click and hold on the app's icon until it enters jiggly mode.
Click the 'X' that appears in the upper left corner of the app icon.
Click Delete when prompted.
How to delete non-App Store apps in the Finder
For those apps that you've downloaded from the web, here's how you get rid of them using Finder.
Click on the Finder icon in the Dock to open a Finder window.
Click Applications in the sidebar.
Scroll through the list until you find the app you want to remove. You can also search for it.
Right click on the app.
Click Move to Trash.
Click on the Trash icon in your Dock.
Click Empty.
How to delete apps from your Dock
You can also get rid of apps with a simple drag-and-drop.
Find the app you want to remove on your Dock, or open the Application folder on your Dock and find it there.
Click and hold the app icon.
Drag the app icon to the Trash icon in your Dock and release.
Click on the Trash icon.
Click Empty.
How to delete an app that appears to still be open
Need to delete an app but keep getting a popup that you can't because it's still open? We've got a step-by-step guide for that, too.
Questions?
Do you have any questions about deleting apps from your Mac? Let us know in the comments!
Get the best of iMore in your inbox, every day!
Joseph Keller is the former Editor in Chief of iMore. An Apple user for almost 20 years, he spends his time learning the ins and outs of iOS and macOS, always finding ways of getting the most out of his iPhone, iPad, Apple Watch, and Mac.
Also, if you Hazel, there's an option to enable App Sweep, which will monitor deletions and offer to remove any support files. Another option is AppCleaner which offers the same monitoring. Sent from the iMore App

Where can I find "Hazel"? I search for it in the app store and I get no results.

It appears to be software offered by Noodlesoft. Sent from the iMore App

I use AppCleaner because I had issues previously where applications will leave files behind.

I have a problem in deleting icons from the LaunchPad. I have several games that I installed, but didn't work for various reasons, from Steam. In each case, I deleted the game using the Steam interface, but the icon is still there in the LaunchPad. If I press until the icons get "jiggly" I have no X in the corner of these icons to rid myself of them. I have resorted to creating a folder called "Trash" and putting them there. If it matters, three of them are games that, for whatever reason, never fully installed from Steam, so they have the Steam icon. The other is Mad Max, which I knew wouldn't run on my MacBook Air, but I had already purchased it for my old Windows PC, so I thought I'd give it a try. That one has the Mad Max icon, not the Steam one. At one point, I even uninstalled Steam, but the icons remained, so I re-installed Steam.

I've never had icons appear in the Launchpad from games I've installed on Steam. Usually if something's in the Launchpad, it's in your Applications folder, so check there.

That was the first place I went. Nothing there. Well, to be clear, nothing there anymore. I had to trash the Mad Max file first.

Apple now , i believe, like to place "every single" thing on Launchpad...

I use Clean My Mac 3 to delete any apps and also use Hazel's app sweep to clean up anything that CMM3 misses. Previously I would just send the apps to the trash but ended up with a bunch of files related to apps I no longer had installed clogging up my Mac. Sent from the iMore App

For some reason Apple even limits u to removing app icons from Launchpad... No idea why.. These are not Apple apps.. these are third party apps.. If u hold down OPTION u would think u would see an "x" next to all the ones to you can remove There are some u can remove, while other third party apps you cannot... Dunno why that is. because the user installed these. The only way i can see is physically deleting them, which u don't wanna do.