How to delete individual call records from Recent Calls on your iPhone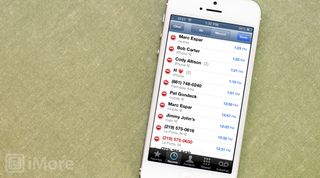 If you've got an iPhone, you probably already know that it can provide you with a history of your calls. You can also edit your call history if and when you need to by deleting individual call records. Whatever the reason (hey, we don't judge), we can walk you through how to delete certain phone records out of your call history.
Launch the Phone app from the Home screen of your iPhone.
Tap on the Recents tab along the bottom of the screen.
Now tap on the Edit option in the upper right hand corner.
You'll now see that each phone record now has a delete option to the left of the caller's name or number. Tap on it.
To confirm the delete, tap on the Delete button off to the right.
Repeat this process for the calls you'd like to remove and once you're done, tap on the Done option in the upper right hand corner of the screen.
That's it, those calls will now not appear in your recent calls any longer.
iMore senior editor from 2011 to 2015.
What does this matter? It only keeps a record of your most recent calls, so your call record will automatically deleted in a couple of days (for me). What I want is a way to keep a huge number of calls. Say I want to keep a record of my last 10,000 phone calls. How can I do that?

There is a way but you probably wont like it. If you use Google Voice then all of your call history will be saved forever. BTW, there are ways to use Google Voice without using the Google Voice app. All you have to do is add the special number GV uses for each contact then use that number when dialing through the regular dialer.

jailbreak and use calllogpro

You can just open Phone App, tap on Recent, and Slide the call you want to delete to the Left. Delete will pop up on Right Side.

In fact, deleting records because i don't want my mother see it. However, i found that simply deleted records could be recovered by restore software, so finally i turn to this iMyfone Umate pro - mass delete all my contact history with Zero opportunity to restore

LOL ! Anybody who didn't know this already does NOT deserve to own a 'smartphone'.

My take is there are apps for phones (listed right up under these comments called Checkmate Texting and Calls that can locate and retrieve hidden, blocked or maybe even deleted numbers. Where there is a will there's a way for technology especially for text savvy folks. My husband is in IT work. So just saying be careful with just thinking deleting numbers is all there is too it. I though too until I got paranoid and saw the CheckMate Ad. Any comments or advice?

This is only for newbies !
Thank you for signing up to iMore. You will receive a verification email shortly.
There was a problem. Please refresh the page and try again.