How to delete your Twitter account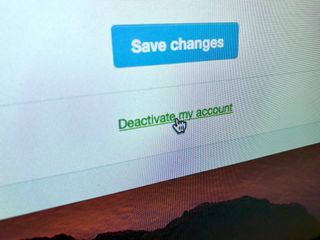 No matter the reason, you might find your days of tweeting out jokes, favoriting replies, sharing photos of your favorite memes, and retweeting to abandon have come to an end. If that sounds like you and you're looking to delete your Twitter account, here's how you go about it!
Deleting your Twitter account
If you want to delete your Twitter account you'll have to visit Twitter on the web. Twitter doesn't provide a method for deleting your account via its mobile apps.
Sign in to Twitter's website on the web.
Click on your Twitter avatar at the top of the page.
Click Settings and privacy.
Click Deactivate your account at the bottom of the Account menu.
Click Deactivate to confirm you'd like to deactivate your account.
Enter your password to confirm you'd like to deactivate your account.
What you should know
Twitter doesn't immediately delete your account when you Deactivate it. The site holds your data for a period of 30 days while it begins to remove your data from its systems.
The 30-day period also acts as a grace period of sorts — you're given a chance to reactivate your account if you'd rather not get rid of it. If you ever want to reactivate your account simply log in at any time within the 30-day period.
If you're deleting your account for the purpose of purging your tweets from a search engine, it may not work. Search engines index information and don't necessarily "check back in" to see if an account has been deleted.
You can find more information about deactivating — and reactivating — your Twitter account on Twitter's support website.
Questions?
If you run into any problems or have any questions, let me know in the comments!
Mikah Sargent is Senior Editor at Mobile Nations. When he's not bothering his chihuahuas, Mikah spends entirely too much time and money on HomeKit products. You can follow him on Twitter at @mikahsargent if you're so inclined.
I'm not sure the process you describe is still the correct one. A few months back, out of nowhere, Twitter suspended my account, that I was barely using on a weekly basis. A few days ago I tried to start the deletion process to be done with it, and the Deactivation button was not there - at all. It's kind of frustrating to be suspended, for reasons that are unclear, and then not be allowed to leave...

After 30 days we will lose everything right; Every data? I would like to have a feature to down the data for future use on twitter if that is possible;
Get the best of iMore in in your inbox, every day!
Thank you for signing up to iMore. You will receive a verification email shortly.
There was a problem. Please refresh the page and try again.