How do I stream Google Play Music and YouTube Music in my house?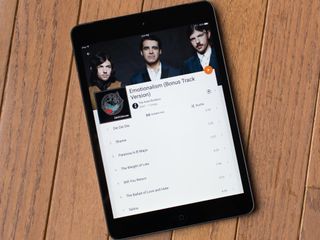 If you want to stream music in your home, you need three things: a device to stream music from, access to digital music, and a speaker to stream your music to. If you love using Spotify, you can use it as a primary player for your whole-home audio system.
Then all you need is Sonos, Bose, or another connected speaker system!
What is Google Play Music?
Google Play Music is a hub for enjoying your music on and offline. Upload 50,000 tracks to your Google Play account and stream or download them to your favourite devices whenever you like. Stream music through Google Play's curated radio stations and receive song recommendations based on your interests...And, all of this comes with your FREE account!
If you opt for the $9.99 monthly subscription service, you can stream or download any of the 35 million tunes in the Google Play Music library. If you live in the U.S., you'll also enjoy an ad-free YouTube experience as Youtube Red is included with your Google Play Music subscription.
If you want to stream it through your whole house, you'll need Sonos, Bose, or another connected speaker system.
What is YouTube Music?
YouTube Music is Google's latest stab at a music streaming service, centered around playing music, rather than being an audio-focused version of YouTube that it used to be. It offers proper albums, playlists, and, if you want, videos, just like Google Play Music and other streaming services. There's also the YouTube Mixtape, playlist automatically generated based on your favorite artists, songs that you listen to frequently, and new recommendations. Google puts a lot of emphasis on its use artificial intelligence in the service to provide you with a "lean back" experience.
YouTube Music can be used for free with ads, while $9.99 per month will let you listen to music ad-free. For $11.99 per month, an additional $2, you'll also have access to YouTube Premium, which offers ad-free videos and YouTube Originals, among other things. Current Google Play Music subscribers will be able to use the ad-free version of YouTube Music at no extra cost.
What devices can I use Google Play Music and YouTube Music on?
Both the Google Play Music and YouTube Music apps are available on Android and iOS devices or you can login to a web browser to listen online on your Mac or PC.
If the device you are using has Bluetooth or Wi-Fi, you'll be able to stream either service from your device to a wireless speaker, which is the first step in streaming audio throughout your home!
What speakers can I use Google Play Music and YouTube Music with?
There's a short answer and a long answer to this. Short answer: if you have a Bluetooth speaker you can use Google Play Music or Youtube Music from any Bluetooth-enabled device. Long answer: if you want to listen to Google Play Music in every room of your house, you'll need a better speaker. Given the recency of YouTube Music's launch, it might take some time for it to become available on the major whole-home speaker systems.
If you have an old stereo kicking around, you can modernize it with a Bluetooth upgrade kit or you can pick up just about any Bluetooth speaker, depending on your budget and the quality you're looking for.
There are also Wi-Fi speaker options, which you will have better range than Bluetooth speakers, though, depending on the size of your house, this may not matter.
The above options are great if you want to stream music from one speaker in one room. But, what if you want to stream music to every room in your house? If that's the case you'll want to look at speakers that connect to form a home-wide sound system.
While the Bose Soundtouch speaker system does allow you to connect and control multiple speakers throughout your home, it does not have direct streaming from Google Play Music. You can use the Bluetooth functionality of the Bose speakers to stream directly to a particular speaker, but if you're looking for a direct-play solution, consider the Sonos family of speakers.
Sonos speakers use your home's existing Wi-Fi to create the Sonosnet, an independent wireless network where your Sonos speakers communicate and share audio.
The Sonos Controller app integrates with Google Play Music so you can add music and create playlists and also control which music is played in which rooms. Don't like the Controller app? No problem! You can control all your music directly from Google Play Music and manage it on your Sonos sound system.
Note: In order to use Google Play Music with the Sonos Controller App, you will need to have a paid subscription; the free account won't work.
Google Play Music in your home
Depending on how immersive of a system you want to create, you have a lot of options for enjoying Google Play Music, while options are still limited for YouTube Music. If you want a cost-effective system and only need to stream in one room of your home, there are a lot of inexpensive Bluetooth speaker options.
If you want to connect every room in your home and control it all from an app on your phone, consider starting with one or two Sonos speakers and adding new ones as you'd like to expand.
Google's music services offer a lot of value for such an extensive music library and some pretty cool features. Pairing your Google Play Music membership with the right set of speakers can help you enjoy wireless music streaming in your home.
Master your iPhone in minutes
iMore offers spot-on advice and guidance from our team of experts, with decades of Apple device experience to lean on. Learn more with iMore!
"Siri, write a really funny bio for me to use for Mobile Nations" "Okay, Drew, here's your really funny bio: How-to writer, fiddle player, retro gamer."