How do you feel about that Apple Watch Series 7 order now that the reviews are in?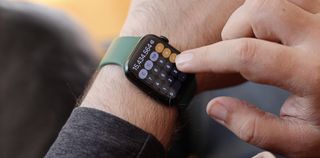 (Image credit: Rene Ritchie)
What you need to know
Early Apple Watch Series 7 reviews have been published
With people's orders set to arrive in a couple of days, it's possible some might be re-thinking things.
We're now just a day or so away from Apple Watch Series 7 going on sale with those who were lucky enough to get early pre-orders in set to receive their watches on Friday. But today was all about the arrival of the early reviews — and while there were no huge surprises, there could still be plenty of reason for people to be having a re-think about their new watch.
In the wake of Series 7 leak disappointment, we already knew that this release was always going to be about a few minor improvements here and there. The question was whether those improvements, in the aggregate, would be enough to make the Apple Watch Series 7 purchase a compelling one. And as many had expected, the reviews suggest that anyone with a late-model Apple Watch needn't rush out to buy this one.
The Verge:
Fair point. CNET has another one: those with older models will notice the most significant difference. Of course, this makes sense.
Again, little of this is a massive bombshell to anyone who has been paying attention. But that doesn't mean that people haven't placed pre-orders in the hope that there's something more. A hidden gem of a change or improvement that Apple didn't call out or, perhaps, wouldn't be recognized fully until in the hands of a reviewer. That doesn't seem to have been the case here, unfortunately. Apple Watch Series 7 is the minor upgrade that we expected it to be, with the possible exception of that larger display.
I have a 45mm watch on its way this Friday, and I'm upgrading from a 44mm Apple Watch Series 7. My sole reason for the upgrade — pretty much, at least — is the extra screen space that I hope the growth will afford: that and the new keyboard situation.
Given the lack of fawning I've seen over the new size increase, I have my concerns. However, I won't be canceling my order — it's too late, anyway. A little birdie who's spent a few days with one of the new watches tells me that the size difference is noticeable and that it makes everything more comfortable to use at arm's length. That's enough for me to continue to be intrigued.
Come Friday, I'll make up my mind. And that's when I decide what I'll be packing up to send to Apple. My old Apple Watch Series 5, or a shiny new Apple Watch Series 7. The two-year-old watch, or the best Apple Watch ever made.
Knowing me, I suspect it'll be the former!
Oliver Haslam has written about Apple and the wider technology business for more than a decade with bylines on How-To Geek, PC Mag, iDownloadBlog, and many more. He has also been published in print for Macworld, including cover stories. At iMore, Oliver is involved in daily news coverage and, not being short of opinions, has been known to 'explain' those thoughts in more detail, too.

Having grown up using PCs and spending far too much money on graphics card and flashy RAM, Oliver switched to the Mac with a G5 iMac and hasn't looked back. Since then he's seen the growth of the smartphone world, backed by iPhone, and new product categories come and go. Current expertise includes iOS, macOS, streaming services, and pretty much anything that has a battery or plugs into a wall. Oliver also covers mobile gaming for iMore, with Apple Arcade a particular focus. He's been gaming since the Atari 2600 days and still struggles to comprehend the fact he can play console quality titles on his pocket computer.
Typo in your article... You say you are "upgrading from a 44mm Apple Watch Series 7" -- pretty sure you meant "44mm Apple Watch Series 6", but maybe "Series 4" or "Series 5". Personally, I am upgrading from a Series 4. I've been holding off for a "bigger upgrade" since the Series 5. I really wanted that "always-on" screen, but the 5 did not seem like a big enough upgrade. Neither did the Series 6. Now we are at Series 7 and with the screen size change, the cumulative upgrade seems like a big enough one to get me to do it. However, I am not understanding all the hate on the Series 7. Going from Series 6 to Series 7 and getting a bigger screen seems like a way bigger upgrade than going from Series 4 to Series 5 and getting the same processor with an always-on screen. Or going from Series 5 to Series 6 and getting an SpO2 sensor. If the Series 7 is really a Series 6s, then I would argue it is really a Series 4sss. Personally, I think the hate is because the rumors were wrong and tech pundits who espoused those rumors looked silly when it was not debuted with straight edges. Somehow I think there are people who would have preferred the same size screen with a straight-edged case than a bigger screen with rounded edges. The straight sides look was kinda off-putting to me though. I don't need my watch digging into the back of my hand with a sharp edge while doing pushups.

It was hilarious to see the pundits get it totally wrong this time around. Those pundits are not satisfied unless a device is totally re-designed every single year and they will rail at the company if they don't do that. Those pundits get bored easily and have to have something to write articles about and dozens of YouTube videos of "coming soon", "launch", "one week review", "one month review", "what is wrong with X device", "what is right", "should you buy", etc etc etc videos to generate their millions in ad revenue money. That is why I generallly do not pay a lick of attention to those pundits. All this said, I will not be upgrading to this new watch version because my Series 6 works just fine, has good battery life, and meets all my current needs. We will see what happens next year.

Except the Series 7 offers no huge improvements from the Series 6. The battery life is the same as Series 6, the extra screen real estate isn't all it's hyped up to be, and faster charging is meh. It's literally an Apple Watch Series 6s, if even that.

I would argue that the bigger screen going from a 6 to 7 improves every Watch face and every app and the experience of looking at the watch every time you do that. The series 4 to 5 and series 5 to 6 were definitely more incremental and boring. I've been using my series 4 for years because of it. And the "s upgrade" comparison seems really off. There has never been an S upgrade that offered a 20% larger screen on iPhone. Anybody who upgraded from series 4 to 5 or 5 to 6 does not really have much room to talk. Those watches were the series 4s and series 4ss respectively.

Well your opinion is wrong. You should really watch review videos. Literally every single one (The Verge, MKBHD, etc) has said the upgrade between 6 and 7 isn't worth it.

I did watch them all -- in fact I rewatched MKBHD's Series 5 and 6 reviews. Incidentally, his opinion on those upgrades was "you shouldn't buy it because it is not a big enough upgrade". And yet, he upgraded to both the 5 and 6. Funny, huh? But the truth is that I don't need somebody else to tell me my opinion, because my opinion is not wrong. Also, just got my Nike Edition Series 7 45mm in Midnight.... I was concerned about the color, but I love it. I'm going to enjoy my new Apple Watch now. The critics can go pound sand.

"upgraded" like he didn't get them for free.

Actually I don't think tech reviewers can get them for free otherwise it kinda compromises their journalistic integrity. They always talk about getting demo units that they have to return. Not saying it does not happen, but I would bet Apple would have more to lose if it came out that they were giving free devices to reviewers.

As if subjective opinions made by the usual media scribblers and YT influencers would make any further opinions obsolete. But obviously you also believe that using the word literally could turn your opinion - abracadabra - into a fact. That's literally the definition of self-righteousness.

That's literally not, and I'm not even sure what your point is...

Uhh, not that I agree with him, but it's an opinion, and it doesn't have to be right or wrong.

Personally, I can't buy into the smart watches because they aren't good enough for the kind of money they're asking for. I don't need a $400+ smartwatch. There just isn't enough utility there. A bigger screen is not a selling point. I already have a phone.

Monitoring your health is a very good reason to spend $400.

Separating out many on the posting board and YT channels is important. While some may have substantial subscribers, the average user doesn't listen to them. So you are correct that every year there is a demand to change the physical design. Yet the average user does not clamor for change for the sake of change, again it's posters (some of whom who don't even like Apple products) and YTers.

You're giving yourself/techie channels and reviews way too much credit for sales. You all said the same thing about iPhone 13 (and other previous devices). The collective moan because iPhone 13 looked the same, yet iPhone 13 and most of the devices given negative talk sold well. FYI, most techie channel insist that the device look different virtually every year. If it doesn't look different there is a negative associated with the device. But in reality it's only you all who insist there is form change ever year. Most Customers don't pay attention and often have comfort with the form factor. .

All the reviews I watched confirmed that I have no desire to upgrade from my 44mm Apple Watch Series 6. There's no reason to - battery life is the same, screen size is negligible, and there's no redesign.

I think for most critics the thing they are upset about is "there was no squared-off edges" redesign. For those people, Apple could have packaged the Series 6 in straight-corner case and they would have screamed "take my money!" Personally, I'd call a 20% larger screen a "redesign" rather than a reshaping of the watch case that does not affect how I use the watch in any positive way. In fact a squared off watch might kinda suck when doing push-ups and you get that sharp edge on the back of your hand. Anyway, this is definitely a bigger upgrade than going from 4 to 5 or 5 to 6. I passed on both those upgrades. Also, this does not come close to the upgrade that was going from series 2/3 to series 4. Think about it. Series 3 only added cellular. If you don't buy the cellular watch that made users (like me) stick with the 2. Series 4 was a MASSIVE upgrade. Every upgrade since 4 has been less with 6 to 7 probably being the most significant because of the larger screen.

You seem triggered that someone has a different opinion than you and you felt the need to have to write this to me twice. That's unhealthy.

You seem triggered that somebody has a different opinion than tech pundits. If it gives you comfort to conform to what the reviews say then you do you.

This is written by the guy who believes that his opinion is the only correct one. Very funny.

A quote from another post is very appropriate here: "your opinion is wrong".

Totally! It's like the man is on steroids!

Nobody cares who you let influence you.

Same. I will wait for series 8 or 9 before upgrading. 6 works fine for me currently.

If I owned a 6 then I would keep it too. There have only been two times it made sense to me for someone to upgrade Apple Watch in successive years. Going from series 0 to series 2 and going from series 3 to series 4. Both of those were huge upgrade years. Every other upgrade has been incremental, but the relatively lower price of Apple Watch compared to iPhone has some people looking at a yearly upgrade cycle. The biggest things about the series 2 was that the watch battery life became truly "all day" and it became water proof. The S2 processor was such a huge upgrade over the first Apple Watch that it made the Watch far more usable.

I own the 6 and I am upgrading to the 7. So I guess I am the outlier. I've owned the 6 just under a year, paid 325 for it and Apple game me a 245$ trade in on it. Is I got the 6 for 10 months at 80$ and now I get a bigger screen which is a very big deal to me and my older eyes. As well, being able to charge for just a handful of minutes to get 8 hours of sleep wearing out of it.
Someone else mentioned this, appropriately. A new MacBook comes out that is essentially the same physical size and price. But the screen goes from 14" to 16.8" and you can charge it for under 10 minutes to get a workday out of it. And people call that not really an upgrade. Ok...

I'm keeping my iPhone 12 another year but am going to upgrade my Apple Watch 5, mainly for the new health features.

Keeping my iPhone 11 Pro another year. Still don't see a point in smart watches (for me).

Jesus, some people really like sucking their own d*** I see.
Thank you for signing up to iMore. You will receive a verification email shortly.
There was a problem. Please refresh the page and try again.