How to empty the Mac's trash and securely delete your files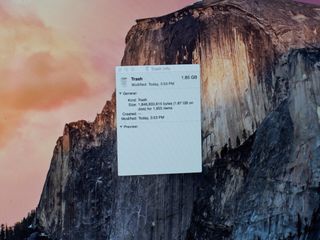 Putting a file in the trashcan means it's marked for deletion. But until you actually empty the trash, it'll sit there — just like a trashcan in real life. It's easy to let those files build up until you have hundreds of megabytes — gigabytes, even, just waiting to be deleted (or discovered if anyone has access and decides to snoop). So if you want your precious drive space back, and you want to make sure what you've deleted is really deleted, empty the trash.
How to empty the trash on your Mac
Click and hold on the Trashcan icon in the Dock.
A popup will appear that says Empty Trash. Select it. (You can also empty the Trash from any open Finder window by holding down the command and shift keys and pressing delete.)
How to securely empty the trash on your Mac
Emptying the trash is usually sufficient to get rid of the files you don't want anymore. But emptying the trash doesn't really destroy the files: They remain on the hard drive, marked for being overwritten the next time your Mac needs the space. As a result, some deleted files can be recovered using disk recovery software.
Sometimes you may delete files that are particularly sensitive: Financial records, for example, intimate photos, or other data you absolutely don't want anyone to get their hands on, under any circumstances.
Apple has considered this and has provided a Secure Empty Trash option as well. Secure Empty Trash overwrites the deleted files with what Apple calls "meaningless data."
Secure Empty Trash takes longer, but provides, as the name implies, a more secure form of file deletion. Use at your own discretion.
Click and hold on the Trashcan icon in the Dock.
Hold down the command key and click on the Trash. Empty Trash will change to Secure Empty Trash. Select it.
To do it from any open Finder window, click on the Finder menu and select Secure Empty Trash.
Bonus Tip: Make Secure Empty Trash the default behavior
Use this tip if you'd like to make sure that your Mac securely deletes files every time you empty the Trash.
Open the Finder.
Click on the Finder menu.
Select Preferences.
Check Empty Trash Securely.
Get the best of iMore in in your inbox, every day!
Does Apple treat "Empty trash securely" differently depending on storage technology (HDD vs SSD)? Simply overwriting file data multiple times is not desirable for an SSD for a couple of reasons:
1. Adverse effect on SSD's life (probably not an issue unless one deletes several GBs of files daily.)
2. Due to wear-leveling, rewriting blocks on a file system level does not guarantee that file's blocks will be rewritten on actual flash storage. Besides, doesn't simple "Empty trash" pass TRIM command to an SSD, so if someone tries to recover deleted files, they'll only get zeroes?

Great tip, anything to help make my Mac more secure. Thanks.

If you use Hazel on your Mac, there's an option to monitor the Trash and auto delete files after a specified time & to keep the Trash size below a specified size, plus delete files normally or securely. Sent from the iMore App

But if you dont use "secure empty trash" but you restored the mac to factory then can the data still be recovered?
Thank you for signing up to iMore. You will receive a verification email shortly.
There was a problem. Please refresh the page and try again.