How to enable message archiving for iCloud mail on iPhone and iPad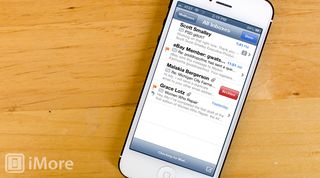 If you are familiar with Gmail, you're probably already familiar with archiving mail opposed to fully deleting it. You also have this option for iCloud mail as well. If you prefer archiving certain items for access later while deleting things you won't ever need again, follow along and we'll show you how.
Launch the Settings app from the Home screen of your iPhone or iPad.
Tap on iCloud.
Now tap on Account, you'll see your iCloud email address next to it.
Towards the bottom, under the Advanced section, tap on the name of your iCloud mail account, it is labeled as Mail.
Towards the bottom, enable the option for Archive Messages.
Now just tap Done in the upper right hand corner. You'll be returned to the previous screen, tap Done one more time.
That's all there is to it. Your messages can now be stored in an archive folder if you choose instead of being moved automatically to trash. You'll now see an option to archive or trash when cleaning up messages.
Get the best of iMore in in your inbox, every day!
iMore senior editor from 2011 to 2015.
Nice tip! I have a bunch of emails piling in my inbox that would best be archived and didn't know this existed.

Same I been wanting to save some emails but they get piled up in my in box so I just end up deleting them, now I can save what I like! Great tip :-)
Oh but where n how do we go find the messages that we archive? Lol I'm not really sure! Thanks

This is another great tip! We really depend on iCloud for everything. Your storage begins to build up before you know it. Thanks for the tip!

On my iPhone i don't see all my archived email that I see on my Mac, why is that and how do I see the same as what I see on my Mac. I was searching for an email from last September and I could see it I my Mac but not only phone or ipad
Thank you for signing up to iMore. You will receive a verification email shortly.
There was a problem. Please refresh the page and try again.