How to fix television audio lag on Nintendo Switch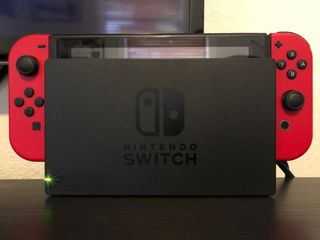 (Image credit: iMore)
Getting some audio lag on your TV when trying to play Nintendo Switch? With so many great Nintendo Switch games to play, having an annoying audio issue could definitely ruin your gameplay experience. Luckily, that can be fixed if you're willing to purchase external speakers or use headphones. Here's how to fix television audio lag on your Nintendo Switch.
Products used in this guide
The console itself: Nintendo Switch ($300 at Amazon)
For improved audio: Logitech Z130 ($20 at Amazon)
For personal listening: Sony MDRZX110NC Noice-Cancelling Headphones ($48 at Amazon)
A necessary converter: Tensun HDMI to HDMI Converter ($23 at Amazon)
And its cable: AmazonBasics HDMI cable ($7 at Amazon)
Check to see if your TV is on "Game Mode"
Before we direct you to buy anything, check to see if your TV is actually on Game Mode. This mode is almost universal in the TV industry today. Its sole purpose is to disable a lot of unnecessary image processing so you can cut down on any latency issues, which could improve your audio issues on your Nintendo Switch.
On your TV, go to the menu where you change viewing scenes. Usually, you'll see other modes like "Sports" and "Vibrant," among many others.
Cycle through the options until you find Game Mode and select it.
Turn on your Nintendo Switch and test your audio.
If you're already in-game mode, or if you've tried this and it doesn't help, don't worry. There are a couple of other things you can do to ensure you have a better experience playing your favorite Nintendo Switch games.
Reboot the Nintendo Switch
Your audio issues may be fixed by a simple reboot of your Nintendo Switch. Sometimes, an issue causes things to go out of sync, and rebooting clears the problems. To reboot it:
Hold the power button at the top of the Nintendo Switch for five seconds.
On the menu that pops up, scroll down to Power Options and tap the A button.
Highlight Restart and tap the A button.
Your Nintendo Switch will now reboot itself. Once it's back on, test your audio by playing your favorite game in docked mode. If that didn't work, keep reading.
Connect speakers or headphones directly to the Nintendo Switch
Thanks to the clever design of the Nintendo Switch, it's possible to hook up external speakers or headphones. You can plug in any standard speaker or a pair of headphones that have a 3.5mm connection. You can even use wireless headphones, but you'll need to plug in a wireless adapter first.
Find compatible speakers or headphones. We've listed a couple of affordable options at the end of this article.
If you're using speakers, plug them into a power source if one is required.
Plug your speakers or headphones directly into the Nintendo Switch's 3.5mm audio port at the top.
Adjust the volume on both your audio unit and your Nintendo Switch as desired.
Now, your sound should be coming directly from the Switch and piped through to whichever speakers you have hooked up. What's nice about this is that the Nintendo Switch will always prefer to use the audio device connected to it, so you may not even have to turn your TV down. If you do, however, then simply find the mute or volume down buttons on your remote.
Use an HDMI passthrough to hook up external speakers
Don't like having to connect speakers or headphones every time you dock your Nintendo Switch? Another option is to use an HDMI passthrough cable that has a 3.5mm connection. This allows you to reroute audio to your favorite headphones or speakers; all the while, you can keep moving from docked mode to portable mode without having to mess with any wires.
Plug an HDMI cable into the Nintendo Switch dock.
Plug the other end of that HDMI cable into the input port on the HDMI passthrough box.
Take a second HDMI cable and plug it into the output port of the HDMI passthrough box.
Plug the other end of the second HDMI cable into an open HDMI port on your TV.
Plug your speakers or headphones directly into the 3.5mm headphone jack on the HDMI passthrough box.
Now, audio will come straight through the speakers, so if your TV was causing the issue with audio desync, then this should be a nice affordable solution.
Our top equipment picks
That's everything you need to know to fix television audio lag on your Nintendo Switch. You should try every remedy you can before purchasing anything. Be sure to take the time to play with your Nintendo Switch and try out some of the remedies we discussed above. And don't hesitate to call Nintendo or your TV manufacturer if you want to be extra thorough in troubleshooting your problem.
If you weren't able to solve your problems naturally, some of this equipment might be necessary to deliver the experience you're looking for.
Logitech Z130 Laptop Speakers ($30 at Amazon)
Small but mighty, the Z130 laptop speakers give solid sound without breaking the bank. They're a good choice if you're tired of relying on the tiny built-in Switch speakers or if your TV isn't giving you the audio you need.
Sony MDRZX110NC Noise Cancelling Headphones ($32 at Amazon)
Most headphones or earbuds will work with the Nintendo Switch as long as they have a standard audio jack. But if you'd like a new pair that balances good quality audio with affordability, you can't go wrong with Sony's offering here.
Tensun HDMI to HDMI+Audio Converter ($18 at Amazon)
If you're frustrated with always having to swap connections every time you change from docked to undocked mode on your Nintendo Switch, you'll need an audio converter box. Tensun's converter is affordable, unobtrusive in your living room, and gets the job done.
AmazonBasics HDMI Cable ($8 at Amazon)
HDMI cables don't need to be remarkable. The AmazonBasics version works perfectly well for most HDMI cable needs; it comes in various lengths for different jobs. And best of all, it's cheap.
Nintendo Switch ($300 at Amazon)
The most important piece of equipment on this list. With the Nintendo Switch, you can play classic couch co-op or take your fun on the go. The action transitions seamlessly, and more of your favorite games are popping up on the Nintendo switch every day.
Master your iPhone in minutes
iMore offers spot-on advice and guidance from our team of experts, with decades of Apple device experience to lean on. Learn more with iMore!