How to get the Apple Watch modern buckle look for less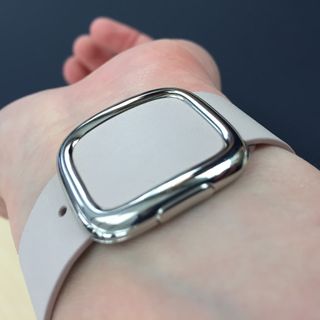 The ultimate Apple Watch accessory is a gorgeous new band. We're all a little gaga for the modern buckle from Apple, but at $249.00 it's not the most wallet-friendly band you can buy. We have the insider scoop on how to get that modern buckle look for your Apple Watch for less.
Vitech modern buckle leather strap
This genuine leather strap from Vitech looks and feels like the real deal but for a fraction of the price. For $39.98, you can choose from seven color varieties. For that price, you may want to invest in a few colors!
The magnetic buckle is made of zinc alloy and the lugs that attach to the Apple Watch face are tight and secure. The leather is thin, soft, and easily mistaken at a distance or up close for the authentic article.
See at Amazon (opens in new tab)
FanTEK modern buckle
A quality alternative from a well-reviewed brand comes from FanTEK. Its version of the band comes in seven colors and sells for a reasonable $39.88.
The band is stretch-resistant, durable, and soft. It has the same milled appearance as the bands from Apple and has been a popular alternative since the release of the original.
See at Amazon (opens in new tab)
top4cus band
The modern buckle lookalike from top4cus comes with a one-year warranty, but you're not likely to need it. At $39.99, you have seven colors to choose from.
The bands clean well if they happen to get a little dirty, and the magnetic closure will keep it in place on the tiniest of wrists. Just be sure to select the size that's right for you before making your purchase.
See at Amazon (opens in new tab)
BRG Tech band
If you're looking to create a classic, feminine look for your Apple Watch, the modern buckle band from BRG Tech is simply lovely. The soft pink leather fits the 38mm Apple Watch seamlessly for only $39.99.
The color is one of the best matches for the original light pink modern buckle from Apple and it rarely needs to be swapped out for occasions or outfit matching because it goes with absolutely everything. It's a perfect gift for the Apple Watch owner in your life.
See at Amazon (opens in new tab)
Pinhen watch band
For as little as $32.00 and up to $39.99, the modern buckle bands from Pinhen offer several basic colors and quality metallic closures.
The fit is comfortable and the leather is high quality. The magnetic closure looks and feels like the original Apple Watch band, and it's just as solid and secure. It's even available in sizes to fit both the 38mm Apple Watch and the 42mm version — Apple's is only an option for the smaller Watch.
See at Amazon (opens in new tab)
Kartice watch band
Kartice offers an impressive variety of both watch bands but buckle options, too. There are 16 combinations of colored leather bands and a choice between silver or rose gold buckles, with combinations ranging from $38.99 to $43.99.
The leather is soft and durable, conforming a little more to your wrist with each wear. The zinc alloy metallic closure is secure and both the silver and rose gold are perfect matches for the Apple Watch case.
See at Amazon (opens in new tab)
Save on bands
If you're still not convinced that some of our picks can measure up to the original Apple Watch modern buckle (opens in new tab), do a little side-by-side comparison for yourself. We think you'll be pleasantly surprised!
Have you come across an inexpensive version of the modern buckle for your Apple Watch that you love? We want to know all about it! Tell us the details in the comments.
Get the best of iMore in your inbox, every day!
But, do any of these offer a space black buckle?

I did a little looking around; none of them specifically use the name "space black", but the Vitech brand does have a black band. I'm going to look around and see if there's a quality brand that has something using that color name, but if you come across it before I do, shout it out here and I'll be sure to get it added!

I know that Clockwork Synergy has the option black hardware on their straps and I've been thinking about getting a saddle leather one from there if they ever get back in stock but it's certainly not a modern buckle design.

The Vitech is available in 7 colors, not 14. You counted the little thumbnails, which shows each color in both sizes.

Thanks for catching that!

I ordered the Vitech after checking out this post. It arrived today, thanks to Amazon next day shipping, and it's going right back. For starters it's simply too small. I have fairly average sized wrists, for a man, ordered the 42mm black, and it's WAY too small, even when set to the last hole. That combined with the fact that the leather band itself is so thin I could probably tear it in half makes this one a bad buy. I wasn't expecting much for a band under $40 but it simply doesn't even fit.

Hey iMore, I seriously like what you guys are doing here. This is the second one of these that I've seen you guys write up, and it's totally awesome! If you guys could do this for all the Apple Watch bands that would be sweet! Thank you for your effort, keep up the good work! Sent from the iMore App

Not a single one of these is still available on Amazon.