How to get your iPhone video clips into iMovie on your iPad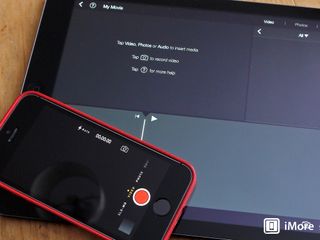 With iMovie for iOS going free with the purchase of a new iOS 7 device, you might be tempted into taking a look at it for the very first time. While iMovie is a universal app for iPhone and iPad, let's face it, if you've just bought a new iPad Air or will be picking up a Retina iPad mini later on this month, that larger display is where it's at for editing your own movies.
But, the camera on the iPhone 5s, iPhone 5c and even those before it, is better for shooting videos with than the iPad. Sadly, there's no simple import option to pull your iPhone movies into iMovie on your iPad. But it's not too tough to get things going, and with iOS 7 Apple actually made the process a little more straight forward. There's a couple of relatively simple ways to do it:
The old fashioned way - Having transferred your video clips from your iPhone to your Mac or Windows PC, hook up your iPad and sync them over this way.
AirDrop - Thanks to iOS 7 and AirDrop, you can wirelessly transfer your video clips between your iPhone and iPad with a few taps. So far I've had no issues sending over clips of varying lengths, but if you're pulling across a really long clip you might be best using the old fashioned method above.
Once you've done the leg work and transferred the video clips you want to craft into your own home movies, the rest is easy.
Once you've created a new project, head up to the top corner of the window. Here it's pretty straight forward as to where you'll find your content, be it video clips or even photos. Since iMovie basically displays your camera roll and albums, you just need to tap on the clip you want, and hit the downwards pointing arrow to add it to the project you're working on. It's that simple.
So, that's the basics on how to import video clips shot on your iPhone into iMovie on your iPad. A direct import feature within the app would be nice, but thankfully it isn't too difficult at least. We'll be taking a closer look at the latest version of iMovie for iOS in the coming weeks, so stay tuned! If you've got any early thoughts on it to share though, drop a line in the comments below!
So far this is the only reason I have been able to come up with to use AirDrop. Then it was so irritating to find out that my iPad 3 apparently doesn't support AirDrop. Argh!

This was the first thing I checked also. I was excited for a simple easy way to transfer the videos to my iPad with no additional apps or wires. For some inexplicable reason, Apple decided not to include AirDrop functionality in the iPad 3. I was fairly annoyed that it was a missing feature.

Have you updated your iPad 3 to iOS 7? If both of your iDevices are running iOS 7, you should be able to AirDrop from one to the other effortlessly.

iPad 3 isn't supported for Air Drop for whatever reason. Seems odd as the iPad 3 doesn't seem all that old. http://www.imore.com/airdrop-wireless-sharing-coming-ios-7-selected-devices

If you do not use iCloud and would like access on a PC or a web browser then you can use DropBox http://to.ly/PBxW this free app (sign up required) will allow you to save photos and videos to a folder in the cloud.
You can access this folder on both iPhone, iPad and also your computer. You also have to give Dropbox permission to access your photos from the iPhone app In the app go to Uploads, (on the bottom)
Click the + button
Allow access to your photos
tap on the videos you wish to put onto your iPad
choose a folder to upload them into(you can create new folders here too.
Choose the folder and upload.
Wait a short time and navigate to the file using DropBox on the iPad. you can then save the video tyo your videos and open in iMovie.
enter image description here The benefit of this over using iCloud is that you are instantly starting the process, iCloud and photostream can take a few minutes to start the sync process, you also have th eoption to be able to open the videos on a web browser, which you cannot do on iCloud.com

Install an app called simple transfer to both iPad and iPhone you can then transfer the videos across without any lose of quality which has always been the problem with sharing video.

Shouldn't lose any quality when you're moving the files between iOS devices. At least, I've not seen any :)

You can also use the USB camera connection kit to connect an iPhone directly to iPad. The iPad sees the iPhone as a camera.

Really? Thanks for the tip, I've got one of those coming sometime this week so I'll check it out!

Yup, I just did it with a 30-pin cable, the old 30 pin Camera Kit and two 30-pin to lighting adapters. Worked perfectly, iPhone 5 to iPad Air.

That's a great idea actually, hadn't thought of that!

I'll have to give that a try. That camera kit has proven to be very valuable over time. When I first bought it I thought it was only something I would use on occasion. It's proving to be quite useful.

I just found a new way to do this last night! If you add a video to a shared photo stream it will actually be shared and you can just grab it on the iPad. Go into the shared photo stream first and use the plus button there, didn't see a way to do it from the video sharing options. Definitely a hidden feature...

hey I'm having trouble with the "grab it on the iPad" part of this. Any advice? When I go to the shared photo stream on the second device there is no little share icon when a video is selected. It only seems to show up on the pictures, so I can't seem to "save to camera roll" for a video on the shared photo stream. thanks!

I have been using either Dropbox, email or iMessage is that order.
Get the best of iMore in in your inbox, every day!
Thank you for signing up to iMore. You will receive a verification email shortly.
There was a problem. Please refresh the page and try again.