How to get your Mac menu bar under control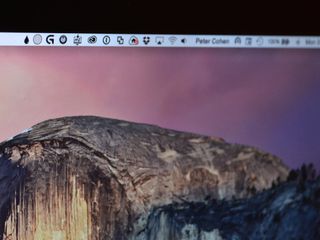 Creative Cloud, Dropbox, Time Machine. Before you know it your menu bar is crowded from both ends. Especially when you're using a smaller screen, like on the MacBook Air, you might like to keep your menu bar tidy. Here's a few of my top recommendations for unflattering your Mac menu bar:
Uncheck "show in menu bar"
Many system tools like the Network and Sound system preferences have options to show in the menu bar. Uncheck the option and that'll make them go away. Take ten minutes and go through them, and you'll find your menu bar looking a lot less nasty. Just don't turn off "show in menu bar" if it's something you need to use frequently.
By the same token, many apps that populate the menu bar offer an option to turn off as well, so check carefully.
You can also re-sort the placement of system preference menus by holding down the command key and clicking on the icon, then dragging it to its new spot.
Bartender
If you want to be a bit more proactive to keep the menu bar under control, you can install Bartender. Made by Surtees Studios, it's a very cleverly named tool that tends to the menu bar.
Bartender moves your Mac menu bar clutter to a separate palette. You have control over what menu bar items you see in Bartender and what remain in place. You can assign hotkeys to activate Bartender from the keyboard, too.
You need to download Bartender from its web site instead of the Mac App Store. That's because of Apple's "sandboxing" requirements for apps sold in the Mac App Store. Bartender is very well supported and the web site manages secure transactions, so you can trust them.
Fortunately, Bartender supports a four-week trial that lets you kick the tires before spending your money.
MenuBar ReArranger 2
Fabrice Leyne's MenuBar ReArranger 2 is another excellent choice. It works similarly to Bartender by removing excess clutter from your menu bar, but lets you do more with that clutter.
You can create two custom profiles that you can quickly switch between: One for work and one for home, for example. Populate the work one with the software you need to do your job and populate the home one with the stuff you do outside the office.
You can reorder and rearrange the display of different menu bar items with fine control. You can also set keyboard shortcuts to activate the different profiles, expand the menu bar and show or hide the MenuBar ReArranger 2 icon itself.
MenuBar ReArranger 2 works similarly to Bartender in that it can't be sold at the Mac App Store, but just like Bartender the developer makes a trial version available for download so you can try before paying.
Whether it's by disabling, de-installing software you don't use or adding a third party tool to clean up the menu bar, you can get it under control. What's your favorite way to modify the Mac's menu bar? Let me know in the comments.
Master your iPhone in minutes
iMore offers spot-on advice and guidance from our team of experts, with decades of Apple device experience to lean on. Learn more with iMore!