How to get your Mac menu bar under control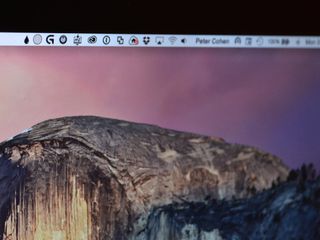 Creative Cloud, Dropbox, Time Machine. Before you know it your menu bar is crowded from both ends. Especially when you're using a smaller screen, like on the MacBook Air, you might like to keep your menu bar tidy. Here's a few of my top recommendations for unflattering your Mac menu bar:
Uncheck "show in menu bar"
Many system tools like the Network and Sound system preferences have options to show in the menu bar. Uncheck the option and that'll make them go away. Take ten minutes and go through them, and you'll find your menu bar looking a lot less nasty. Just don't turn off "show in menu bar" if it's something you need to use frequently.
By the same token, many apps that populate the menu bar offer an option to turn off as well, so check carefully.
You can also re-sort the placement of system preference menus by holding down the command key and clicking on the icon, then dragging it to its new spot.
Bartender
If you want to be a bit more proactive to keep the menu bar under control, you can install Bartender. Made by Surtees Studios, it's a very cleverly named tool that tends to the menu bar.
Bartender moves your Mac menu bar clutter to a separate palette. You have control over what menu bar items you see in Bartender and what remain in place. You can assign hotkeys to activate Bartender from the keyboard, too.
You need to download Bartender from its web site instead of the Mac App Store. That's because of Apple's "sandboxing" requirements for apps sold in the Mac App Store. Bartender is very well supported and the web site manages secure transactions, so you can trust them.
Fortunately, Bartender supports a four-week trial that lets you kick the tires before spending your money.
MenuBar ReArranger 2
Fabrice Leyne's MenuBar ReArranger 2 is another excellent choice. It works similarly to Bartender by removing excess clutter from your menu bar, but lets you do more with that clutter.
You can create two custom profiles that you can quickly switch between: One for work and one for home, for example. Populate the work one with the software you need to do your job and populate the home one with the stuff you do outside the office.
You can reorder and rearrange the display of different menu bar items with fine control. You can also set keyboard shortcuts to activate the different profiles, expand the menu bar and show or hide the MenuBar ReArranger 2 icon itself.
MenuBar ReArranger 2 works similarly to Bartender in that it can't be sold at the Mac App Store, but just like Bartender the developer makes a trial version available for download so you can try before paying.
Whether it's by disabling, de-installing software you don't use or adding a third party tool to clean up the menu bar, you can get it under control. What's your favorite way to modify the Mac's menu bar? Let me know in the comments.
Get the best of iMore in in your inbox, every day!
I recommend Bartender, it works and seems to get updates/bug fixes
It also lets you remove (or relegate) some of the system ones off the menu bar to it's own menu bar
this makes it very useful in that the frequent/important ones are visible all the time

Yeah, I like Bartender too. I also like TotalFinder if only because I like a tagged item in list view to highlight the entire row instead of just a tiny colored dot. And SuperTab to have multiple Docks by double tapping the Command key — Having groups of apps arranged for certain tasks is really handy. For that matter I need to start using Apple's LaunchPad for better arranging things instead of just using the Dock and Applications Folder.

What does everyone consider their most essential third party menu bar item? Mine would be either BootChamp (allows me to reboot directly into Windows mode with two clicks) or F.lux (so I can quickly disable it while I touch up a photo and re-enable after I'm done). Sent from the iMore App

Istat menus. Can't live without it

OK, now .. million dollar question to Peter... Can you anchor the Dock below to a specific screen? I'm in search of a Dock utility out there to keep the dang Dock from moving from one monitor to another when I 'accidentally' brush my mouse at the bottom of my second monitor.. I know. I Know... Their are 'ways' to prevent this, but they suck and you compromise features or usability. You can 'go classic' with Desktop Spaces..
OR
You can put the bar on the right or left side.. Issue I have, is neither option is something that will work for me. I have 2 UltraWide screens.
I use the multi-monitor spaces option a LOT.. so going back to classic spaces is not an option. Since my monitors are sooooo very wide (34" LG 34UM95 UltraWide monitors), having the bar to the far right or left just pulls the bar to far out of my view.. I need it front and center. I really, really wish Apple would just allow you to anchor the bar to a specific screen..

I got BarTender two weeks ago. Don't know how I've lived so long without it!!

I actively pursue software that is not required to run from the menu bar because I'm such a purist. I cringe to see shots like this one with so many icons. Perhaps Bartender is an answer so I don't have to make that a deal breaker any more. PS, I'll echo istat menu as one that is essential to me.

First, MenuBar ReArranger 2 isn't compatible with El Capitan yet. That's apparently coming soon yet. That maybe should've been mentioned in the article. I think I'd like Bartender, but it will only group/move items by application. So all of my iStat menu items have to be grouped together with it. When what I really want is to mix and match as I please (Like I used to be able to do in Yosemite without any extra menu bar managers). Any suggestions? Or do I just need to wait for MenuBar ReArranger 2 to hit v2.5 and be El Cap compatible?
Thank you for signing up to iMore. You will receive a verification email shortly.
There was a problem. Please refresh the page and try again.