How to install Windows on your Mac for free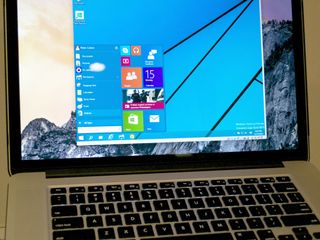 2015 is going to be a big year for Microsoft with the forthcoming release of Windows 10 — you can read all about Microsoft's big January event right on our sister site Windows Central. Windows 10 is available as a technical preview, and if you're interested in trying it out on your Mac, you can do so safely without jeopardizing any of your Mac stuff, using virtualization software. What's more, you don't need to spend a dime doing it. Because both the Windows 10 preview and the virtualization software is free.
Step 0: Virtualization or Boot Camp?
Before you get Windows on your Mac, you have to decide how you want to run it: virtually within OS X, or on a separate hard drive partition using Boot Camp. Using software provided by Apple, you can turn your Mac into a dual-booting computer capable of running Windows or OS X natively. When your Mac is running Windows using Boot Camp, your Mac is a Windows PC. In order to do this, however, Boot Camp requires you to repartition your Mac's hard drive.
Virtualization software works differently: You're not messing with your Mac hard drive's partition map, you're just creating files and running Mac software that creates a virtual instance of a PC. If something goes really wrong — and this is preview software, remember — it's a lot easier to clean up the pieces using virtualization software than it can be if parts of your Mac's hard drive gets hosed.
Boot Camp doesn't officially support Windows 10 yet, and as such, its drivers may not play 100 percent nicely with the technical preview if you choose that route. I plan to revisit Boot Camp support for Windows 10 after Microsoft officially releases the new version, and I'll post my results. In the interim, though, I don't recommend using Boot Camp for Windows 10 Technical Preview.
Step 1: Download virtualization software
Running virtualization software seems to be the smartest option on the table at present for Microsoft's Windows 10 preview, and both Parallels Desktop or VMware Fusion are good options if you have them around.
If you don't already have virtual machine software on your Mac, you can download Oracle's VirtualBox. It's a virtualization tool just like Fusion and Parallels, but it has the virtue of being free. There are trial versions of Parallels Desktop and VMware Fusion which won't make you pay a fee for a two weeks or one month, respectively, so you're welcome to try those out if you prefer. But if you never want to pay a fee, check out VirtualBox.
My experience is that compared to VMware Fusion and Parallels Desktop, VirtualBox doesn't offer the same sort of robust performance or have quite as polished Mac integration (though there's no charge for it). You get what you pay for, et cetera.
Here are some links to virtualization software you can download for your Mac:
Step 2: Download Windows 10
After you have virtualization software, you'll need to download an ISO image of the Windows 10 technical preview. The ISO image is, for all intents and purposes, an exact copy of a physical Windows installation disc. You get this image from Microsoft itself by downloading it directly (opens in new tab).
To get the disc image, you will need to register as part of Microsoft's Windows Insider Program. If you haven't already created a Microsoft account for OneDrive or Xbox Live or the like, you can do this during registration. You can also link the account to an existing email address to make it easier to remember and find later (much like iCloud).
Once you're set up and registered, Microsoft links you to a web page to download links; that page includes the product key you need to activate your preview version of Windows 10.
Step 3: Create a new virtual machine
Launch VirtualBox.
Click on the New button.
In the Name field, type "Windows 10" or whatever you'd like.
Leave Type as Microsoft Windows
Click on the Version menu and select Windows 8.1 (64 bit).
You should be able to use the default settings for the next several screens, assuming your base goal is to just poke around Windows 10 and see how it works. Create a virtual hard drive; set the file type to VDI; and make the drive dynamically allocated. This will create a virtual machine that will be listed in VirtualBox's Manager. Select it and click the Start button.
Step 4: Install Windows 10 Technical Preview
When you finish creating your virtual machine, you'll be prompted with the following: "Please select a virtual optical disk file or a physical optical disk to start your new virtual machine from." Click on the folder icon to bring up a file browser which you can use to locate the Windows Technical Preview ISO file you downloaded.
Click the Start button.
Follow the instructions given by the Windows 10 Technical Preview installer. It will ask you where you want to install Windows; the only option should be a drive with unallocated space corresponding to the virtual hard drive you've just created in VirtualBox. Select it and click Next.
The rest of the process is just a step-by-step setup, and that's literally all there is to it. After a virtual machine restart, you should soon be staring at a virtualized desktop of Windows 10, running on your Mac.
Any questions?
As I mentioned above, VirtualBox's Mac integration isn't quite as tight as its commercial virtualization alternatives; it's a bit easier with those to switch display resolutions, use accessories, and integrate your Mac's own files. But if you're on a short budget or just want to mess around with Windows 10 prior to its release, VirtualBox and the Windows technical preview can give you what you need without setting you back any cash. That counts for something.
And if you run into any problems or have any questions, let me know in the comments.
Get more iMore in your inbox!
Our news, reviews, opinions, and easy to follow guides can turn any iPhone owner into an Apple aficionado
Wait a sec, I thought 8 was the current version. What happened to 9?

If you checked out WPCentral you would figure it out. They like the name 10 better and they are upgrading the kernel version to 10 which simplifies a lot. Posted via iMore App

They skipped it. I read an explanation somewhere that said something in windows legacy code wouldn't play well if they named it 9, so they went to 10. I don't remember the specifics and it could have just been speculative. It's no more odd than Apple naming Yosemite 10.10 IMO.

OS X 10.10.0 still equal to 10.1.0?

No, because version numbers have nothing to do with decimal math.

I get what you're saying, Peter, but it still looks weird. I suppose OS X looks better than OS XI though. And they couldn't very well call it OS X 11.0.

basically, many old programs use 9 as os code for win 95. besides, they had to copy mac, didn't they :p

So I'm guessing iOS8 had to copy Win8? :-) Posted via the Android iMore App!

iOS 8 didn't skip a version number to get there

That was a myth. Posted via iMore App

That was actually a myth. Posted via iMore App

Seeing as the operating system can (and often does ) lie to programs to fore compatibility anyways, the kernel number and OS version number are largely irrelevant. It's for branding sake: Windows 10 is a "cleaner" number, and it looks like they might follow Apple and keep it around for awhile. I.E: Next year we'll see 10.1, then 10.2, 10.3, etc. Not to mention that Microsoft is trying to flee the Windows 8 brand.

The kernel version indicates that the system has been most likely revamped. It also makes a lot of simplicity. Like in Windows 7 the version was like in the sixes. Posted via iMore App

I've heard that it was quite popular for coders to look at the beginning of the Windows version running, and if it started with "Windows 9" they assumed you're running Windows 95 or Windows 98 and they'd have their app bail with a "Upgrade to a version of Windows produced this millenium, bozo!" message.

That was a myth, ok. Posted via iMore App

According to an article I read, a lot of Microsoft higher ups stated that "it came and it went" and even the CEO stated that they didn't want people to associate it with the poorly accepted 8 and had also admitted that they did not listen to the feedback consumers were giving to the development team. So they are basically starting from scratch again. At least I hope they are... 8.1 was horrendous. Even Microsoft was giving people a free downgrade to Windows 7.

8.1 is a great OS. Posted via the Android iMore App!

Yeah, it really is. Posted via the iMore App for Android

Agreed 8.1 is very good, you just have spend some time with 8.1 to get used to it. Sent from the iMore App

no no thats the beauty of it lois windows 10 is so intense it skips over windows 9. but in all seriousness i think it was due to a coding problem between 9 and '95 or something and to make it seem like it's more developed and polished than it actually is cos their scared of macs and their cool sleek well designed reputation and appeal

@kingweb And 30 is the new 20 Sent from the iMore App

You don't know? Seven eight nine! Sent from the iMore App

Great. Now write a proper guide for installing FreeBSD on the Mac. You know, roots and all that jazz.

It's easy. Download VirtualBox and install anything you like. I've been running Slackware and DragonflyBSD like that for years. I plan to run Snow Leopard the same way for retro fun...

I got this the day it was released and while I like it I do prefer OS X. I am wondering. Will I be able to keep it once it goes official? Or do I then have to buy it? Sent from the iMore App

You will have to purchase a license for that install. Sent from the iMore App

That's what I feared. Sent from the iMore App

In previous enterprise preview versions the install lasted 6 months, after which you could reinstall the software again if you wanted.

But if you already have a valid Windows 7/8/8.1 install you can upgrade to 10 for free within the first year of the official release.

Can I install a program to this virtual machine and the windows 10 technical preview? If so, how do I do it? thanks

Once the virtual machine is running Windows 10, you can install an app by downloading it using Internet Explorer (or any other web browser you'd like to use) and running the installer from inside the virtual machine.

Thank you, But the program I need to install is a program I have a CD, not one from the App Store. Can you tell me how to install it from the CD since my Mac doesn't have a cd drive?
Thanks

First you'll obviously need to buy an external CD player. Sent from the iMore App

Thanks for the info Peter...I think I'll give win10 a try.

I hate using Windows and am not really interested in Windows 10 but because of work I have to just to use IE. I've been funneling money year after year into Parallels for crappy incremental upgrades that I don't really need just because they brick you for upgrading to new versions of OS 10. I will be giving Virtual Box a try real soon. Thanks Peter!

I keep getting HTTP error 503 when I try to install Windows from the site. Any suggestions?

Is there more lag with virtualization vs boot camp? Posted via the iMore App for Android

Is there more lag using Virtual Box vs using Bootcamp? Posted via the iMore App for Android

I'm really having problems trying to install this... Everytime that I try to boot up Windows 10, it tells me that I need to take out the installation drive and restart. Any suggestions?

I had the same problem when trying to boot Windows 10 initially. I got around it by selecting the Custom install option. From there, it proceeded as described in the article, and it didn't ask me for any customization inputs.

Windows 8 has been a disaster. Very curious to see if 10 gets it right.

Don't hold your breathe. Windows is traditionally crap piled on top of crap. Not that I could do any better... But there are tons of issues. I would really like for Microsoft to make a completely new from scratch version of windows at the same time as offering a completely stable "classic" version. Let the user decide which experience is best for them. It'll never happen. Sent from the iMore App

It would be very difficult to implement the system otherwise. Programs would not work because they are designed for specific resources and environment variables. Then to allow it to become classic? It doesn't work like that. Posted via iMore App

While I'll probably check it out! Windows 10 doesn't exist. Windows 8 is what FINALLY made it possible for me to switch my parents to a mac. Now all is right in the kingdom. So there is no need to speak of this "Windows 10" anymore.

Runs just fine under bootcamp.

Nice write up on this topic! Are there additional steps needed with VirtualBox to install audio drivers? After installing Windows 10, VirtualBox Manager reports an Audio Host Driver: CoreAudio and Controller: ICH AC97. Attempting to unmute the speaker (in the Windows environment) indicates no driver installed. Other standard Windows functionality seems ok - although noticeable lag.

I am running VirtualBox 4.3.20 r96996 on an iMac with OSX 10.9.5. I got to Step 4 and clicked the "Start" button, but the only instructions I got from the Windows 10 installer was: Your PC needs to restart.
Please hold down the power button.
Error Code: 0x0000005D
and some parameters... What power button?

I suspect that in Step 3, you selected "Other Windows" instead of "Windows 8.1 x64" in the "Version" drop-down.

Just the title of this article brought on tears of joy then fear Sent from the iMore App

I joined the Insider program, but it says that the Windows 10 Preview is not available yet.

The last build will be available next week :)

"The Windows 10 Technical Preview and Windows 10 Technical Preview for phones are almost ready. Please check back."

Why would you want to? Sent from the iMore App

So now we're telling people the technical preveiw is full Windows 10? Posted from the amazing whatever device I can afford because I'm a broke college kid.

I will be installing it Posted via the iMore App for Android

So I run a VM can I play windows only games? Ex day z on steam? Sent from the iMore App

You can, though your performance will be diminished considerably compared to Boot Camp. The commercial VM apps offer better performance than VirtualBox, too.

Okay so boot camp is the best then, how safe is it? And is it easy to set up? Sent from the iMore App

I'm a little bummed that this article was updated between the time when Win10 was available and will be available. Now I've got the task of remembering to do this whenever the next preview becomes available? I know it's not a hard thing to remember, nor will the world end, should I forget, but you'd think you would want to update this article while the preview is actually available.

I followed these steps perfectly, yet I get this error: Failed to open the optical disk file /Users/*REDACTED*/Desktop/WindowsTechnicalPreview-x64-EN-US.iso.
Could not get the storage format of the medium '/Users/*REDACTED*/Desktop/WindowsTechnicalPreview-x64-EN-US.iso' (VERR_NOT_SUPPORTED). and the details say the result code is:
VBOX_E_IPRT_ERROR (0x80BB0005)

I'd rather scrape the soles of my feet and eat it than install Windows 10.. Windows 7 on a VM is "good enough" and that's as far as Windows will ever go for me.

Is the Technical Preview no longer available or does the link not go to the right website? I can't find it.

Hey, I got Windows 10 running on a 2013MacPro6,1! But it doesn't seem like the best thing. Overall my "worry" factor was a bit too high to make it worth while even though nothing really went very wrong. The new preview builds sometimes fail, recovery/revert takes hours and coupled with software stability problems, and the AMD firepro D500 driver support inconsistencies between builds - I'm very hesitant to recommend the preview to average Mac Pro users. Microsoft needs to bake this cake a bit longer.

Hello, i have successfully installed windows 10 on my macbook air yosemite, but i cannot connect to the wifi, its saying there are no available connection. Any help?

So I've been using windows 8 on my Mac with boot camp for a while now and I know Microsoft is offering a free windows 10 upgrade on July 29 so I'm wondering if I can reserve that update without issues. Any ideas?

Through a virtual windows machine on the MacBook, can I access the CD drive on the MacBook ?

I was able to follow the instructions all the way until the last part, because when I open this iso file and run it on VirtualBox, it opens it alright, and it's definitely there, but all I got is the Windows logo on a black screen. I've been waiting to see if anything happens, and nothing ever does. Can someone help?

So, I'm assuming that since Windows 10 is now launched that they are no longer giving out a product key for a free trial? I followed all of the steps above and am staring at the screen in virtual box requesting my product key....guess I should have figured that out before I went through all the steps.

Hey! the Virtual Box program worked great! but I was wondering if you had any tips for the monitor aspect ratio... Its using some sort of generic driver for the monitor adaptor and monitor offering me no "wide screen" option for the resolution I have it running at 1024 x 768 which fits the height of my laptop, but the width falls short leaving me with 2 black bars on either side if my windows desktop. Any Ideas?

I've been able to do everything up to downloading Windows 10. I'm running OS X El Capitan (10.11) and every time I try to download it stops at 9.2 MB downloaded and the estimated time counts infinitely upward. I've been trying to get SFM for a while now and I thought I found the answer here but unless I can get past this, I'm kinda doomed. Please help!

I followed the instructions to install Windows on a Mac, carefully I thought. I have Virtual Box all labelled and ready. I have Windows 10 Insider Preview downloaded. Except that the final step of installing Windows 10 on Virtual Box doesn't complete itself. I never get a Windows desktop; I just keep getting back to the install page. I get to questions like asking for the serial number (I say that I don't have one) and choices of using a mouse. I am using Os X El Capitan with Safari 9.0.1. Should I delete it all and setup again? Any hints?

i can't set it up i am stuck with the selecting disc. pls do help me.

Do you get Microsoft word with this?

Can I use windows 7/8.1 instead of windows 10?

How do i install excel once i have the virtual window running on virtual box?

I got to step 4 and idk what file to put or where it is so that i can hit start

when i select iso file by download win10 of me, occur a error"storage format is not correct", what's the reason?

When I click "Start" in the starting page, I get serioursly stuck, the whole computer frozes, and I can only get back to normal when I restart my computer. It's pretty messy. Maybe it's just a question of patience and wait until everything loads, it may be something very heavy. Thanks, any help is appreciated!

how do I make the plugin full-screen? even when I press the green full-screen button on the top it remains a black border on the outside of the screen

Hi! everything seems to work up fine, but when i open the CD drive to install my cd rom (its a language course), click on the only set up file, it restarts the installation of windows 10, and there is another file that says auto run, but does not run it. HELP!!

oh! now it says Windows is not activated....

I realize this is a two year old article, but I'm hoping that the author or a reader could help. I'm trying to install Windows 10 (Build 1709) using Oracle's VirtualBox (v. 5.2.8) on a MacBook Pro running macOS 10.13.3 in order to familiarize myself with the OS for IT support reasons. I've followed the steps and when launching Windows OS, I get a screen with a checkered pattern of colors and nothing else. I wish I could add a screenshot. Any ideas? Much thanks!