How to integrate Twitter and Facebook into your iPhone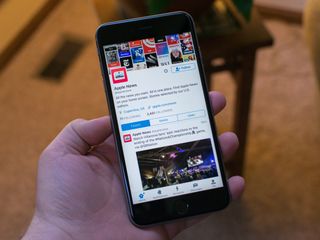 Remember how with iOS 10 you could integrate social media apps like Twitter and Facebook? Well with iOS 11 — simply put — you can't.
You now have to manually allow access within each app that asks for it, meaning that direct integration with apps like Twitter, Facebook, Flickr, and Vimeo.
So what does this mean?
Twitter, Facebook, Flickr, and Vimeo will now be treated just like regular apps. You can see the difference in what your settings look like between iOS 10 and iOS 11 with this screenshot from MacRumors:
What do you think?
Are you a big fan of this change from iOS 10 to iOS 11, or would you have preferred to keep apps like Twitter, Facebook, Flickr, and Vimeo integrated?
Let us know what your thoughts are in the comments below!
Get the best of iMore in your inbox, every day!
Cella writes for iMore on social and photography. She's a true crime enthusiast, bestselling horror author, lipstick collector, buzzkill, and Sicilian. Follow her on Twitter and Instagram: @hellorousseau
I was a huge fan of Synergy with WebOS and how it took all your social media accounts and integrated them with the contacts. That's a feature I miss now, especially with contact profile pics.

Yes, I'm a fan of this change, since you didn't get PUSH Notifications for Facebook the way you do on macOS, anyways (where the account is still integrated). On the flip side, macOS doesn't have SSO support... This also made it too easy to allow every app to access your Twitter and Facebook Accounts... Not having the integration makes you think a bit more about it, and perhaps... examine the permission requirements for why and how these apps access those accounts. The only reason I see to integrate the service into the system, is if it provides push notifications. This saves you from having to install a third party app, if you don't need functionality that's only available via the app.

I was on a local news app on my iPhone 6s and wanted to post a story to my Facebook page. So I did tapped the share icon and then tapped Facebook and a message popped up that said that I needed to login to my Facebook on my phone through settings. I go into settings find the fb app and tap it. Nowhere could I find where to sign into my fb account. So I googled how to sign into fb from my iPhone and the results were pretty much all the same instructions but when I followed them I ran into the same problem as when I tried to sign via settings. So I added the new version I updated to recently to, to my google search and I came across this article explaining that integrating my fb with my iPhone is no longer possible with the 11.2.6 update!!!! Your article asked what we thought about this change and to leave our comments regarding it. So my thoughts about this change is that ITS HORRIBLE!! The only way I know how to share something with fb is to tap the copy to clipboard option then close the app I'm in, go open the fb app go to my page and paste. Why would Apple make things more complicated instead of having updates that make things easier??? Doesn't make a bit of sense to me!!