How to keep your Mac safe from adware like Genio and Installmac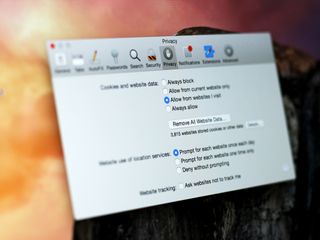 (Image credit: iMore)
I've had some choice things to say about "adware," software that redirects your web searches, and how to get rid of it. Annie Hayes (@abazoe on Twitter) is a Mac expert at iCape Solutions, the Apple Specialist reseller I work at. She has some more info for you. She was kind enough to link back to one of my pieces in her article about avoiding MacKeeper. If you're in Hyannis, MA and need Mac help, Annie knows more than me. She's nicer, too.
Every day our customers come in with problems with their Macs that they can't explain — web browsers redirecting to places they've never seen before, pop-ups appearing out of nowhere, slow and sluggish page loading in Safari and other web browsers. If this has happened to you, you may have an adware infection on your Mac. AdwareMedic and other apps can help:
A touch ironic that Ghostery shows me more than 30 services this page calls out to when loading.

A simple advice: Install Ghostery and Adblck Plus extension on your Firefox, Chrome or Safari. For added security install WOT and Pop Up blocker extension additionally. You will be 'mostly' safe. No Anti Malware, Anti Virus required. These are some of the basic browser essential add ons I use everytime I set up someone's Mac or Windows. So far no issues in Mac. For Windows : your preferred Antivirus is additionally recommended. And you are pretty much set. Sent from the iMore App

Ghostery can be a recommendation, but it can also cause issues. For instance, Ghostery also blocks the Disqus plugin that many websites use for their comments. It also blocks Typekit by Adobe, which allows some websites to include custom typefaces (e.g. The Verge). Some websites don't work at all anymore, like the account settings on Skype.com. You always need to be aware of this. Personally, I prefer AdGuard over Adblock Plus for Safari or Chrome. It seems to have better results (especially on YouTube) and is a bit lighter. I can also recommend installing Cookie from the Mac App Store. It will clean up tracking cookies and cookies set by non-favourite or one-off websites. It's a bit pricy nowadays, but I have had very good experiences with it. Another tip of mine would be to block certain plugins by default (Safari settings > Security > Internet Plug-ins), especially Java, Adobe Flash and other plugins that Safari considers to be less safe. You can still override these blocks on a per-site basis if you need it. Blocking Flash by default may also improve up your browsing experience.

Great article and more great information in the links. I've seen the likes of MacKeeper et al that promises to 'optimize' my iMac. Stay as far away from them as I can. Sadly lots of folk don't stay in the know by following iMore and other similar sites. I've kept myself out of trouble thanks to you guys. Sent from the iMore App
Thank you for signing up to iMore. You will receive a verification email shortly.
There was a problem. Please refresh the page and try again.