How to keep your Nintendo Switch Joy-Con controllers from hurting your hands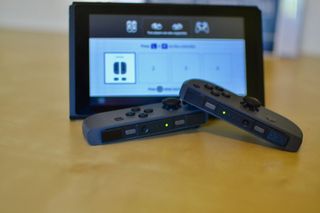 (Image credit: iMore)
I've expressed my feelings before about just how much I love the Joy-Con controllers for the Nintendo Switch. The freedom to have your hands in whatever position you want really makes a difference in how long you play a game before the pain and cramping of being completely stationary sets in. For me, personally, the Joy-Cons are not to small. They're just the right size.
That being said, when I play multi-player Mario Kart and have to hold just one Joy-Con with both hands in sideways mode, my pinky finger starts to cramp up pretty darn fast. They're just not designed for comfort, especially when held sideways.
Whether your hands are big or small, whether the Joy-Cons fit just right or feel awkward, there's definitely room for improvement when it comes to ergonomics. Sure, you could just buy a Pro Controller or use the Comfort Grip, but that ruins the fun of being able to adjust your position from the handcuffed single-unit controller.
Instead, try an ergonomic slip case for your Joy-Cons. Here are some of the best ones on the market.
Surge Nintendo Switch Grip Kit
These are the hand grips I'm happy exist. When I'm playing a two-player game and have to split up my Joy-Cons, playing in sideways mode starts to hurt pretty fast. These mini comfort grips completely take care of the problems associated with sideways Joy-Con gameplay. They've got hand rest extensions that give you a much better grip, and also have a small raised bump on the back so your fingers have something rounded and comfortable to rest on. It's got cutaways for the side buttons, so you'll be able to play any game without hindrances. The covers also come with a set of thumb grips, in case you find the joystick to be a little too dainty. The whole package comes in at about $12.
These grips are similar in style, make, and size to the Surge grips, but with a few notable differences. The bottom grips are longer, gearing them more toward those with larger hands who need something sturdy to support the entire hand. They also have larger, more obvious L and R buttons to press on top, again ideal for those with larger hands or who just need something a bit more meaty to work with than the tiny Joy-Con controller. These also come with thumb grips and are the same price as the Surge.
TNP Nintendo Switch Joy-Con Grip Gel Guards
If you're just looking for something to make your Joy-Cons a little more ergonomic in the standard position, these gel guards have you covered. For the most part, they're simply a silicon slip cover to protect your Joy-Cons from scratches and scuffs, but they're designed with a rounded grip toward the palm area for handheld comfort. All of the buttons are exposed, so nothing is obstructed from gameplay. This slip case is great for people that normally play solo, and it doesn't interfere with anything whether your holding your Switch or have it docked to your TV. The only issue with this design is that it's not very comfortable in sideways mode. Luckily, they're cheap enough at about $7 - $8 that you could get a set of these and a set of the Surge grips. They come in gray, black, neon yellow, neon red, and neon blue.
YoRHa Studded Silicone Cover for Joy-Cons
Maybe the Joy-Cons don't bother you a bit, but you'd like them to be a little bit more grippy. If your sweaty palms tend to make your Joy-Cons slip out of your fingers too much and you'd like something that makes it so you don't have to clamp down on each one with the strength of a gorilla, try these studded silicon slip covers. They've got small raised bumps on the backside to help with grip. YoRHa also incudes a set of four different sized thumb grips. Each one is slightly taller than the last, giving you lots of variety on how much you want your joystick to protrude from the controller. These $10 covers come in black, red, blue, and red and blue.
YoRHa HAND GRIP Silicone Case for Nintendo Switch
If you never take the Joy-Cons off of the Switch, but do play in handheld mode a lot, this whole-switch cover is going to pique your interest. It's a silicon case that covers the entire Switch, controllers and all. It's got big cylindrical grips on the backside of each Joy-Con, plus also has a small raised area at the top so you can rest your Switch on a flat surface and have a comfortable typing angle.YoRHa also incudes a set of four different sized thumb grips. Each one is slightly taller than the last, giving you lots of variety on how much you want your joystick to protrude from the controller. You can get this case in black, blue, green, gray, orange, purple, or red for about $15.
I like this grip for two reasons: the first is that it works nicely as an almost-racing-wheel in Mario Kart, and the second is that it offers more distance between my hands and the buttons. The small Joy-Con tends to make my hands bunch up on the controller, tightening my wrists and causing soreness after an hour or two of play. This keeps everything supported and stretched out nicely so I don't feel cramped. The main downside with this is that you're paying $12 for a single controller. It fits both Joy-Cons just fine, but you will have to buy a second if you want a Player 2 to use one as well.
If nothing else seems to fit your hands, give the Nyko grips a try. I don't recommend them as a first choice, as they're made of plastic and depending on how you hold them, the corners can dig into your hands. That said, the upside to the Nyko Swivel Grips is that they do exactly what the name says: swivel. You can adjust the bottom parts of the grip to your liking, so that if your hands just aren't quite fitting nicely with other grips, these are essentially customizable. At only $10, even if they don't work perfectly for you, they're worth a try.
How do you deal with Joy-Con discomfort?
Do you use a particular ergonomic cover for your Joy-Cons or do you just always use the Pro Controller? Let us know how you deal with Joy-Con pain.
Updated May 2018: Added AmazonBasics, GameSir, and Nyko grips.
Master your iPhone in minutes
iMore offers spot-on advice and guidance from our team of experts, with decades of Apple device experience to lean on. Learn more with iMore!
Lory is a renaissance woman, writing news, reviews, and how-to guides for iMore. She also fancies herself a bit of a rock star in her town and spends too much time reading comic books. If she's not typing away at her keyboard, you can probably find her at Disneyland or watching Star Wars (or both).