How to make your furniture into a wireless charger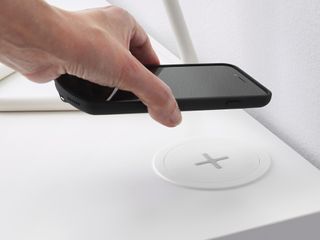 It wasn't long ago that I was absolutely, completely, and totally uninterested in the concept of "wireless charging." Something about the fact that it wasn't truly wireless — i.e., giving me the ability to walk around my house without needing to plug in for a charge — just rubbed me the wrong way. But then I got an iPhone X and a couple Qi charging pads and stuffed a "You're a Hypocrite" card into my wallet.
I love wireless charging. It's convenient, simple, and doesn't require fumbling with a cord and port. The only thing I'm not big on is the way wireless charging pads tend to look. Too many of them have adopted the modern sci-fi aesthetic: decked out in shiny materials, packed with LEDs, and emblazoned with logos. I went looking for a more subtle option and decided the best way to incorporate wireless charging without the eye sore would be to integrate it — to make it a part of my home.
Enter IKEA, the (in)famous furniture and home decor company, that's offered Qi wireless charging products since 2015. IKEA has several Qi-enabled furniture pieces in its lineup, including tables, desks, lights, and well-designed, freestanding wireless chargers. The company recently touted its RIGGAD work lamp and VARV table lamp in an advertising campaign directed at iPhone users.
The best product it sells, though, would have to be its RÄLLEN wireless charger — an understated wireless charger that you can build into a piece of furniture of your choice. It's a mere $13, it comes in black and white, and it's Qi certified.
With a diameter of 3 inches, the charger will fit in many standard-sized grommet holes, meaning your desk may already feature the perfect spot for an integrated wireless charger. If you'd like to add an integrated wireless charger to a piece of furniture of your own, all you need is a drill, a hole saw, and a bit of elbow grease! In fact, IKEA sells a hole saw set for installing the RÄLLEN wireless charger, but any 3-inch hole saw will do.
Simply mark where you'd like to install your wireless charger, don the necessary safety equipment, and drill your hole. Feel free to smooth things down with a little bit of sandpaper and some mineral oil. Believe it or not, that's all there is to it! You'll have a perfectly sized hole to slide in your new wireless charger.
Thoughts?
Have you attempted a wireless charging installation of your own? Have you found a well-designed wireless charger that you're proud to display atop a table? Do you just absolutely despise wireless charging like I used to? Give us your thoughts, stories, projects, and photos in the comments below or over on Twitter!
Get the best of iMore in in your inbox, every day!
Mikah Sargent is Senior Editor at Mobile Nations. When he's not bothering his chihuahuas, Mikah spends entirely too much time and money on HomeKit products. You can follow him on Twitter at @mikahsargent if you're so inclined.
Looks like they have a natural wood cut also....
http://www.ikea.com/us/en/images/products/nordmarke-single-pad-for-wirel...

I used strong double-sided tape to stick a Choetech Qi charger under the glass top of my desk, and marked the target with some inconspicuous tape. So now I just set my iPhone on my desk when I need to take a work call, no cables needed!

Back when people were poo-pooing the 2012 Nexus (Android) Qi chargers, I doubled down and bought them on the cheap on eBay. They work great, have sticky rubber to grip phones (e.g. the Nexus 4, and the Nexus 5 I still use), and hold the phone up for reading/using at a desk. I tried the 2013 Nexus 5 charger (with magnets for positioning the phone), and still have one sitting on a Battlestar Galactica glass coaster in my bedroom. I'm amused that now that Apple has FINALLY adopted Qi charging, there's a new flock of fancy charging pads and solutions. Authors are saying, "Oh, my. This is really great." I've been saying that for five years! I almost never plug a phone into a cable now except in my car (I didn't retrofit a Nexus 5 charger in my car, though I could; my armrest will accommodate it in the enclosed space). Qi charging uber alles.

Took the guts out of a cheap wireless charger, glued it into some well cutout plastic ID card blanks and then put that into a stride gum package, proud of it, keep it plugged into my iMac at work to put my iPhone X on. Wish I could post a pic of it
Thank you for signing up to iMore. You will receive a verification email shortly.
There was a problem. Please refresh the page and try again.