How to make your iPad's external keyboard even better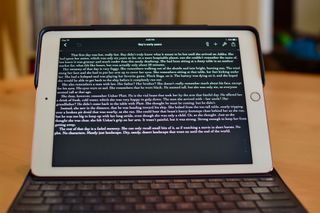 Before my MacBook Pro came on the scene, I did most of my writing for an entire year on an iPad Pro and Logitech Create keyboard case. I loved writing on the iPad for a number of factors: It was lighter and more portable than a Mac in many situations, and focusing on a single app made it much easier not to get distracted during my work day. But I frequently had issues with auto-correction and capitalization — items I loved on the iPad's software keyboard — mucking up my hardware keyboard experience.
Thankfully, Apple has solved this issue by offering iPad users who connected hardware keyboards a separate settings section for adjusting their hardware keyboard preferences. It makes using a hardware keyboard on the iPad much better than trying to compromise on shortcuts when switching between physical and software keyboards.
Here's how to access these settings!
How to disable Auto-Capitalization, Auto-Correction, and the Spacebar Shortcut on your iPad's Hardware Keyboard
Connect your external keyboard to your iPad via Bluetooth, Smart Connector, or USB.
Open the Settings app on your iPad.
Go to General > Hardware Keyboards.If you don't see Hardware Keyboards as an option, make sure you've connected your external keyboard to your iPad.
Disable Auto-Capitalization, Auto-Correction, or the Spacebar (".") Shortcut by flipping the switch next to each option.
Questions?
Let us know in the comments!
Serenity was formerly the Managing Editor at iMore, and now works for Apple. She's been talking, writing about, and tinkering with Apple products since she was old enough to double-click. In her spare time, she sketches, sings, and in her secret superhero life, plays roller derby. Follow her on Twitter @settern.
Those were my exact pet peeves about using an external keyboard with the iPad, and I never really thought to look around for a "hardware keyboard" settings section haha! Thanks for the tip!

Alright, I'd love to see a update on the LATEST keyboard options for iPad Pro's. There are tons of "best keyboard" articles from many months ago.
I've decided to go all Apple....new iPhone, new iPad Pro, and a macbook. (coming from Android) I'm keenly interested in making the iPad a serious productivity, work machine. Would love to see more (non-bluetooth) competition for the Apple smart keyboard.

The options are in general/keyboards/hardware keyboards

That's correct. As these settings are specifically set in General > Hardware Keyboards, rather than just the normal keyboard settings which refers to the touchscreen one.

I just want the caps locks to NOT require a double tap (inconsistent).
And I want auto caps, but to be able to hold shift to make lower case.
And a SHIFT LIGHT in that little gray bar at the bottom would be nice. Sent from the iMore App
Thank you for signing up to iMore. You will receive a verification email shortly.
There was a problem. Please refresh the page and try again.