How to make your Mac automatically start up, sleep and shut down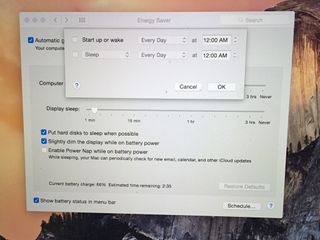 As power efficient as modern Macs have become, it's still a waste of electricity to have a Mac operating 24 hours a day, 7 days a week if you don't need to. That's why Apple's built in some wake, sleep, start up and shut down features right into the Energy Saver system preferences.
To set your Mac to automatically wake up and shut down
Hold down the command key and press the space bar to open Spotlight.
Type "Energy Saver" and select the Energy Saver system preference. That will automatically open it. Alternately, you can click on the  menu, select System Preferences... and click on Energy Saver.
Click on the Schedule... button.
Check Start up or wake, then select the frequency you'd like your Mac to start up. You can specify weekdays, weekends, every day, or a specific day of the week. A separate pop-up menu lets you specify what time you'd like it to wake or start.
Check the Sleep menu to specify a sleep time. You can change the end action to Restart or Shut down if you'd prefer. You can specify the same frequency with which you'd like the computer to shut down, restart or sleep, and specify a time.
When you're done, click the OK button to save changes.
Close the Energy Saver system preference when you're done.
That's it!
Get the best of iMore in in your inbox, every day!
Fantastic tip! I never knew about that.

unless i'm missing something it would be much better if we could make schedules for weekdays and one for weekends. i use my mac for a media server and would love to have it off all day long m-f and at night but be on during the day on s/s automatically.

A compromise but you have the option to set the sleep / awake times for weekdays or Weekends. That way you can have it off when at work on weekdays and just leave on all weekend.

Awesome article! I will definitely be using this on my Mac! Sent from the iMore App

Thanks--didn't know about this! (Also, I think you have the last two visuals in reverse order.)

That's awesome but probably not the best idea to do that with a MacBook Pro Sent from the iMore App

Because the battery can only be recharged so many times right? So if you have it scheduled to turn it on and off, then you will use more battery equaling more recharging. Sent from the iMore App

Scheduling a Shutdown tip: If you set the Mac to shutdown at 5:00pm, it *begins* the shutdown process at 5:00pm. Part of the OS's "user friendliness" features is that it throws up a 10 minute countdown dialog in the middle of the screen, and does not actually execute the shutdown until 5:10pm. I suppose someone at Apple thought it might be nice to warn users that a shutdown was imminent, and even give you a chance to manually cancel the shutdown.
If this is not the behavior that you desire, you will need to use something like Lingon to write a shutdown script that does not display the warning and countdown dialog box.

Great tip! Thx :) Sent from the iMore App

I'm using FileVault and I've found when it's in use, the machine will shut back down if not logged into in so many minutes. I didn't find this to be the case when I wasn't using FileVault. Anyone else notice that?

Cool tip!!! I have been checking for the auto shutdown option for sometime now. Thanks :-)

I have been using this feature in my classroom for years. Can you tell me why since at least the Yosemite upgrade, you now need to be logged into a user for the scheduled shut down to work? This is crazy I teach my students to log off the computer before they leave the classroom. This is part of Digital Citizenship. SO Ridiculous. Is there a work around?
Thank you for signing up to iMore. You will receive a verification email shortly.
There was a problem. Please refresh the page and try again.