How to order AirPods 2 in the UK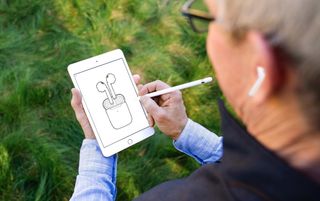 How to order AirPods 2 in the UK
Best answer: Right now the best place to get your ears on the new AirPods is getting an order in directly at Apple, although shipping times have started to slip.Same but better: Apple AirPods 2 (opens in new tab) (From £159 at Apple)Upgrade your AirPods: AirPods Wireless Charging case (opens in new tab) (£79 at Amazon)
Shipping times slipping but orders still taking place
If you want to guarantee yourself AirPods then you need to get an in directly with Apple right now.
Whether or not you use the website or the Apple Store app (opens in new tab) on your iPhone or iPad, you'll be able to get yourself the new AirPods and pay with Apple Pay.
Initial shipping estimates were for March 26 but they're now slipping quite quickly with a 2-3 week wait on the version with the wireless charging case. The regular AirPods 2 without this can still be had within a few days. That's a similar story elsewhere, with Currys PCWorld (opens in new tab) taking orders currently for the regular AirPods 2, but not the wireless charging case bundle.
Other resellers such as Stormfront, and KRCS will start offering sales most likely before the end of March, though stocks will be limited as with anywhere else, so act fast.
Wireless charging case available separately
The wireless charging case for AirPods is also now available to preorder, and if you get it with AirPods 2 it adds £40 to the price, taking the total to £199.
It's smart to order it at the same time, as if you decide to get one later you'll be paying £79 for it, so it's a significant saving to make buying with the new AirPods. If, however, you're keeping your original AirPods, the case is a neat addition if you're all in on wireless charging.
If you don't want the charging case at all, AirPods 2 are available in the standard case for £159.
Same but better
(opens in new tab)
Look the same, but better where it counts

The AirPods haven't undergone any visual changes, but the new H1 chip and "Hey Siri" ability will lead to a much-improved experience.
Get the best of iMore in in your inbox, every day!
Thank you for signing up to iMore. You will receive a verification email shortly.
There was a problem. Please refresh the page and try again.