How to plan the perfect Canadian Thanksgiving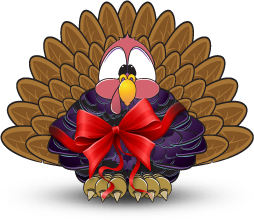 Here in Canada, we may not take our Thanksgiving as seriously as our neighbors to the south, but we still use the weekend as a way to reconnect with friends and family, eat way too much, and apologize a lot.
If you're planning Thanksgiving at your place this year or if you're just helping out wherever your big dinner might be, then here are some great ways to incorporate tech into the holiday.
A great recipe app
Thanksgiving is all about the food, so a great recipe app is a good place to start. Sure, you can make Grandma's stuffing and use Aunt Gertrude's mashed potato secret (it's just sour cream), but why not switch things up a bit this year?
Yummly (opens in new tab) is a great app to start with if you're new to recipe apps. It can make recommendations that are personalized for you, and it also has great tools and helpful videos, just in case you've never made a certain dish before. You can also save favorites and use the app as a sort of Instagram for food wherein you like or "Yum" various recipes.
If Yummly doesn't quite do it for you, then check out Lory's guide to Thanksgiving apps:
Best apps for cooking the perfect Thanksgiving feast
Plan the party
Yeah, you could write everything down or make notes on your phone, but a solid party planning app can help consolidate all of your ideas and take a lot of the stress off of you as the party planner.
Diobox (opens in new tab) might be overkill for what you need for a family gathering, but it's the perfect app for planning parties, large and small. You can create events within the app, then import contacts, create guest lists, manage email invitations and RSVPs, check everyone in, and even arrange seating, If you're someone who loves their dinner parties to go perfectly and according to schedule, Diobox is the way to go.
Be a DJ!
Music makes or breaks a party. If you're having your great grandparents over and blasting Nicki Minaj, you're either gonna be glared at all night or have to witness old people grinding (be very careful when deciding which is worse).
Apple Music is a great way to manage everything on your iPhone or iPad. It's intuitive and you can create and search up playlists to your heart's content. That being said, I can't recommend Spotify (opens in new tab) enough. Spotify has a massive repository of tunes and user-created playlists for all manner of holidays (including Thanksgiving). You can use Spotify on just about any device and if you have a Bluetooth speaker handy, you can stream wirelessly and blast tunes for the whole family.
A single Spotify membership is $9.99 a month, or you can upgrade to a family subscription for $14.99 a month. You can also use it for free, but your search options are limited, you can't skip tracks all you want, and your selection is a little limited. For streaming music and a little something for absolutely everyone, there's none better than Spotify.
Enh, let's eat out
Ok, if you're not into cooking, then you'll want to find an awesome restaurant that's actually open on Thanksgiving. Here's the best part about Canadian Thanksgiving: most restaurants are still open. So really, you just need a great restaurant review app.
Yelp (opens in new tab) is the most popular restaurant review app and you can find aggregated reviews for just about every restaurant in your area (or at least those worth noting). You can also get locations, make reservations, and filter everything by price, location, and whether or not it's open.
Tell your lights to smarten up
Or, better yet, get some smart lights. Philips Hue (opens in new tab) is the best overall smart bulb, allowing you to perfectly set the tone for any occasion with bulbs that can change color on command and in varying patterns. The best part is that you can control everything right from your phone. If you want to perfectly set the mood, smart lights are where it's at.
Best Smart Lights for Your Home
If you're looking for even more apps for Thanksgiving:
Best Thanksgiving apps for iPhone and iPad
How do you celebrate?
Any other suggestions? Let us know in the comments below! Happy Thanksgiving, eh!
Get the best of iMore in your inbox, every day!
Mick is a staff writer who's as frugal as they come, so he always does extensive research (much to the exhaustion of his wife) before making a purchase. If it's not worth the price, Mick ain't buying.
Just to clarify, it's called Thanksgiving. What happens in November is called "American Thanksgiving." :-P

iMore recommending Spotify over Apple Music??! I'm pleasantly shocked! It is better, despite the awful app, the dysfunctional queuing, the ugly black and green, but you can discover lots of good new music. Sorry! ;)