How to prepare for your iPhone 11 or iPhone 11 Pro in-store pickup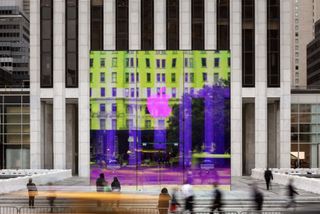 You can choose to either have your new iPhone delivered right to your doorstep, or pick it up at your nearest Apple Store. Each option has benefits and drawbacks. It's up to you what you decide. If you've preordered your iPhone 11 or iPhone 11 Pro and selected in-store pickup, you might be wondering what you can expect at your check-in window. Here's what you can do to prepare.
Keep an eye on your order status
When you view your iPhone 11 or iPhone 11 Pro preorder online at Apple.com or on the Apple Store app, you'll see, in bold, what your order status is. If it still shows your iPhone 11 or iPhone 11 Pro as "Order Placed" within the next few days, you might want to talk to an Apple support representative to make sure everything is OK. There may be an issue with your credit card or some other problem that is stumping the order from being processed.
It's better to address these potential issues early so you can still get your iPhone 11 or iPhone 11 Pro on the date of your pickup.
Give it some time, though. Your preorder may take a day or two to process. If you preordered on a Friday, give it until Monday before you call. Don't wait for another email. Check your order status online or in the Apple Store app.
If it shows Order In Progress, you're good to go! Don't be worried if you're order is still in-progress leading up to your scheduled window for in-store pickup. Most of my in-store pickup orders show that my order is "in progress" right up until moment I get the email or text notification that it's ready to be picked up.
Make sure you get your email or text message notification first
Even though you might have a pick-up window scheduled for launch day at 9:00 am, you still won't be able to actually pick up your iPhone 11 or iPhone 11 Pro until you receive that confirmation notification. So don't try.
You'll receive either an email or text message (or, sometimes both) letting you know that your order is ready to be picked up. Even if it's before or after your originally scheduled pickup window, this is the time you should go.
You should also make sure your notifications are set to the correct email address and phone number. Go to your account settings and click or tap on your Primary or Default Shipping information and check your email address and phone number to make sure notifications will be sent to the right place.
Bring the credit card you purchased and your order confirmation number (and your photo ID)
Though Apple's website states that you only need to bring one or the other, either your credit card or your order confirmation number, it's smart to have both. If something wonky has happened or the Apple staff member is having trouble looking up your order, you can provide one or the other method for finding your information. It's just good practice to be overly prepared for this scenario so you don't have to walk out of the store empty-handed due to something so trivial as a credit card or confirmation number.
Of course, no matter what, you'll need your photo ID with you.
Get there a few minutes early and check in with an Apple staff member right away
Though Apple's policy is to hold onto your iPhone for up to 20 days under normal order pickup circumstances, that doesn't mean you won't be kicked to the back of the line if you show up late to your appointment.
When you have a reservation for a Genius Bar appointment and show up more than 15 minutes past your appointment start time, if the place is bumpin', you might be asked to wait until the next available Genius is ready, even if that means an hour's wait.
I'm not sure whether your local Apple retail store will have a similar policy for your pick-up window, but are you willing to risk it? I'm not. Get there early. Check in right away.
There is always an Apple staff member at the front of an Apple store waiting to greet customers. Go to that person first. They will point you in the right direction as to whom you want to see to actually check in.
Have patience
Apple employees are people, too. If you're angry because you've had to wait 20 minutes before anyone came to help you, imagine just how difficult their day has been? You're not intentionally being ignored. If your local Apple retail store is a cluster-[expletive deleted], it's not on purpose. If you're getting antsy to pick up your iPhone 11 or iPhone 11 Pro, politely ask an Apple Staff member to help you. Everyone will be happier with their experience in the end if we are all nice to each other on such a chaotic day.
Walk out happy!
If all goes well and there aren't any unforeseen issues that arise and keep you from getting your iPhone 11 or iPhone 11 Pro on the day of your iPhone pickup window, you can walk out of your local Apple retail store with iPhone in hand. Just don't be that guy that drops it right after opening it on the way out of the store.
Any questions?
Do you have any questions about what to expect at your iPhone XR pickup check-in? Put them in the comments and I'll help you out.
Updated September 2019: Updated for iPhone 11 and iPhone 11 Pro.
Master your iPhone in minutes
iMore offers spot-on advice and guidance from our team of experts, with decades of Apple device experience to lean on. Learn more with iMore!
Lory is a renaissance woman, writing news, reviews, and how-to guides for iMore. She also fancies herself a bit of a rock star in her town and spends too much time reading comic books. If she's not typing away at her keyboard, you can probably find her at Disneyland or watching Star Wars (or both).