How to reduce the transparency of keyboards, menus, and more in iOS 7.1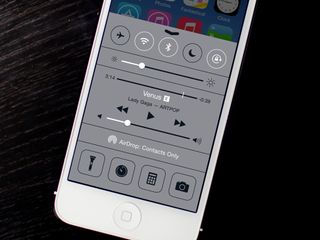 One of iOS 7's signature features is "depth" and by that Apple means transparent layers with gaussian blur filters beneath them. While that might look fancy it can also be distracting for some people and, for those with visual impairment, it can be downright confusing and hard to use. Luckily, iOS 7.1 has added the ability to reduce transparency and render everything from the Dock to the keyboard to Control Center and Notification Center nice and opaque.
How to reduce transparency in iOS 7.1 for better visibility in menus, keyboards, and more
Launch the Settings app on your iPhone or iPad running iOS 7.1 or higher.
Tap on General.
In the next menu tap on Accessibility.
Now tap on Increase Contrast.
Turn On the option for Reduce Transparency.
Once you've tried it out, let me know what you think. Do you prefer the transparency in iOS 7 or does turning it off make the experience less distracting?
Get the best of iMore in in your inbox, every day!
iMore senior editor from 2011 to 2015.
Good tip! I just tried it but I don't like what it does to the dock Posted via the Android iMore App!

Why doesn't Apple give you the choice of a transparent doc? That's the option I want.

Horrible dock color! A separate option for dock color or transparency should be allowed. Sent from the iMore App

Transparency for me wherever I can get it, anything else is too bland.

Thanks for the tip. I have most apps in folders, and they all went to a non transparent gray after 7.1 update. I just turned it off. Depending on your wallpaper, the folders will look better. Right now I have a blue Les Paul as the wallpaper, and the folders are a light gray blue. I like it better off, but if on all your folders will be gray, along with the doc, but if off the doc will be the the same color of the wallpaper behind it. Did not know you could turn it off. Thanks again for all the tips.

Transparent looks better than dark colors. Nice tip though. Sent from the iMore App

As others have said, I don't like what it does to the Dock. Other than that, I like it. But since I see the Dock more than the other overlays, I've turned that back off.

"Reduce White Point" is something i just noticed. This is one of my big complaints as i found the ios 7 extremely hard on my eyes. Googling this says it makes the white less bright. I'm still on ios 6 but this seems to be a very nice addition that isn't talked about much. That said i've been unable to see images side by side of a page with a lot of white side by side to evaluate it's effectiveness but i'm gonna keep looking.

Great Tip! Just waiting for the iOS 7 manual. You provide some great tips. Sent from the iMore App
Thank you for signing up to iMore. You will receive a verification email shortly.
There was a problem. Please refresh the page and try again.