How to run Windows apps on your Mac with CrossOver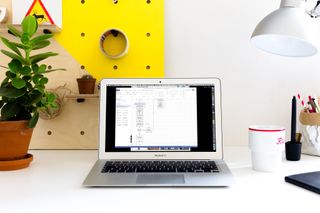 Every now and then, a Mac user is going to say, "Man I wish there was a version of (insert program here) for Mac. I'd buy that in a heartbeat." It's happened to me more times that I really wish to count. Thankfully, most of the apps I want to run on my Mac exist as native apps.
However, there are a couple that slip through my fingers, like Microsoft's Visio Professional. It doesn't exist on the Mac side and I really need it for my day job as a software quality vice president.
Thankfully, there's more than one way to run Windows apps on your Mac.
You can use Apple's Boot Camp and run a full installation of Window natively on your Mac
Use a virtual machine like Parallels Desktop
Install Windows apps directly with CrossOver and use a Windows app like any other native Mac App
There are advantages and disadvantages to each, but that last one – installing Windows apps directly under CrossOver – is a bit different, and it offers some distinct advantages if you know how to get things going.
With CrossOver, you don't install Windows and then the app. It's all about the app, and only the app. Thankfully, while CrossOver is different, it's not difficult to use. However, there are a few things you need to know. For example, CrossOver doesn't run ALL Windows apps. Some run better than others, and some won't run at all.
Download: CrossOver (Starting at $39)
What's the best way to install Windows apps?
When trying to determine the best way to install a Windows app, consider the advantages and disadvantages of the three different ways to run Windows on a Mac — natively, via VM or via CrossOver:
Swipe to scroll horizontally
| Feature | Dual Booting | Virtual Machine | CrossOver |
| --- | --- | --- | --- |
| Run without Rebooting | No | Yes | Yes |
| Run without Windows OS License | No | No | Yes |
| Runs ALL Windows Apps | Yes | No. Not all graphic-intensive features are supported | No. Some run. Some run OK. Some won't run at all |
| Runs Apps at Native Speed | Yes | No | Yes |
| Needed to Run an App | Windows License, App License | VM License, Windows License, App License | CrossOver License, App License |
| Approximate Costs (App not included) | $120 - $200 for Windows 10 | $80 for Parallels Desktop or VMware Fusion, $120 - $200 for Windows 10 | $40 - $60 for CrossOver |
How to install Windows apps on your Mac using CrossOver
If you want to install Windows apps on your Mac without all the overhead associated with Windows, follow these steps.
Navigate to CodeWeavers and download CrossOver.
Go to your Downloads folder and locate the Zip file you downloaded. Double Click it to open it. Archive Utility will Open it up and decompress the contents of the archive.
Double click the CrossOver.app in your Downloads folder. It will offer to move itself to your Applications folder.
CrossOver will start for the first time. When it does, it's going to ask you how you want it to run. By default, it runs in trial mode. However, you also enter in your registration information or buy a license right from this page.
From the screen that appears, click the Install a Windows Application button.
Type the name of the application you want to run. CrossOver will search its database and display appropriate matches.
Click on the application you want to run. CrossOver will display compatibility information on it from its database, telling you how likely and how well it will run.
Click the Continue button.
Select an installer source.
Click the Choose Installer File. A Finder window will slide down over the app and allow you to navigate to where you have the installation file stored.
Select the app.
Click the Use this installer button. You'll return to the Select an Installer Source screen.
Click the Continue button. Remember: CrossOver will not find and download the software you want to run for you. You actually have to have the installation file for the software you want to run.
Select a bottle.
What are bottles?
CrossOver is powered by the Wine Project. As such, all Windows apps are installed in "containers" called bottles (get it?). When you install an application for the first time, CrossOver will create a bottle and automatically place your application in it. When you install new applications, CrossOver will also give you hints about which apps can work and play well in the same bottle. If your apps can be installed in the same bottle, putting them together will save some space. If they can't, CrossOver will tell you and suggest creating a new bottle. It will also suggest a name for it. Keep the suggestion or give the bottle a name of your own choice.
Click the Continue button.
You'll be taken to the Ready to Install screen. CrossOver will give you a summary of what it's installing, where it will install it from, and the name of the bottle where it will install it. CrossOver will also install any needed support software (such as .NET Framework, or the link).
Click the Install button.
The software will install. CrossOver displays a progress screen where it will run through not only the creation of the bottle, but it will download any needed support software, and then run the installer you chose. Once the installation process completes, you should be ready to run your software.
Click Done. The Installation process will close.
Click the CrossOver icon in the Dock. CrossOver's Collections screen will appear, listing all the bottles you have installed on your Mac.
Find the bottle you just created and run your software.
Running Windows and Windows apps on a Mac can be challenging. Finding the right method for you and your needs can be equally as challenging; however, if you think about it, there are a number of ways to run Windows on a Mac.
Some are expensive. Some aren't.
Some take time and are complicated. Others aren't.
CrossOver isn't just easy to use, it's affordable. For less than 1/4 the price of Windows plus the price of the application you need to run, you can run it on your Mac. For the odd app out, this is a total no-brainer; and it's fairly easy to do. If you want to make sure your app works with CrossOver before you give it a shot, you can always search for it on their website.
Download: CrossOver (Starting at $39)
Get the best of iMore in your inbox, every day!
Your source for all things Apple
FYI: You can now get Windows 10 Pro for around $5 to $20. Yes, it's legal too❗️ I have used both Parallels and Crossover Office. Between them, overall, Parallels works best. More applications work. Also, I believe I've noticed that not all the "working" applications work as expected. Even maybe slower performance, some menus may not work correctly, etc. I did get MS Office for Mac, but it lacks some of the features that MS Office for Windows has. So, I use Office for Windows via Parallels to get all of the features. (I'm talking about some features in Word, not something special). Now, in that case, it wasn't Crossovers fault, but MS. I'm not saying Parallels works perfectly. I've had some troubles with it also. If you're not sure if a particular application will work with Crossover, you can look online to see if it works and how well it works...but you're pretty much guaranteed it will work using Parallels. Those are my thoughts.

It's important to realise that Parallels and Crossover are two completely different pieces of software. Parallels is virtualization software, which essentially runs an another OS (e.g. Windows or Linux) inside macOS. You can even run macOS inside macOS. It's the closest thing you'll get to running Windows natively aside from using Bootcamp, so technically _everything_ should work with Parallels. If things are running slowly, you can try allocating more resources to your Windows virtual machine, there's guides on doing that here https://kb.parallels.com/uk/113649 This talks about increasing the RAM allocated, but you can allocate more CPU and potentially GPU memory as well. On the other hand, Crossover is a software wrapper for WINE, which provides a compatibility layer for running Windows applications. Crossover doesn't require Windows at all, however there are many applications which are not supported, some applications will crash, and some applications might run slowly. Parallels should give you pretty much the full Windows experience, however if you want to go the all the way, then look into using Bootcamp which will install Windows on your Mac natively

Yea, I know they are different...I just wanted to share my experience for the benefit of those considering investing in software to accommodate their needs. I like Crossover and used it while using Linux and Mac, but I found it did not work that well (for what I was needing) and I found making the "larger investment" into something else was worth it. Simply a word of caution and a note to check out the crossover site to see if it supports the software you need and how well it works.

I only use one Windows application, Sparx Enterprise Architect and I have tried to get it to run in Crossover and it was a no go. Put in Parallels with Windows 10 and BOOM, right in. Not ideal but hey it works.