How to save money when you buy a Mac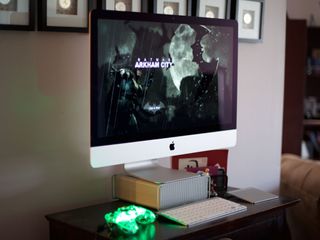 (Image credit: iMore)
If you're in the market for a new Macintosh, you might want to consider shopping at Apple's own refurbished store before you plunk down money on a brand new machine. Though you're not getting Macs straight from the assembly line, they're about as good as new, and you'll save you a lot of dough.
The 27-inch iMac is easily upgradeable with third-party RAM, and for less than Apple charges. It's one of the very few Macs that you can upgrade with RAM yourself, so if you can save yourself some cash that way, it's a solid bargain.
I'm a big believer in saving money by buying Macs from the Refurbished and Clearance section (opens in new tab) of Apple's own online store. I've done it for myself, and I've had my parents get one that way too.
Refurbished Macs are different than new: They're sold in "white boxes" instead of the typical Apple livery, so they don't look the same when they arrive. And the fact is they have been opened and touched by someone else. But Apple has made painstakingly sure they are functionally as good as new: I've never seen a refurbished Mac that was anything other than pristine when it arrived.
What's more, Apple sells its refurbished products with full warranties, and they're eligible for AppleCare too. You can get free shipping and free returns if there's anything you don't like, and Apple will take off hundreds of dollars.
You need to be careful to make sure you get the system you want, and sometimes you can't — not all models and options are available at all times. But if you're lucky enough to find exactly what you want—or patient enough to wait and see if it shows up—you can often get the Mac (or iPad, or iPod and other device) you need.
It's a great way to save a bunch, experiencing Apple's full warranty and coverage in the process.
im typing this on the refurbished macbook air i bought 3 years ago. one of the best purchase decisions I've ever made.

I suggest this to all of my friends that ask me about Apple computers. I honestly think the best part is that they are individually & fully tested compared to the "off the assembly line" computers that get powered on at best. (assuming the storage drive is pre-loaded with the OS rather than installed after final assembly).
.
Also, it's worth mentioning that Refurbished Macs are also eligible for the 18 month 0% promotional credit with Apple's partnered Barclaycard.

RE: "I honestly think the best part is that they are individually & fully tested compared to the "off the assembly line" computers that get powered on at best. " This is my logic as well, though I do wonder how the QC levels vary between countries. I assume all returned units are sent to your local Apple base to be refurbished, so the level of refurbishing care would vary to some extent.

I purchased the original ipad refurbished and that thing is still going strong. It's with a family member now. I'm looking for a new iPad now and I plan on buying refurbished. I always buy the apple care for iPad anyway so you get the same coverage while saving some money for a case or extra charging. Posted via the iMore App for Android

I've bought a few refurb iPads from the online apple store, and no problems here. saved a lot of cash

I bought a refurbished Cinema Display about 9 years ago. Still going strong. I'm looking at a few resellers that have older 27 inch iMacs that run Snow Leopard for music production. I use a 2014 MBA for all things Yosemite. Sent from the iMore App

Buy refurbished or build a Hack. I understand Apple wants to squeeze out every bit of performance (and dollar) but there is no low to mid range (or even high range) Mac that can be user-upgraded with standard parts.

If I can just mention; looking up reputable sellers on eBay isn't the worst idea either. I got a 2.3ghz core i5 Mac Mini with 8gb of ram, 1TB hdd, and an Apple external disc drive for $400. It's flawless and runs beautiful. Never hurts to look. Sent from the iMore App

This article was very timely for me as I was laboring over how to get the best deal on a mac. There's surprisingly little price variation out there and it's hardly possible to find anything other than a stock mac anywhere but Apple. I debated configurations and tested prices with my student discount but I ended up getting a fully loaded Macbook Pro 13" from their refurb department last week. It's this year's model, 16GB of RAM, 500GB ssd, i7 cpu and I got it for much less than a 13" i5 with a 256GB ssd and 16GB of RAM would have cost me. The box it arrived in wasn't fancy but the contents are what count :-)

I hope it was a retina MBP. People at Apple must laugh their asses off about everyone who buys a non-retina macbook these days.. ;-)

i haven't looked at the refurb store for a while (it's not as well stocked in the UK as the US) but the one thing i remember is that whilst there are bargains out there, some of the deals aren't that great. All discounts are off full RRP and so you might be able to get a similar price for a new item elsewhere. Additionally, some items such as iPads are offered with top level storage and compared against their original RRP, even if the 16GB/32GB models of that product have been discounted on the main store. Therefore they are less of a bargain than the refurb store suggests.

I can't speak for the UK but Apple products in the US don't tend to get discounted much. Sometimes during holidays you find some good deals but those always seem to be the base model or are in limited quantity to drive traffic in the stores. Microcenter here seems to be a bit of an exception. They have mac minis on sale right now for $100 off which puts in around the same price as a refurbished one. Refurbished from Apple are really the best deals. There are also consumer laws here that make sure they advertise the price reduction the correct way. It a quick journey to a class action lawsuit here in the states if they didn't do it correctly. Posted via the iMore App for Android

If what you want isn't currently available via the Outlet, check out www.refurb.me to setup stock alerts for the model that interests you. Also if you work/attend at any sort of educational facility you're eligible for an education discount through https://www.imore.com/e?link=https2F2Fc2F4... on new items as well as applecare.

Or you can build a Hackintosh and get great specs and Mac OSX at a better price.

All my Macs are refurbs. And a second vote for www.refurb.me. Saved me a ton, especially on iPads.

Step 1: Hackintosh. Posted via the iMore App for Android

Amen. Just build a Hackintosh and triple boot Windows 10, OSX El Capitan, and Ubuntuu or your favorite Linux distro and kick ass any way you want

I bought mine brand new on Black Friday at best buy for what Apple charges for a refurbished Mac. Sent from the iMore App

I bought mine brand new on Black Friday at best buy for what Apple charges for a refurbished Mac. Sent from the iMore App

This is what I was looking for my business. And I have all that configuration needed. The best buy I can say.

Solid advice. I did this when I bought my mom's iPad Air 2. When she took it out of the box it looked flawless. Peter mentioned it, though not directly, but refurbished items are also eligible for AppleCare.

I found very useful information here. Once I spend almost all my savings on Mac so I had to contact http://paydayloansonlineservice.com/ to make ends meet in the end of the month. This situation scared me and I decided that I have to be savvy and spend money wisely to avoid more serious financial problems in life. Now I think that I must stay very responsible when they I approved for short term personal loan because if used in a wrong way, such loans can lead to very serious financial problems.
Get the best of iMore in in your inbox, every day!
Thank you for signing up to iMore. You will receive a verification email shortly.
There was a problem. Please refresh the page and try again.