How to set up Google Chromecast using your iPhone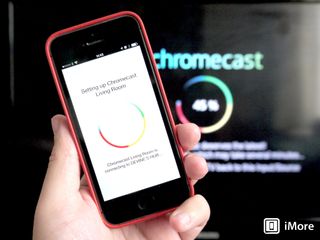 Google's $35 Chromecast dongle may have limited functionality right now, but it's still flying off the shelves. At least, it is in the U.S, the only officially supported Chromecast country right now. If you've picked one up to use with your iPhone or Mac, there's a couple of different ways to get the dongle set up, including the recently released iPhone application. It's this we're focusing on today, so here's how to get up and running with your Chromecast using your iPhone.
Once you've followed the instructions in the box to plug in and turn on your Chromecast, launch the Chromecast application (download links at the bottom of this post) and tap "setup a new Chromecast." The first thing you'll be prompted to do, is to head into the Settings app on your iPhone, then into WiFi and find the network with the unique name of your Chromecast. Tap to connect, and you'll see a screen declaring a new Chromecast has been found, and that the next stage is to choose a network to connect to and to name your device. You'll also be informed to switch your TV to the correct HDMI input, and will be presented with a code to verify you're heading in the right direction.
Once the app has found the Chromecast, you're then directed towards connecting to your home WiFi network to enter your credentials, and to name this particular Chromecast. Give it a recognizable name, especially if you'll have more than one in your home, as it's the only way you'll be able to tell which one you're sending stuff too. After that, you're good to go, and the setup process will take care of the rest.
Once the process completes, you're all set, and you'll see the screen shown here. If you have more than one Chromecast, you'll see a list of them all here, and you can also access basic settings too such as reset and reboot, renaming, changing WiFi network details and changing the time zone. All content is dealt with through individual apps such as YouTube and Netflix. And that's all there is to it. Using your iPhone, setting up a Chromecast is a breeze!
One huge failing we've noticed using the iPhone (or even the mobile browser) setup app is that if your network uses a hidden SSID, the app/mobile browser does *not* give you the option of manually typing in an SSID. In other words, if it's hidden you're out of luck (or use a desktop/laptop browser to set it up). Of course, this was a month ago when we tried it out so I don't know if they've updated the app since then.

I don't believe they have. Another major problem (for me, anyway) is that you can't connect it to an open networks that use AP/client isolation, like you see in hotels. It's a big disappointment, since its ridiculously easy portability makes it really attractive to heavy travelers.

I agree! But at the same time it was only 35.00 so I love it :)

I would suggest getting rid of the hidden SSID thing. If you think it's adding security it isn't. Any wifi sniffing software that a person might use to scan access points can still see the SSID. It's a completely worthless option that I wish router vendors would remove.

Problem is that our work wifi we were testing it on is hidden, and we can't just unhide it on a whim, making it still worthless in a work setting (at least our work setting). Regardless of whether hidden SSID's are useful or not, not including the option to specify a hidden SSID in the Chromecast setup app is still a huge oversight, as it is still an option for wifi networks that Google's product does not support.

I hear you and sympathize with the situation. That said, I've seen a few weird things break when using access points that have hidden SSID's. I used to have my own SSID hidden for years and would periodically hit these bizarre problems that were always traceable back to the fact that the SSID was hidden. Once I realized that hiding it offers absolutely no security benefit (and occasionally introduces weird problems) I stopped hiding it. Again, I really put the blame on router vendors because they should know better. Good luck.

I have downloaded chromecast app on my iphone and ipad. I have followed instructions. How do I watch from the device? It says you can just cast via apps, but It will not. I have cast from my macbook air, but cannot from the other devices. What am I doing wrong?
Thank you for signing up to iMore. You will receive a verification email shortly.
There was a problem. Please refresh the page and try again.