How to set up your 2018 Mac mini as the ultimate macOS gaming hub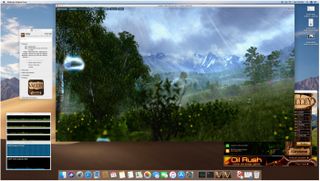 Gaming on macOS is still not much of a "thing" as many enthusiasts would like. In fact, iOS is a far better gaming platform in terms of sheer number of games than is macOS. However, you can get your gaming on if you are so inclined. If there is a will there's a way! So, if you have a Mac mini setup for use as a media center or a file server, why not add some gaming to the mix to get the most out of your $799 investment? Here's how!
Some caveats
Although I'll be setting up my Mac mini in my living room as an entertainment hub that will offer movies, TV, and gaming, I'd be lying if I said that this was an all-in-one solution. Although many aspects of the Mac mini on its own could be used for gaming, I'll be recruiting the help of some extra hardware and non-Mac software to get us to the point where we can use the Mac mini as a proper gaming hub.
The hardware
For our "ultimate" gaming Mac mini, I'll be buying the lowest end 2018 Mac mini for $799 Apple. This comes with:
3.6GHz quad-core 8th-generation Intel Core i3 processor
8GB 2666MHz DDR4 memory
Intel UHD Graphics 630
128GB PCIe-based SSD storage
I know what you're thinking. I can feel your look. Those specs aren't powerful enough to run the latest games. The GPU and CPU is way too weak, and the storage space is far too small. Well, you're correct for most modern games. Not only will we be adding some hardware to the mix, we'll also setup some gaming software that the Mac mini is able to play right out of the box. So sit tight.
We'll be connecting the Mac mini to a 5K display with a gigabit ethernet wired connection to my network. You'll get better performance out of this lowest end Mac mini if you limit your resolutions to 1080p but you can decide if higher resolutions are worth the performance hit.
Extra disk space is completely optional depending on your needs. If you have an external NAS or are simply very good at managing your disk space (installing a single game and uninstalling it when no longer in use to save space), you can get away with not having to add external storage. In my case, I have both a Synology Diskstation, $370 on a gigabit ethernet connection and a Samsung 500GB thunderbolt 3 portable ssd, $299.
If you want to play more modern macOS versions of 3D games, then you'll need a more powerful GPU. macOS Mojave has added excellent eGPU support for AMD Polaris and Vega GPUs right out of the box supported directly by Apple. You can also optionally add Nvidia GPUs but will be beholden to the company for driver updates and support.
You needn't add an eGPU if you plan on using the Mac mini for either emulated console and arcade games from yesteryear, or if you plan on streaming all of your games from a more powerful computer (we show you how shortly).
I do plan on running native macOS games directly from the Mac mini so I got Apple's own eGPU enclosure, $599. It comes with a mid-range AMD RX 580 GPU which is a good match for the Coffee Lake CPU's in our Mac mini. You plug it in to the TB 3 port on the back of the Mac mini, and Mojave just makes it work.
You can use a number of gamepads of your choosing. You can attach wireless bluetooth device such as the Steam Controller, a PS4 controller or even an Xbox One controller that supports Bluetooth. You can also use a regular USB wired gamepad that is Xbox compatible as well. If you plan on connecting via bluetooth, simply pair your controller to your Mac using the Bluetooth System Preference panel.
Windows Gaming PC (optional)
If you want to be able to play any game without limitations, you'll actually need a powerful Windows based PC somewhere on your network. We'll still be using the more aesthetically pleasing and living room friendlier Mac mini as our front-end, but the Windows PC will be our gateway to all things gaming. The PC I'll be using is running Windows 10 with a 6700k Intel Skylake CPU, 16 GB DDR4 RAM, 1TB SSD and a Nvidia GTX 1080ti.
The software
In order to get the best possible performance and compatibility, we'll be using macOS Mojave. Mojave offers support for the eGPU connected RX 580 without any configuring or hacking.
Download and install the open source 360Controller driver to be able to run your non-macOS native gamepads like the Xbox 360 or Xbox One controller. This will install a new System Preference panel that allows you to configure your gamepads. I strongly suggest to checkmark the Spoofing Preferences option to Pretend to be an Xbox 360 Controller under the Advanced tab if you don't actually have a true Xbox controller for compatibility purposes.
OpenEmu is a multiple console and arcade machine emulator. It has a slick and easy to use interface where you and just drag and drop your supported game ROMs into the OpenEmu application and things get installed automatically. If you need M.A.M.E. support make certain you download the "Experimental" version of the software. Download it. Run it. Use the wizard and install all defaults. That's it.
You can then configure your controllers per game or per emulated console. The lowest end Mac mini will likely run all of these types of games without the need of externally connected hardware like the eGPU or need copious amounts of disk space from an external SSD.
Configure your Gamepad settings as needed. Note that OpenEmu tries it's best to automatically bind the proper buttons to your selected gamepad.
For modern gaming, you'll likely want to install Valve's Steam platform. With Steam, you'll be able to buy and play a mountain of native macOS titles as well as a handful of pretty modern titles as well. If you opted to use a powerful Windows based PC on your network as well, you'll need to install Steam on both the PC and the Mac mini.
Simply download Steam and install it. Create an account and download your games. If using a networked PC to power your games, use the same account for both your Mac mini and your PC.
For a list of owned games that can run natively on macOS, Click Library > Mac. Once you install your macOS native game, make certain to set your eGPU (if you have one) as the preferred device for graphics. You'll need to find the installed game with Finder, Option-click the Application > Get Info and set the check box.
If you added an external SSD for more storage. Be certain to add your SSD as one of the default download directories for steam in Preferences > Downloads > Steam Library Folders.
To Stream games, you'll need the game installed on the machine that you'll be streaming from and on the Mac mini Steam client, click Stream to play the game. The PC will provide the power, you Mac mini will be the interface.
If you have an eGPU and you want to stream from a PC, you can enable more advanced streaming options in Steam Preferences > In home Streaming > Advanced Client Options. Here you can enable hardware decoding for better visual performance capabilities. (Note that at the time of this writing the ethernet cable was faulty. Wireless streaming was used so the performance through streaming was worse than expected).
Your Controllers should also be automatically configured in Steam.
You can enable Steam's Big Picture Mode to get a controller-centric interface where you can sit on your couch and use your controller input to navigate Steam.
Final comments
Above is a near no compromise gaming option for using your Mac mini as a gaming hub in your den or living room. It's ideal since it's sleek, very quiet, and is able to do things beyond gaming such as serving as a media player. Adding the ability to run emulators is an extra benefit as well as simply having a full blown OS at your disposal. The ability to stream via Steam and connect a controller via bluetooth makes this setup very unobtrusive. A more integrated option could have been to use my AppleTV but unfortunately, at this time, Apple has put the kibosh on the Steam Link App from Valve to be able to stream games through my AppleTV. Let's hope that Apple gets with the program on this and makes that happen. Let us know your comments or thoughts in the comments section!
Master your iPhone in minutes
iMore offers spot-on advice and guidance from our team of experts, with decades of Apple device experience to lean on. Learn more with iMore!