How to set up your new Mac mini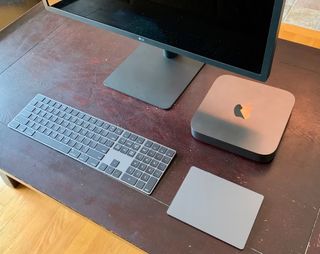 Did you just buy your first Mac mini? Wondering how the heck this thing even works? It's easier than you think. It's like a tiny stand-alone computer that you get to bring your own monitor and mouse to. Here's how to set it up.
What you'll need
The new Mac mini is Apple's version of a barebones computer. The entry model starts at $799 and only comes with the Mac mini, a power cable, and documentation. You'll need to provide your own monitor, keyboard, and mouse or trackpad. Since the new Mac mini has a number of I/O ports, your choices of monitor connectivity can be in the form of a Thunderbolt 3 connector or an HDMI connector. Whether you use your 5K Thunderbolt Display or your spare 1080p television with HDMI, the new Mac mini will be good to go. The new Mac mini also has two USB 3.1 ports so if you have older wired keyboards or mice, you'll be all set as well.
Setting up the hardware
Ensure that your desk or table has access to two power plugs, one for your monitor and one for your new Mac mini. Plug them in.
Attach your monitor cable to both the monitor and the new Mac mini.
If you have a new wireless Apple keyboard and trackpad, you'll need to attach them via a Lightning to USB cable so that they both charge and pair via Bluetooth to the new Mac mini. These can be removed once pairing and charging are complete.
After you've verified all cables are properly connected you can press the power button. You'll know the new Mac mini is powered on with the illumination of a silver LED on the front.
Setting up the software
Once powered on, you'll be greeted with a Welcome screen.
Select your country.
Click Continue.
Select your keyboard.
Click Continue.
Choose your Wi-Fi router and enter the password.
Click Continue.
Optionally read about Apple's Data and Privacy usage.
Click Continue.
Decide if you want to transfer data from a backup.
Click Continue.
Optionally sign in with your Apple ID.
Click Continue.
Optionally read Apple's Terms and Conditions.
Click Continue.
If you skipped signing in with your Apple ID, you'll need to now Create a Computer Account adding a username and password.
Click Continue.
You can allow Apple to automatically setup various features like Siri and location services or optionally customize settings.
Click Continue. The process will complete in a few moments.
Final comments
I got the "low end" $799 Mac mini to replace my old 4-year-old Mac mini to run my M.A.M.E. arcade cabinet and add it to my Compressor nodes. What about you? What version of the new Mac mini will you get? What will you use it for? Let us know in the comments!
Get the best of iMore in in your inbox, every day!
I'm guessing you need a display to initially setup headless Mac mini. Beyond the initial setup, does it work without a display (e.g., SSH or VNC)?

It should work just fine headless after setup. All previous versions have. I'm wondering if they have fixed the problem where minis run slower without a monitor plugged in. Previous models need a special adaptor to trick the mini into thinking a monitor is attached. Without the adaptor (or a real monitor), the mini runs many tasks slower because they aren't GPU accelerated.

Small typo in the article. The USB type A ports should be called "USB 3.1" and not "USB 2.0". According to the specs page on apple.com they are USB 3.1 Gen 2 (up to 10 Gbps). USB 2.0 ports are 480 Mbps.

You've failed to explicitly address those of us with non-Apple bluetooth keyboards & mice. Sounds like our options are (a) buy a wired keyboard/mouse for one-time use, or (b) add an Apple keyboard and Magic mouse/trackpad to our shopping bag? What about keyboards/mice with wireless USB dongles (i.e. Logitech Unifying Receiver devices) --can the Mac recognize them on initial startup?

Really disappointing no one from iMore responded to your question about setting up the new Mac Mini with the Logitech keyboard.
Thank you for signing up to iMore. You will receive a verification email shortly.
There was a problem. Please refresh the page and try again.