How to share and print using Notes on Mac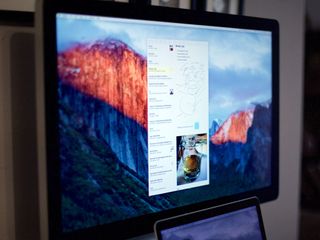 Notes for Mac OS X makes it easy to write yourself quick notes and memos you want to have available on your computer, but sometimes the whole world should know just how brilliant your thoughts and ideas are. Notes makes it easy for you to share copies of your notes with friends, family, and co-workers through Mail and Messages, or you can go old school and print physical copies.
How to share a note
Launch Notes from your Mac dock.
Click on the note you would like to share (for example Grocery List).
Click the Share this note icon at the top of the screen (it looks like a square with an arrow pointing up, right next to the search bar).
Select the method you would like to use to share your note from the listed options:

Mail (the note will appear in the body of an email)
Messages (the note will appear in the body of a message)
Notes (the note can be added as a new note or will appear in the body of an existing note)
Reminders (the note will appear as a reminder the next time you launch the application)

Note: Depending on the applications you have installed on your computer, you may have additional ways of sharing your note (Facebook, Twitter, LinkedIn, etc).
How to print a note
Launch Notes from your Mac dock.
Click on the note you would like to print (eg. Grocery List).
Click File from the taskbar at the top of the screen.
Click Print from the dropdown options.
Select the printer you want to use from the available printers.
Click the Print button at the bottom of the page.
A faster way to launch the print menu from Notes on Mac is to press the Command (⌘) and "P" keys at the same time. This will take you directly to the print screen.
Get the best of iMore in your inbox, every day!
"Siri, write a really funny bio for me to use for Mobile Nations" "Okay, Drew, here's your really funny bio: How-to writer, fiddle player, retro gamer."
So here's a weird thing. I actually have two iCloud accounts for different reasons. One is my main personal account, the other is for our business stuff (as an all Apple/iOS household, I found it easier to just create an iCloud account for our biz for contacts & calendars than deal with Google... although we use Google Apps for email and a couple other things). A couple of weeks ago, I decided it was time to ditch Evernote and move to Notes for our business, and it's all gone pretty flawlessly... with one weird exception, and it deals with this: "If you want to convert existing text to a title or heading, highlight the text you want to format and select the style you would like to use from the 'choose a style to apply to text' icon." I can't do that in the Mac app version of Notes. I highlight text and the formatting button up top stays grayed out. My only option with note titles is to make them bold. Via iCloud.com, I can format text to title/heading/body, but none of it seems to sync back to the Mac app or the iOS app. For what it's worth, I have no problem with this on my main iCloud account; I can format to my heart's content. Any ideas why this an issue?