How to share your iCloud storage with your family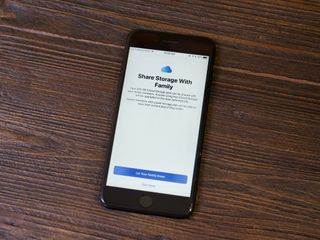 iOS 11 lets you share a storage plan between members of your Family Sharing group on iPhone, iPad, or Mac, so that no one runs out of space. For $9.99 a month, your whole family can share 2TB of storage, so everybody has enough space for photos, documents, and more.
Here's how to share!
Note: You must be on the 200GB plan or higher in order to be able to share storage with family.
How to share iCloud storage with family
Launch Settings from your Home screen.
Tap your name at the top of the screen.
Tap Family Sharing.
Tap iCloud Storage.
Tap Let your Family Know.
If a family member already pays for storage, they'll be given the option to upgrade to your plan. If they don't pay for storage, they'll automatically be added to your plan if they accept the invitation.
Questions?
Let us know in the comments below!
Mick is a staff writer who's as frugal as they come, so he always does extensive research (much to the exhaustion of his wife) before making a purchase. If it's not worth the price, Mick ain't buying.
Note that it appears that your family members do not themselves need to be on iOS 11 to benefit from the shared storage.

Does it work even before macOS High Sierra has been released?

My wife and I currently pay for the 50 GB's storage plan. I am the primary on Family Sharing. What happens to her stuff when she switches to my 200 GB plan?

Can we keep the storage separate so we don't see each other's stuff?

That's what I wanna know too, does everyone's stuff remain completely private/siloed?

My experience is that any data in the family member storage is instantly moved to the shared storage (so all backups, pictures and documents do not need to be re-uploaded). Also individuals data is not accessible by any other family users. I am just hoping that we don't all keep getting charged for the individual upgrades.
Thank you for signing up to iMore. You will receive a verification email shortly.
There was a problem. Please refresh the page and try again.