How to speed up Reeder sync times on your iPhone and iPad by disabling image caching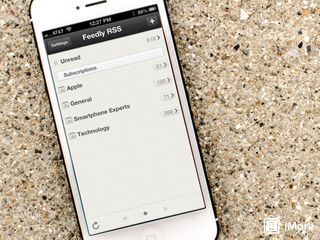 If you use the popular RSS app Reeder in order to catch up on news feeds, you may have realized that syncing large amounts of items can sometimes take a while. Most of this is due to Reeder caching images for offline viewing. Disabling this option makes Reeder lightning fast.
If you're not concerned with caching images locally for offline use, follow along and we'll show you how to disable it.
Launch the Reeder app from the Home screen of your iPhone or iPad.
Tap on the Settings icon in the upper left hand corner.
Under Accounts, tap on the account you'd like to disable image caching for.
Scroll down a ways and you'll see a section entitled Image Caching. Here you can turn off caching for unread items and/or favorites.
I've got image caching turned off for both favorites and unread items. That basically means that when I launch Reeder, it doesn't cache images within articles for offline reading. If you're okay with not having images render inside articles when you have no service, disabling this feature can greatly speed up the rate at which Reeder brings down your news articles.
Give it a try and let us know how much faster it is for you.
iMore senior editor from 2011 to 2015.
I have another Reeder question to help with power management. I find that Reeder automatically updates (goes to the web) each time I mark an entry as read. This is a huge battery drain as I go through a lot of feeds during my commute (by train not by car :-) ). Is there any way to switch behavior so it updates on a batch basis? That is assuming a batch update is quicker. I know I can switch off update on start of the app, but that deosn not turn off the update each time I read an entry. Thanks

Thanks for this! Made the suggested change right away.

Awesome advise. Now I can take advantage of Reeder while in airplane mode. Thanks. Sent from the iMore App
Thank you for signing up to iMore. You will receive a verification email shortly.
There was a problem. Please refresh the page and try again.