How to customize Wallet for iPhone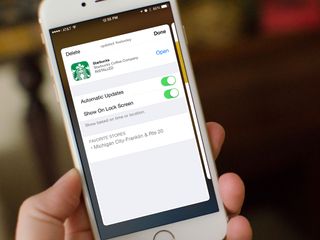 Many different Passbook cards auto-update on their own without requiring you to do anything: Your balance will refresh on your Starbucks card, and if your gate changes at the airport, Passbook will alert you appropriately. If a pass isn't automatically updating, however, or you'd rather manually manage updating your cards, you can easily turn the automatic update feature on and off on a card-by-card basis.
How to turn automatic updates for Passbook cards on or off
Launch the Passbook app on your iPhone.
Tap on the card you'd like to turn automatic updates on or off for.
Tap the info button in the lower right hand corner of the card.
Turn on or off the option for Automatic Updates.
How to disable Lock screen access for specific Passbook cards
Launch the Passbook app on your iPhone.
Find the pass that you want to disable Lock screen alerts for and tap it to select it.
Tap the Info button in the lower right corner of the pass.
Turn Off the option for Show on Lock screen.
How to disable location services for Passbook cards
Launch the Settings app on your iPhone.
Tap on Privacy.
Tap on Location Services.
Tap on Passbook.
Tap on Never.
"Siri, write a really funny bio for me to use for Mobile Nations" "Okay, Drew, here's your really funny bio: How-to writer, fiddle player, retro gamer."
which software you are using for this great and simple tutorial (editing the pictures)
thanks
Get the best of iMore in in your inbox, every day!
Thank you for signing up to iMore. You will receive a verification email shortly.
There was a problem. Please refresh the page and try again.