How to: Restore/Re-Virginize Your Jailbroken iPhone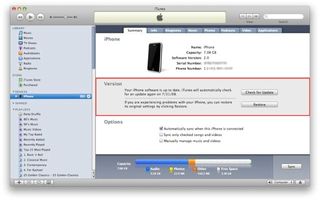 So you are having issues with your iPhone? Maybe you jailbroke it and things did not go as well as you planned? Perhaps you have to take your iPhone back to an Apple Store because of a hardware related issue and you are jailbroken? Well I will tell you how to restore you iPhone back to it's factory settings in a few simple steps.
Word of warning before you begin:
Restoring your device will erase all data from your iPhone or iPod Touch, including songs, videos, contacts, photos, calendar information, and any other data. All iPhone or iPod Touch settings are restored to their factory condition. More after the jump!
First thing to check is to make sure you have the latest version of iTunes installed on your Mac or Windows PC.
Connect your iPhone to your Mac or PC.
When your phone is detected, select it in iTunes under the list of devices. If your iPhone is not responsive and iTunes does not detect it we must put your phone in DFU mode. While it is connected, simply hold down the home and power button together for about 10 seconds, then release the power button while continuing to hold the home button. A few seconds later iTunes should detect your iPhone,
Select the "Summary" tab.
Select the "Restore" option.
You will now be prompted with a screen that asks if you wish to back up your iPhone before restoring. *If you are jailbroken, it is my personal opinion never to use a backup when restoring. Some may disagree, but in the end it is up to you.
(opens in new tab)
Select the Restore option when iTunes prompts you.
(opens in new tab)
Once the restore process has completed your iPhone will restart and the Apple logo will appear while booting up.
(opens in new tab)
After the restore is complete and your iPhone restarts you will see the "Connect to Activate" screen. You must continue to keep your iPhone connected to complete activation.
(opens in new tab)
(opens in new tab)
(opens in new tab)
The final step is to restore your iPhone or iPod touch from a previous backup or to set your iPhone up as new. Once that is complete iTunes should detect your iPhone and you are good to go! *Jailbreakers - If you want to play it safe this is where you would like to set you iPhone up as new.
(opens in new tab)
Why would we never use a backup?

You guys can do what you want, but it's fraud to violate the terms of the warranty (by jailbreaking your iPhone) and then cover it up.

Quit being a fag patrick. I bet you've never lied too.

@Brooks, I did not say never, just if you jailbeak I would not use a backup. Just my opinion from being around different formats over the years. Never a good idea to use a back up on a fresh install.
@mr. Obvious, you must know everything eh? Not all of the readers are blessed with your knowledge of knowing everything. ;)

I just got my 3g iPhone. And I have 2 questions. How can I jailbreak my phone? Also if I jailbreak the phone can I still use apps from the app store?
I really need the help?

my jailbroken 3g stopped working on friday, i got the usb and itunes symbols saying that my iphone needed repair, so i quickpwnd it again and restore it in itunes, but at the end of the restore I get an error 1010. Since then I've tried to restore it around 10 times, in 3 different computers, 2 macs, 1 PC and always the same error. I tried restore it with a custom ipsw and an original 2.1 ipsw and from itunes too without luck. My phone right now is in the itunes + usb cable screen asking me to connect to itunes. please help, i don't know how to get out of that screen. do i need to take it to the apple store?

yes take it back .They will give you another one,cause the methods you are trying are the same they will use ........good luck let me know how it goes

If i restore back to factory settings does that still mean i will have firmware 2.0

tnx for the article! Really helpful!

i jailbroke my phone but the turbosim dint work so i revirginized it....nw i need to activate it but dont have the original sim and im in a different country so cannot even do the activation....what should i do now??

after I reset my jailbroken iPhone and updated it to the 2.2 software it works great except I couldnt and still cant change the wallpaper. its the same wallpaper that I had when I had my iPhone jailbroken and it wont let me change it to a pic n my albums or even ones that are standard on the phone. How do I fix this and use pics in my phone?

i unlocked my iphone and when i try to call, or use my phone it goes back to the main screen 5 sec after

@Timbo, same thing happened to my phone right now. Anyone know a fix, or what caused it ?

Hi,
I got a similar problem to 'Noisead' - when I switched off my jailbroken phone, i got the usb and itunes symbols. On connection to iTunes, it 'burst into life'!! Any explanation or advice would be much appreciated!

I'm having a similar problem - "Phone" app not working after jailbreaking. I can answer calls or dial from 'Contacts' but every time I go into the green phone button, it quits. Now my iPhone is just an 'i'......

after my jailbreak my 3g stopped working and acted as if it was it was rebooting itself constantly, i then restored it on itunes and now i only have the phone and ipod apps left! anyone know how i can get the other default apps back?

I have a question, and a slight worry.
I recently got an Iphone the 2.2g one. And it was jailbroken for me. (I have t-mobile) And then I noticed that I had some dead pixels on my screen and they just gew bigger. So I called apple to get some help. They said to bring it in for a replacement. But I read that I shouldn't bring a jailbroken iphone in, because I could get in trouble. So I "restored" it following these steps, then brought it in. And everything went fine, they said I could come get my new one in about 2 days. And we'll activate it for you.
THIS IS WHERE MY WORRY COMES IN:
Since I do not have AT&T and they will try to activate it for me, can they catch that? Or should I just tell them that I can do it at home on my own, I have my back up files saved to my computer.
One last question, sorry.
After restoring it (and not backing it up), I have the screen shown above, the one with the plug in pointing to the itunes logo. Is this normal? Because I plan to have my new one jailbroken after getting it. Is that possible?
I'd very much appreciate any help on this matter. I am soo worried, and nervous. Thank you again!

@PCXC, jailbroken and unlocked are two different things. So you are unlocked... they will not do anything once they find out you do not have a valid AT&T number. And the first thing they will do is ask for your number. You are out of luck my friend. Sorry to say.

Hmm.. So basically there is NOTHING I can do to "unlock" it again then? And switch back to t-mobile? Without actually really activating it (using a at&t number, plan, etc.)

ok, i have the first iphone and i jailbroke it. ive tried multiple times and i keep getting "Iphone could not be restored. An unknown error occured. (1602)" anyone else ever get this?

Hi to all. I recently Jailbraked my iphone 3g, all this worked 1st time around, however I can now only use my phones internet connected to wifi only, this seems strange to me as I just bought the phone on pay as you go with 12 months free from the apple store. The message im getting is as follows ( could not activate cellular data network: you are not subscribed to a cellular data service ) If im doing something wrong please reply with help, many thanks!

Hi mike,
Maybe this thread will help you with you connection issues... http://discussions.apple.com/message.jspa?messageID=7638123#7638123 I think you have to configure you iphone profile to use the correct credentials of your carrier.
I use this thread to disable all connections beside wifi.
Good luck

hi.. I tried to jailbreak my 3G,2.2 iphone with quickpwn..it said everything was a success and for to wait while it reboots...the phone hung in reboot stage with the apple logo..would turn off then turn on with the apple logo..why did this happen and what do I do now? please help.

@PCXC. The apple store cannot refuse you a replacement phone. That is part of the warrenty process. If it does become a problem tell them that you service Is disconnected at the moment for non payment of bill. Remember apple is NOT AT&T. Plus on a side note, it is NOT illigal to buy an iPhone without having service. Some people by them to use as iPods until they are ready to get them activated with AT&T.

Also apple sells iPhones without service for 599

@david, Apple does not let you walk out of the store without it attached to a att contract. And the first thing they check for is a att phone number a iPhone is attached to when you go in for a issue.

Have a dilemma need someone's expertise.....
I accidentally updated my phone to the 2.2.1 software version. Afterwards I realize that there is no firmware for the latest update. I try to restore my phone back to the old 2.2 firmware but I keep getting an error. I desperately need the jailbreak back on my phone. Can anyone give advice towards how to get the old 2.2 firmware back on my phone? Or does anyone know of any firmware that can be used for the 2.2.1 software to jailbreak?

for all the people who get the unknown error have you tried it more than once? because i had the the same problem but i did it four times and on the fourth it worked.

all those who hv problem in 2.2f it was told that it is dangerous using quikpwnto jailbreak the iphone.....u should hv waited but its ok now u can restore it and jail break using the new links.....

hey, i have a jailbreak iphone 3g and would like to restore back to the factory settings because i might take return it on monday. the thing is whenever i hit restore, itunes automatically updates to the new firmware. should i hit cancel or let it continue?
ty

EDIT:
Whenever I hit Back Up or Don't Back Up in step 6, it doesn't proceed to Step 7 but itunes downloads the lastest firmware (2.2.1) instead.
Question is, should I let it download?

The jailbreaking of the iphone and ipods are worthless. If you would read the many comments on this page and many others you would see that there are NONE that says they still have success with their jailbreak. Its just a waist of time trying to unlock or jailbreak them when the only thing your doing is destroying your iphone or ipod. Its either going to lock up and not be able to restore or something along those lines. Read the comments 1st people before you try and jailbreak yours, you will see how many people say it actually work (NONE). Someone can reply and try and defend it but jailbreaking isn't worth the chance of ruining an expensive product like the iphone or ipod.

I tried, i failed. Everything seemed to be going well using quickpwn (2.2) firmware, but when it came to reboot it just hung on the apple logo, vibratting a couple of times every 4 mins or so, stuck like that for 40 mins.... when powered off, and restarted same boot logo, beeping every now and then. Scared me to pieces. Just fixed it now, which is good, but reading all the posts (on this and about 100 other sites) jailbreaking is no good... everyone complains about it either not botting, or if it does boot contacts not working, outgoing calls not able to be made...
I wouldnt advise doing this, i think im going to have to face facts that im stuck with a 12 month vodaphone contract that i cant use on my iphone!!! boooo

does this work with the 2.2.1?

Just jailbreaked, worked great! Remember to download the 2.2.1 firmware before hand, and click on it in Quickpwn. Once I did that, everything worked great

NEED HELP, I HAVE AN IPHONE 2G, ITS JAILBROKEN AND WORKS GREAT, BUT HAVE A LITTLE ISSUE, I HAD ALOT OF SONGS ON MY ITUNES AND DELETED THEM ALL, NOW ON MY ITUNES PAGE IT SAYS, 5.68GB IN OTHERS, NOW I DONT HAVE MUCH ROOM ON MY PHONE, HOW CAN I DELETE ALL THIS BUT NOT HURT OR GET RID OF MY JAILBREAK? CAN SOME ONE PLEASE HELP,,,,THANKS.

THE PEOPLE THAT ARE HAVING TROUBLE MAKING CALLS, I HAD THE SAME PROBLEM...YOU NEED TO UNISTALL KATE AND THAT IT WILL WORK PERFECT!!!! :)

hey guys im really worried i had my iphone 3g jailbroken and it was running slow n acting wierd so i just wanted to get it back to how it was so i tried to restore it to defult settings and now it is stuck on the usb/itunes screen even when it is not plugged in and when i do plug it in it said unknown error cant find iphone this is really not good at all i cant even use my phone if ne one can help that would be awsome

my first iPod touch was jailbroken but I got rid of it and bought the 2nd generation iPod touch. My new one is NOT jailbroken but the wallpaper on the lock screen won't change because my first one was jailbroken and it's getting me super pissed. Any ideas please?

Why not just jailbreak the new one?

hey i have a huge issue!!! i recently jailbroken my phone and everything went well at first.... the next day i realized my headphones werent working... they were not broken at all the iphone just didnt want to accept them.. i then decided to restore my iphone and then the stupid pinaepple stood stuck on the screen and will not go no matter how many times i restart it... i spoke to a professionalist over the phone and he had me do a cheat code to make the phone work and all of a sudden a cartoon character appeared and has some symbols in a bubble!!! my phone is probably gone and has a virus or something.. i do not know what to do... is there anything i can do to get my iphone back i tried all i can think of... i even have an appt with the apple store tomorow and theres a chance they might not replace it seeing that it was jailbroken.. please let me know

hi there my jailbreak went fine but now i have to send it in to apple and i am concerned they are going to find out i had it jailbreaked i know the police can tell what you have had on your hard drive can apple do the same?
p.s i have restored the firmwere to a original 2.2.1

I am really thank full to you..
It helped me re-virgnize my iphone...
I really appreciate for your help...
*****5 STARS to this blog

Hey EJ
Did you sort your iphone out, mine did the exactly same thing this afternoon?? What can be done?

Here is one that I have not seen.
I have an iPhone that was unlocked, jailbroken and used with an AT&T sim card. At the time I didn't want or need the data plan and just used Wi-Fi. I have now upgraded my plan to the iPhone data plan and now I no longer have access to Edge (I did before). Should I restore my iPhone and if so, so I use my sim card the one that came with the phone?
Thanks in advance for the help.
John

hello guys
i have just bought a new iphone 3g locked to vodafone carrier, am using a vodafone sim so amnot having any problem, my question is how to add applications to my iphone out of apple store, thx in advance, Nisso

If u are having problems with the phone not working try uninstallig Kate if u have it

When I click to 'restore' I get an error message which says: "Software for this IPod is not currently available. Make sure you have the latest version of ITunes and try again."
..and I have the latest version!
So what should I do? PLS help! my email: forza_milan23@freemail.hu
THX!

hello everyone i have just jailbroken my iphone 3g firmware 2.2.1, i used quickpwn which worked great! it took about four hours to download my firmware to my desktop (required btw) but after everything im very happy with the use of cydia and installer. Its rumor that in june/july of '09 the firmware 3.0 will come out it has already been leaked but its unwise to try to download yet...if you have jailbroken your iphone and want 3.0 when it comes out, just restore to 2.2.1 then upgrade the russian dev-team are currently working on a 3.0 jailbrake. but i am very happy with the results of my jailbrake

thanx man this worked perfect i bought my iphone 3g off ebay the guy never told me it had the jailbroken firmware all he said was it had no sim. when i got it and seen the stupid pineapple i was wiggin out. now i can get it turned on thru att thanx to you!

wow.. this is a depressing list of problems, i just got my iphone 3g, and im having 2nd thoughts on jailbreaking now..

I just restored my jailbroken iPhone to factory settings. However, when i jailbroke it, i made it so the phone would work with T-mobile. Now that it is restored, i can't even unlock it because it needs an AT&T sim card to unlock it first. What do I do???

@ryan
Don't worry, Jailbreaking is not illegal or anything like that (it is YOUR phone, you can do what YOU want with it, apple have no say in that.) Here's an example: I buy a chair, and decide to get it re-upholstered - unless we live in some form of fascist totalitarian state I believe that is totally legal, you bought the phone with your money and so it is YOURS, not apples.
The only thing it does is void your warranty, but they can't find out if you've jailbroken it in the first place, so who cares!

Roadrunner and Hivemind have said it, and i'll say it again.... The phone is YOURS!!! Do what you want with it. Why let APPLE hold you back from unleashing your phone to it's truest potential. They are trying to be "Big Brother" in the cellphone game. They are controlling you scared f**ks, and making more money from you.
Example, Where is the...
SMS Forward
MMS/Video Sending
Video recording
Camera zoom
Copy/Paste
Custom Thems
Voice Dialing.
Actually, these are just a few things that Apple seemed to forget, or, are they just gonna give everyone a reason to buy their next iPhone that will do what it should have in the first place. Hence, Jay Freeman(Saurik),stepped up and took control of the situation. All respect is due.
If you are thinking of Jailbreaking your phone, make sure you read all directions properly. Remember the first day that you got your phone and you couldnt put it down? Well once you jailbreak it, you wont be able to put it down for a long time!!! The excitement and adventure is unexplainable.
OBAMA, your comment up top is innapropriate,what you need to realize is that everyone here is trying to resolve an issue with their jailbroken phone. This is not a forum for iPhone users to post comments on how much they love being free from APPLE's grip.
You are in the wrong area.

what if your iphone is in restore mode but you cant rstore it because you dont have a lock srceen and itunes is telling to unlock your phone to coonect

I jailbroke my iPhone a couple months ago. Everything was working fine on my phone until one day I went to turn the phone off silent mode and put it in ring mode with the little switch on the side and it wouldn't work. It would vibrate twice and then switch back and forth from the on sign to off sign without me doing anything. I restored my phone, got rid of the jailbreak software, and just put normal windows 2.2.1 on it. I thought that would fix it, but it's still doing the same thing. Can someone help please/??!?!?

iphonecrazy,
you need to take your phone back to an AT&T store. It is the phone. Just make sure that you do not have it jailbroken when you take it in. It is just a software malfunction.

RT,
I had the same problem with my phone at first. Jailbreaking is kinda tricky. Just be patient, and continue to go through all of the steps of quickpwn. If it seems to give you problems in a certain area, just google the problem and you will see other people in forums who had the same problem. There will be posts of how to get out of your situation. Like I said, be patient. I know at times you will want to throw it at a wall or something... just make sure you research your problem and make sure you follow the instructions from quickpwn thoroughly.

My iphone 3g (2.2.1/ 02.30.00) is jailbroken.;
It is amazing what a wonderful piece of kit it can be when jailbroken. Forward sms, video etc. But yesterday, internet stopped working except for wifi. I tried re-jailbreaking it a few times, but no joy.
Anyone got a suggestion?

I just recently aquired a jailbroken iPhone from a co-worker because he now has the 3G iPhone. Thing is I want to use it as my own with iTunes and such. Can and should I restore it and take it in for activation or is there a way to hook it up to my PC and set up a new iTunes account and use the phone as if it were my own without going to an AT&T store? I do subscribe already to an unlimited data plan from AT&T and such , so should I just go on and use it or revirginize it?

Help! My iphone was configured to tmobile but i accidently downloaded an update and now it is completely locked! Can the store where i got it at restore it bak to normal?

I solved a multitude of problems trying to upgrade my 2G phone - SIM card not supported, Pwnage upgrade failures etc, - by restoring to factory settings as above, and then re-doing the jailbreak 3.0 using Pwnage Tool. Finally worked, synced it via previous back-up -so much relieved! Many thanks for this post.

I have the 3g with 2.2.1....its been jailbroken for a while now and a friend saw the new 3.0 update and did it now the phone wont turn on it goes to the usb screen I try to restore and it says I cant...went into pwn and it is not letting me do anything anyone have any ideas.
thanx

Hi I have a 2g and have upgraded to firmware 3.0 and jailbroken bout a week back an everything was working fine ........ but i by mistake connected my phone to my friend's computer and it started to restore his settings on my phone ,i immediately dissconnected my phone and realised that my contacts , msgs and photos went missing , now i have synced the phone back to my computer but it still is the same.......... now the msgs do not get saved everytime i send a msg and get out of tyhe msg tab the logs of the msg is lost ,,,,,,,,, REQUEST YOUR HELP on wat needs to be done to get back original settings please mail me (arvindchristo@gmail.com)

Post #56, Elizabeth:
Same thing happened to me with a T-mobile SIM after upgrading to 3.0 through iTunes. I followed the instructions in the FIRST post under Jailbreaking, downloaded the two files (redsn0w and apple), and after carefully following the instructions, redsn0w successfully re-unlocked the phone with no data or applications lost and the new 3.0 upgrades intact! Worked flawlessly - thanks for this blog!

I just Jailbroke my I phone 3G using 2.2 and redsnow my phone is now stuck on the apple logo and wont restart. Anyone have any advice?

Post #69, unpolire: redsn0w just jailbreaks. How does it unlock? Using ultrasn0w or yellowsn0w?? Please respond.

In an attempt to free up space on my jailbroken iphone I used the option on the phone to erase all media and content. I followed the instructions outlined above to restore the original settings and got to step 9 at which point my phone prompted me to insert a valid sim card. Since I only have a t-mobile the phone didn't recognize it as a supported SIM card. My phone is stuck showing no option to restore, it only has the emergency call option. Any ideas as to what I can do next to make the phone compatible with my tmobile sim?
Thanks

i have an iphone which is jailbroken and i want to restore it to factory settings but it seems i cant do this without updating to the latest software..should i proceed? and if so what do i do to unlock the phone after the update is complete? pls help