How to safely transfer Nintendo Switch game data from one microSD card to another
Need more space on your microSD card? Make sure to upgrade to a new one the safe way.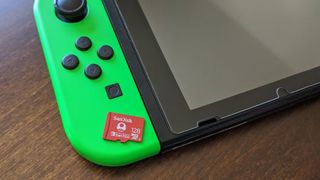 (Image credit: Rebecca Spear / iMore)
The Nintendo Switch only has 32GB of internal storage, and the Switch OLED only has 64GB, which means that if you play a lot of different games or take screenshots and videos, you will quickly run out of space. In my own experience, I initially purchased a 64GB microSD card and then realized that it was too small for my needs. If you're like me and need to upgrade from a smaller memory card to a much larger one, follow these steps safely. You will need access to a computer and both microSD cards to do this.
Not sure how much space you need? We can help you figure out which size microSD card is best for your Switch.
How to transfer Switch data from one microSD card to another
Before you can upgrade to a better microSD card, you'll first need to turn off your Nintendo Switch, Switch Lite, or Switch OLED to remove the current memory card.
To begin, hold down the power button for a few seconds. If a game is currently open, make sure to save your game and exit the software before doing this.
A menu will pop up. Select Power Options.
Select Turn Off.
Open the kickstand on the back of the Nintendo Switch.
Remove the current microSD card.
Insert the microSD card into your computer.
Open the file with the microSD data.
Cut and paste this data to another file on your computer.
You must format the new microSD card before you can use it with your Nintendo Switch. If you have not done so already, follow these steps.
Remove the old microSD card from your computer.
Insert the new microSD card into your computer.
Open the new microSD card's file.
Drag the data from the past microSD card into the new microSD card's file and wait for the data to transfer.
Once that's done, remove the new microSD card from the computer.
Insert the new microSD card into your Nintendo Switch.
That's all there is to upgrading to another microSD card while still having the same game data. With the new microSD card in place, you're ready to start playing even more of the best Nintendo Switch games.
Upgraded game storage for your Switch
The Nintendo Switch and Switch Lite only offer 32 GB of internal storage, which is only enough to hold roughly three large games. The Switch OLED is only marginally better offering 64 GB of internal storage, so roughly six large games. If you intend to play more than that, you're going to want to get yourself a decently sized microSD card to enlarge that storage capacity.
A microSD card with 64 GB is for people who only need the bare minimum of extra space. If you intend to play several games on your Switch then you'll want to get a card that offers 128 GB or higher. For those who want to play all of the big AAA games that come you, you'll be happier with an even larger card. Just make sure that you take the proper steps to transfer your game data correctly or you might lose it.
Now that you've upgraded to a bigger and better microSD card, you'll be able to hold even more screenshots, videos, and game data. Hopefully, you won't run out of space any time soon. Enjoy playing with your Nintendo Switch. May you download all of the games your heart desires.
Our top equipment picks
SanDisk 64 GB Ultra MicroSD card
Starter card
If you think you're going to play a handful of games on the Nintendo Switch, or you like taking a decent number of videos or screenshots, then this is a great memory card for you.
SanDisk 128 GB MicroSD card (Mario)
A whole lot of gaming space
This officially licensed memory card holds a large storage space and features an iconic Mario mushroom on a red background. This is an excellent option for anyone who plays several Switch games and takes plenty of screenshots.