How to unsubscribe from a podcast in the Podcasts app for iPhone and iPad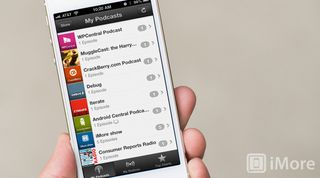 The Podcasts app allows you to easily subscribe to podcasts that can automatically update when new episodes are available. Over time, you may decide that you don't want to follow a particular podcast as closely anymore. The Podcasts app allows you to unsubscribe just as easily as you subscribed.
Launch the Podcasts app from the Home screen of your iPhone or iPad.
Under the Podcasts tab, tap on the name of the podcast series you'd like to unsubscribe from.
Towards the top, tap on the Settings button.
There is a toggle to edit your subscription, turn the Subscription toggle to Off.
The Podcasts app will now stop updating when new episodes of that particular podcast is available. If you don't want any of the podcasts on your iPhone or iPad, you can also delete older episodes.
Get the best of iMore in in your inbox, every day!
iMore senior editor from 2011 to 2015.
This stops the subscription BUT how do I get rid of the Tile of the podcast as well?

At the very top of my podcasts screen (pull down to reveal the search bar) - there is an edit button to the left of it. this allows you to remove tiles :)

WOW! Who would ever thought there was a pull down on the tile screen? I've been used to the pull down gesture for checking mail and other places BUT had never seen that as a possibility in the Podcast App. Besides the Search & Edit, I see there is an option to switch from Tile view to List view which might be helpful as I add more podcasts. Thank You, Thank You for your help.

Does the iCloud sync sync with the Itunes client for pod-casts? I want to be able to keep 1 list of unplayed pod-casts across my desktop and my iPhone and my iPad. And as long as I am wishing, I want the low def version on the iPhone to be marked as played when I play the HD version on my computer through my apple TV

Great tip, just drop a few podcast that stop updating podcasts. Thanks for tip!
Thank you for signing up to iMore. You will receive a verification email shortly.
There was a problem. Please refresh the page and try again.