How to use AirPods with Nintendo Switch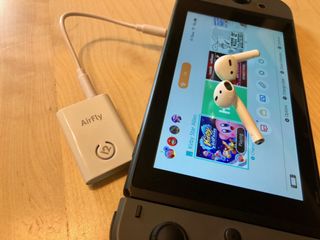 (Image credit: iMore)
There's a reason the AirPods Pro are the best Bluetooth headphones for the iPhone, Apple Watch, and pretty much all your Apple products. But did you know you can use them for the Nintendo Switch too? While Nintendo recently added Bluetooth audio support to the Switch, for years, there have been Bluetooth transmitters that transform a 3.5mm headphone jack into a wireless Bluetooth port. The Switch can be fickle with accessories, but one particular accessory works incredibly well for the job, and that's the AirFly from Twelve South. Here's how to get your AirPods working with your Switch with AirFly.
Products used in this guide
Get connected: Twelve South AirFly Duo Wireless Transmitter
Get the beat: AirPods
Upgrade the beat: AirPods Pro
How to pair your Bluetooth headphones to your Switch
As of the 13.0.0 update, the Nintendo Switch now supports Bluetooth audio. If you are experiencing trouble with your adaptor, you can follow these simple instructions to connect your AirPods or similar Bluetooth headphones to your Switch directly:
Go to Settings.
Scroll down to Bluetooth Audio.
Select Pair Device.
Grab your desired headphones and turn on pairing mode. For AirPods, this is done by pressing the pairing button on the back of the case.
Place your headphones near your Nintendo Switch.
Select your headphones once they appear on the Switch screen.
Select OK.
Just like that, your AirPods or similar Bluetooth headphones can connect directly to your Switch without any adapter; however, if you're having issues pairing your headphones, an adapter might still allow them to function with the console. Read ahead to learn how to use our favorite Bluetooth headphone adapter.
How to pair AirFly with your AirPods
Source: iMore
AirFly is a minimalist-looking dongle, not much larger than the size of a postage stamp. It's smaller than an iPod Shuffle if that gives you a frame of reference. It has very little going on on the outside, but it doesn't need much. Here's how to use it.
There is a flat button on top designated with a number 12 and a cutout. Press and hold that button for about 10 seconds to enter pairing mode.

You'll know the AirFly is in pairing mode because the light behind the button will flash amber and white.

With your AirPods in their case, press the pairing button on the back of the case for about five seconds.

The status indicator inside the case will flash white when it's in pairing mode.
Note: Make sure your iPhone or iPad isn't too close, or it will try to reconnect to it instead of finding the AirFly.
You'll know if the pairing was successful because the status indicator inside your AirPods case will turn green, and the Airfly status indicator will turn white and then blink white.
How to connect the AirFly to your Nintendo Switch
Plug one end of the included 3.5mm cable into the AirFly.
Plug the other into the headphone jack on the Switch.
Voilà! That's it! If you come across a wonky issue where the audio cuts out or is crackly, try flipping the 3.5mm cable around. I can't see a difference between the two sides of the cable — there are no distinguishing markings on either side — but when I first tried using the AirFly with my AirPods and my Switch, the audio would drop out and back in again. When I flipped the cable, it fixed the problem.
How well does AirFly work?
Amazingly well. It's easy to connect to your AirPods and easy to connect to your Switch. Everything sounds the way you'd expect it to with your AirPods (while watching movies on Hulu, I heard a faint buzz every once in a while, but it wasn't too bad).
Using a wireless transmitter with Nintendo Switch is ... complicated. Using a wireless transmitter with AirPods is ... also complicated. AirFly manages to jump both hurdles to provide clear audio (for the most part) without significant issues with setting up and using it.
If you're looking for a Bluetooth transmitter for your Nintendo Switch, this is the one to get.
What you need
These are the best accessories to add to your collection if you want to have the best experience with your AirPods and the Nintendo Switch!
The best transmitter
(opens in new tab)
Twelve South AirFly Wireless Transmitter for Switch
Change how you connect

This device allows you to connect wireless headphones to wired headphone jacks with Bluetooth 4.1 technology. This package includes a 3.5mm headphone cable, USB charging cable, travel pouch, and written manual for your convenience!
When it comes to wireless transmitters, many of them use Bluetooth 2.1 or 3.0. AirFly uses Bluetooth 4.1 for longer battery life and doesn't interfere with the Bluetooth-supported Joy-Con controllers.
It also features aptX Low Latency for, you guessed it, low latency. That means the audio lag is nearly unnoticeable. Let me quickly point out that I didn't test this out with any rhythm games, so I don't know how well it performs with those audio-centric games, but I never noticed any sort of lag with the games I played.
Status icon
Earbuds on the fly

These wireless headphones turn on and connect on their own as soon as you place them in your ear. They have a battery life of over 24 hours and take less than an hour to charge.
The Apple AirPods are easy to pair with your Apple devices, but they can still be used with other Bluetooth-compatible smartphones, tablets, and accessories too. The AirPods sound decent, are rather affordable, and come in a Lightning-compatible charging case. You can opt for wireless charging for a little more, but it's super convenient. AirPods provide several hours of listening time, but you can extend that to over 24 hours as long as you have the case on hand with you.
Plus, when you purchase AirPods from Best Buy, you get four months of Apple Music for free (new subscribers only). Who doesn't like a deal?
The AirFly Classic and AirPods are the main things you'll need, but Twelve South has an updated version of the AirFly, and of course, Apple went Pro with the AirPods, too.
(opens in new tab)
AirFly Pro (opens in new tab) ($50 at Amazon)
The AirFly Pro adds a few more features over the AirFly Classic. You can connect up to two pairs of headphones, have 16+ hours of battery, and can be used as an AUX IN adapter.
(opens in new tab)
AirPods Pro with MagSafe Charging Case (opens in new tab) ($179 at Amazon)
AirPods Pro are a vast improvement over the original AirPods. You get a better fit with silicone ear tips, Active Noise Cancelation with Transparency, and better sound quality.
Lory is a renaissance woman, writing news, reviews, and how-to guides for iMore. She also fancies herself a bit of a rock star in her town and spends too much time reading comic books. If she's not typing away at her keyboard, you can probably find her at Disneyland or watching Star Wars (or both).
Get the best of iMore in in your inbox, every day!
Thank you for signing up to iMore. You will receive a verification email shortly.
There was a problem. Please refresh the page and try again.