How to use Ethernet on the iPad Pro 2018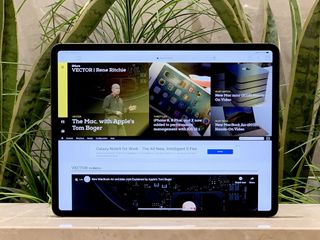 (Image credit: iMore)
The USB-C port on the 2018 iPad Pro is your portal to a world of connectivity. Whether at home or on the road, if you want to use wired internet, it's super simple to hook up to your iPad Pro.
Products used in this guide
How to connect your iPad Pro 2018 to Ethernet
Connect the USB-C to Ethernet adapter to the USB-C port on the iPad Pro.
Connect your Ethernet cable to the adapter.
Connect the other end of the Ethernet cable to your router.
As far as setup goes that's all you need to do. Your iPad Pro should now be seeing a connection over Ethernet you can use instead of Wi-Fi or cellular. You can also turn off the Wi-Fi on your iPad Pro just to make sure it's no longer connecting wirelessly to your network.
How to check your Ethernet connection in iOS
To verify that the connection is working simply follow these steps.
Open up the Settings app.
If successful, in the left pane tap on the Ethernet menu item.
Tap on your USB-C Ethernet adapter.
You'll now be able to see and configure your IP address and DNS, as well as set up a proxy if you wish. For most though, it's just an easy way to check that your Ethernet connection is working.
The beauty is that it will just work and there's no maintenance required from your end. As soon as you're done with the connection just pull the adapter out from the USB-C port and make sure your Wi-Fi is turned back on.
Our top equipment picks
You really don't need a lot to get going with a wired internet connection on your iPad Pro 2018, but this is the adapter we recommend.
Wired connection
(opens in new tab)
Belkin USB-C Ethernet adapter
Living your best internet dongle life

Belkin's adapter is reliable and a simple way to use your iPad Pro with wired internet.
At $35 it isn't the cheapest dongle you'll ever buy, but for the best connection speeds possible at home or on the road, it's an easy recommendation. It's reliable, from a trusted brand, and is the simplest way to use an Ethernet connection with your iPad Pro.
If you already have a USB Ethernet adapter for a laptop, you can follow the same steps above but substitute the Apple USB-C to USB adapter to make the connection to the iPad Pro
(opens in new tab)
Apple USB-C to USB adapter (opens in new tab) ($19 at Amazon)
The dongle that opens up your iPad Pro to your legacy USB accessories.
(opens in new tab)
Ethernet cable (opens in new tab) ($7 at Amazon)
A Cat 6 Ethernet cable is plenty for most home users and doesn't cost a lot.
Get the best of iMore in in your inbox, every day!
Thank you for signing up to iMore. You will receive a verification email shortly.
There was a problem. Please refresh the page and try again.