How to use Mail Drop on the Mac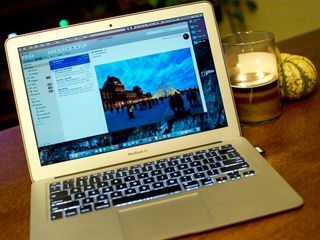 Sending files by e-mail attachments can be a big old P.I.T.A. thanks to restrictions imposed by service providers, corporate I.T. policies and a host of other things that can get in the way. Mail Drop on the Mac makes the pain go away.
How to use Mail Drop to send large files on Mac
Click on the Apple icon in the upper left corner of your Mac's screen.
Select System Preferences from the drop down menu.
Click on iCloud.
Sign into your iCloud account if you aren't already.
That's all there is to it! There's nothing to configure or set up in order to use Mail Drop. As long as you're signed in to your iCloud account your Mac will handle the rest!
How it works
Mail Drop simply acts as an intermediary, temporarily hosting your file attachments so you don't actually have to push them through the e-mail server. That way nothing is going to get in the way of sending that big file you need to, whether it's pictures of you and the family on vacation or an updated presentation that your boss needs for his Shanghai business trip.
Many mail servers impose strict limits on the size of a file you can attach to an e-mail — it's usually measured in megabytes, and usually not that many megabytes at that. If your file enclosure is larger — if you're sending big media files, for example — you're stuck relegating yourself (and the recipient) to another file sharing method, such as Dropbox, OneDrive or a host of other systems that will require both you to maintain an account.
Mail Drop, on the other hand, works with files up to 5 GB in size. The files are uploaded to iCloud, instead. What's more, it's seamless, especially on the Macintosh. If you're sending the file to a Mac user, they're going to see it attached just like they would with any other file.
People who aren't using the Mac won't have a hard time, though - they simply see the file attachment as a file marker in their mail message. When they click on the attachment, iCloud begins to download the file onto their computer.
I've mentioned iCloud, and you may be wondering if the file attachment counts against your total file allotment in iCloud, and I'm glad to say that it does not. So attach away! 5 GB is your new file size limit, thanks to Mail Drop!
Have any questions? Let me know in the comments.
Get the best of iMore in in your inbox, every day!
That "nothing to configure" is turning out to be a big problem. My ISP doesn't have file size quotas on its imap accounts, so Mail Drop isn't kicking in at any size. Also, the recipient's quota is equally important; you may be able to send a 5MB attachment, but your friend's incoming email server may reject it. Or, you just may not want to clog up the mailboxes with files that will impact the overall mailbox quota, as opposed to the attachment quota. What we need is a setting, either on a per-account or a per-attachment basis. Is there such a thing, or is there a work-around?

Does this only work when emailing from an @iCloud.com email address? Because it doesn't seem to be working with my Gmail account.

Ah, figured it out. There's one more step for any non-iCloud mail account. You have to go into Mail > Preferences, then under the Accounts tab, select your account (say, Gmail), click Advanced, and then check the box for "Send large attachments with Mail Drop".

Doesn't work for me anyway. Man, I think apple is losing it.

Thank you very much. I have been struggling to try and figure out how to make this work. I could not find a simple answer to the same problem. Amazing work and Thanks again. Craig

I'm getting the same error. I can only use my @icloud.com account. I get an error when I use my gmail address.

"... -you're stuck relegating yourself (and the recipient) to another file sharing method, like Dropbox, OneDrive or a host of other systems that will require both you to maintain an account." OneDrive, Dropbox, Google Drive, etc. don't require an account to view and download shared files, so long as you share them correctly. This definitely seems like an easier and more integrated solution, but that line seems a little misleading.

Mail Drop looks and works nice. However 5GB is still not that much. If you need to move more, I'd rather recommend Filemail. They have a very simple & clean web app that lets you send 30 GB to any e-mail for free and with no annoying ad-infested download page, unlike some other free upload services.

How secure are attachments via Mail Drop? Are they encrypted? Where are they stored?

I activated Mail Drop several months ago but I've noticed something odd and irritating: 99.9% of the attachments I send are photos. Very often the file(s) arrive(s) at the recipient's computer with part of it missing, i.e., at least some portion of the photo, from the bottom up, is blacked out. Could this be a problem with Mail Drop?

Just ran into a problem using this on a desktop Mac. Although the file is only 13MB, Mail errors that the server replies "too large" (iCloud account). I double-checked that using iDrop was selected (tried deselecting and reselecting) and of course 13MB is under the 20MB limit anyway (so iDrop should not be necessary). Worked fine sending the same file to the same address from browser-based iCloud Mail on the same computer.
Thank you for signing up to iMore. You will receive a verification email shortly.
There was a problem. Please refresh the page and try again.