How to use the Shared Links in iOS 7 Safari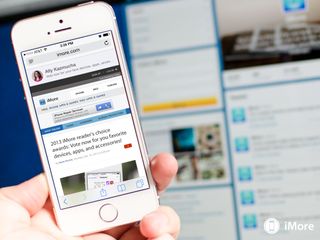 Shared Links are new to iOS 7. With them, you can see a list of all the links shared by everyone you follow on Twitter, all in one convenient place inside Safari. Think of it as a Reading List populated by people you find interesting. It's a great place to go if you have time and are looking for something serendipitous to read, but you have to know where to look if you want to find it.
How to access and use Shared Links in iOS 7 Safari
Launch the Safari app from the Home screen of your iPhone or iPad running iOS 7.
Tap on the Bookmark icon in the bottom navigation of Safari.
Now tap on the @ icon in the top navigation bar.
Here are all the links being shared by your Twitter feed. Tap on any one of them to launch the link.
That's all there is to it. Shared Links is one easy to use place to manage all your links. Currently Twitter is the only kind of link supported but we'd imagine over time we may see Apple expand the service to others as well. You can also use Shared Links in Safari for OS X MavericksHow to use the Shared Links feature in Safari for OS X Mavericks"), so make sure you check that out as well!
Note: If you don't see anything under Shared Links, go into Settings > Twitter and make sure you're signed in.
How to get more help with iOS 7 Safari
If you have specific questions about Safari or iOS 7 in general, check out our iOS 7 help and discussion forum. For more on Safari in specific, check out our ultimate guide:
Get the best of iMore in in your inbox, every day!
"Siri, write a really funny bio for me to use for Mobile Nations" "Okay, Drew, here's your really funny bio: How-to writer, fiddle player, retro gamer."
Nice little feature. Ive' never used it and have always wondered what it was for. Thanks Ally.

I like this feature just wish they add more support besides twitter. Thanks for another great tip! Sent from the iMore App

I wish more services were supported too. Like Pocket. It'll probably never happen though. :( Sent from the iMore App

Do you think it's a feature that's not really utilized because there are already so many apps that handle this features on their own? Sent from the iMore App

That's a good question. I am wondering this also.

This is just proves that I'm not really using my devices to its fullest potential. I had no idea that a feature like this exists. I should really explore more. Or maybe not. Since there's always iMore where I can find these neat little tricks. Thanks!

Can you tell me what Mac App you use to create these tutorials? Somewhere on your site it tells me what it is but i can't find it.
Thank you for signing up to iMore. You will receive a verification email shortly.
There was a problem. Please refresh the page and try again.