How to use Universal Clipboard on your Mac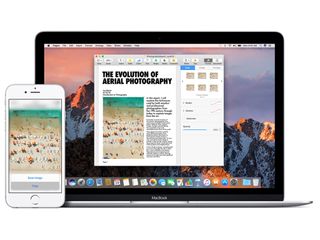 With the introduction of iOS 10 and macOS Sierra, Apple has stepped up its Continuity game with Universal Clipboard: Copy something on iOS, paste it on your Mac. Copy something on your Mac, paste it on iOS. It joins a growing list of features (Handoff, Calls, Instant Hotspot, Auto Unlock, and Messages) that connect your Mac to your iOS devices in super-convenient ways.
Setting up Universal Clipboard
Universal Clipboard works with text, photos, and video, so make sure that's what you're trying to copy between devices!
Sign into iCloud with the same Apple ID on all your devices.
Make sure Bluetooth is turned on on all your devices.
Make sure Wi-Fi is turned on on all your devices.
Make sure your devices are near each other. Universal Clipboard is proximity-dependent.
Copy your text, photo, or video on one device.
Paste your text, photo, or video on your other device.
Believe it or not, that's it! It's as simple as making sure you're logged in and have all your wireless radios turned on.
Troubleshooting Universal Clipboard
I've run into a few hiccups while using Universal Clipboard — particularly when trying to paste on my Mac what I'd copied from my iPhone. There are a few troubleshooting steps you can take, though.
Will my device work with Universal Clipboard?
First thing's first: You need to make sure your device can use the feature! You'll need to be running iOS 10 and macOS Sierra to take advantage of Universal Clipboard.
Note: This list has been updated to reflect the latest device requirements data from Apple.
The feature works on the following devices:
iPhone 5 or newer
iPad Pro
iPad (4th generation)
iPad Air or newer
iPad mini 2 or newer
iPod touch (6th generation) or newer
MacBook (Early 2015 or newer)
MacBook Pro (2012 or newer)
MacBook Air (2012 or newer)
Mac mini (2012 or newer)
iMac (2012 or newer)
Mac Pro (Late 2013)
Sometimes a good ol'-fashioned sign-out-sign-in works better than anything else. Try signing out of iCloud on your Apple devices and signing back in again.
Double check you've got Wi-Fi and Bluetooth turned on and you've got Airplane Mode turned off.
Make sure your devices are near each other (in the same room). Universal Clipboard won't paste from across the country.
Try copying your text, photos, or videos again. The clipboard clears itself after a period of time.
Questions or trouble?
If you have any questions or run into any trouble, gimme a shout! We'll get your Universal Clipboard up and running.
Get the best of iMore in in your inbox, every day!
Mikah Sargent is Senior Editor at Mobile Nations. When he's not bothering his chihuahuas, Mikah spends entirely too much time and money on HomeKit products. You can follow him on Twitter at @mikahsargent if you're so inclined.
I have a late 2011 13" macbook pro with sierra. Universal clipboard does not work. I was told that it would not work because the 2011 MacBook does not support continuity which is necessary for universal clipboard to work.

I'm on the same MBP and Universal Clipboard doesn't work for me either, Even though the compatibility chart says MBP 2010 or newer

Seem as if a Bluetooth link needs to be established for Uni Clipboard to work

I've tried this, and they see each other and pair but disconnect after a second and says "Network is Unavailable: Make sure Network access is enabled" which it is, but still doesn't work

I have the same issue Xterror.

Looks like Apple has since updated its compatibility requirements for Continuity. I've updated the article to reflect the changes!

Universal Clipboard does not seem to work when copying from a Note on an iOS device to a MacOS Mail email. Neither copying from a Note in MacOS to Mail (actually using Outlook) in iOS. The former especially is a valuable use case for me at least. Otherwise seems to work very well. A very useful feature. All devices and OS are fully up to date: iPhone 7 and latest generation Mini iPad both running 10.0.1 and a 2016 MacBook running 10.12.

Do you have Bluetooth switched on on both devices?

Bluetooth will connect between mac and iPhone for a few seconds and then give an error saying "make sure network access is available".

Same issue with no solutions...

Yes, I do. On all devices. And all other uses cases I have tried work. From memory: Note to Note, Note to/from Word, Word to/from Mail, Safari to Mail, Word, Note....

@pnoble: Are you using Outlook on the Mac and on iOS? Or are you using macOS's built-in Mail.app?

This might be a handy tip for people trying to get this particular feature to work. Although Handoff works on my Mac, Universal Clipboard wouldn't work no matter what I tried. After a bit of digging, I read that the feature uses iCloud. I had the old Two Step Verification set on my Apple ID. I disabled it, activated the newer Two Factor Authentication and it started working straightaway. Either Universal Clipboard doesn't work with a Two Step Verified Apple ID or changing the security on my Apple ID refreshed something, allowing it to work.

I even did the two step authentication. It still doesn't work, nor does the Apple Watch allowing sign in on the mac. It needs continuity as well.

One thing to note: Apple has had both Two-Step Authentication and Two-Factor Authentication for Apple IDs. You'll need to disable Two-Step Authentication before you enable Two-Factor Authentication. Rene has a handy guide on getting Two-Factor Authentication set up on your Apple ID.

I thought it was two step, but I actually did two factor.

Do you have HANDOFF turned on on both your mac and your iPhone?

Tried this and still doesn't work on my 2011 MBP 13". Thanks for the suggestion though

Try setting up a Bluetooth connection between the devices

I can see how 2 step could get in the way

Did anyone actually expect a feature like this to work reliably? It's been years and I've never seen Airdrop or Continuity features work first time, first go (if at all) on my devices or anyone else's.

For me it does, perfectly, with this one exception.

With released iOS 10 and Sierra, I had no problem with copying on an iPhone and then pasting on a Mac, but the other way around didn't work. So I AirDropped a picture from the iPhone to the Mac, then copying on the iPhone and then pasting on the Mac started working.

Nice! I'll keep this tip in mind next time mine acts up.

Also note that only some apps support pasting certain types of content. I tried to perform the same test that Apple demonstrates on their "Get to know your MacBook Pro" with Sierra page (http://help.apple.com/macOS/Sierra/macbook-pro-15/?lang=en_US#/universal...) by copying an image from my iPhone (it's a 6) and was not able to get images to paste into Pages on my MacBook Pro (like their demo shows) or Word - I only got the url of the image to paste. But I was able to get the image to paste into the Notes app. Anyone else experiencing this?

Same. Works fine between iPad and iPhone, only one way between Mac and iPhone. Restarts fix it temporarily but it stops working nonetheless.
mid-2015 15" MacBook Pro running macOS Sierra
iPhone 7 running iOS 10.0.2

Update: After trying all the troubleshooting steps, it turned out to be the Tile.app. When Tile.app was running in the background (as prescribed by Tile), it prohibited Universal Clipboard from working two-ways; however, once I disabled the Tile app, everything worked perfectly, and has done so since. I love Tile but I hope they fix this, soon.

I am trying to cut a picture from Facebook and paste it into an email, as I was able to do prior to the last 2 iOS updates, but it doesn't paste. What do I have to do now to get the picture to a friend who is not on Facebook? Much thanks.

My machine is old 12 core tower Mac Pro mid 2012 and it won't compatible off course, but i manage it to get worked by upgrading internal Airport Card with newer one. Mine is using same airport model used in Cylinder Mac Pro so off course after upgrading it works very well, two ways both iOS to macOs, macOS to iOs. Also works in my Mac Pro Mid 2010 which transformed into X99 hackintosh equipped with same card. Test Setup :
Copying images/text from iOS Pages to OSX MS Office, pasted successfully~~
Copying a portion of this iMore article from OSX browser to iOS Message App, pasted perfectly~ By the way i don't have iPhone and my iOS device tested above is just iPod Touch 6. All of them logged in same iCloud and Apple ID and doesn't have any two factor verification/step authentication.
Thank you for signing up to iMore. You will receive a verification email shortly.
There was a problem. Please refresh the page and try again.