How to use the Walkie-Talkie app for Apple Watch in watchOS 5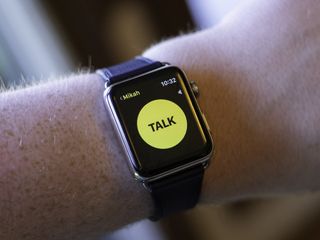 (Image credit: iMore)
Walkie-Talkie is a fun new way to communicate that's been introduced with watchOS 5. Apple Watch owners can use the new Walkie-Talkie app to instantly talk to available contacts by holding down a button, just like you would with a hardware walkie-talkie. The app works both over Wi-Fi and cellular connections, so you can use the app wherever and whenever you want as long as you Apple Watch has a data connection.
Here's how you'll use Walkie-Talkie on your Apple Watch in watchOS 5.
How to start using Walkie-Talkie on your Apple Watch
First things first, you'll need to get Walkie-Talkie set up on your Apple Watch. You can only connect with other Apple Watch owners.
Press the Digital Crown on the side of your Apple Watch to go to your app list.
Tap Walkie-Talkie from the app list or grid layout.
Tap the name of the contact with whom you wish to use Walkie-Talkie. Contacts that already have Walkie-Talkie set up will appear at the top of your list under Suggested.
Tap the + button on your contacts list to add additional contacts to Walkie-Talkie.
How to send a message with Walker-Talkie
Once you've got everything set up, sending a message is really easy and involves a big yellow button.
Open Walkie-Talkie on your Apple Watch.
Tap on the contact you want to speak to.
Tap and hold on the TALK button and speak. Let go of TALK when you're done.
How to set Walkie-Talkie availability
If you need to be uninterrupted by Walkie-Talkie, you can turn off your availability.
Open the Walkie-Talkie app on your Apple Watch.
Scroll to the top of your Walkie-Talkie contacts list.
Flip the switch next to Available to the gray Off or green On position depending on whether or not you're available.
How to remove a Walkie-Talkie contact on Apple Watch
Open Walkie-Talkie on your Apple Watch.
Swipe to the left on the contact you want to delete.
Tap the X button to delete the contact.
How to manage your Walkie-Talkie contacts on your iPhone
If you need to, you can manage your Walkie-Talkie contacts using the Watch app on your iPhone.
Open the Watch app on your iPhone.
Tap Walkie-Talkie.
Tap on a contact to see their full contact card.
Tap Edit.
Tap the - button.
Tap Remove to delete a contact from Walkie-Talkie.
Questions?
If you have any questions about Walkie-Talkie in watchOS 5, let us know in the comments.
Get the best of iMore in your inbox, every day!
Joseph Keller is the former Editor in Chief of iMore. An Apple user for almost 20 years, he spends his time learning the ins and outs of iOS and macOS, always finding ways of getting the most out of his iPhone, iPad, Apple Watch, and Mac.
Certainly not fun for those in the user's vicinity if this uses the Apple Watch speaker, then it's a horrible idea. Seriously rude (outside construction sites) Push-to-Talk telephones have finally, mostly died out. We don't need more unnecesssary noise in public or the office.

The Walkie-Talkie feature is just like any other communications medium- it can be used as a force for good or evil. How about all the people talking on their phone so loudly that people around them have to suffer. Or worse, people who hold it in front of them with speaker on full and foist both sides with us. It can all be used or abused. If you hear something, say something.

Any updates on the walkie-talkie function with Watch #4? This function is probably the one that is most important to me, in keeping in touch with my wife on the island where we live.

Series 4 has Watch OS 5 installed from the factory, so this functionality is built in from the start. Also, all watches except the original are able to receive the latest update and will have walkie talkie. It does rely on a data connection of some kind, whether it be through your phone, stand alone LTE or WiFi. It does not connect directly or broadcast to another watch like 2 actual walkie talkies do.

Any idea why the Walkie-Talkie ICON did not show up after I upgraded my software?

I was having this issue too. For me it was because I had removed the FaceTime app from my iPhone. Apparently it's required to work. Also make sure you're in one of the supported countries as specified on Apple's Feature Availability page (unfortunately I don't have enough reputation to post the link, but it's): apple[DOT]com[SLASH]watchos[SLASH]feature-availability[SLASH]#apps-walkie-talkie

Will Walkie Talkie work on Watch Series 2 with os 5.0.1?